How to Organise a Diverse Conference Panel of Speakers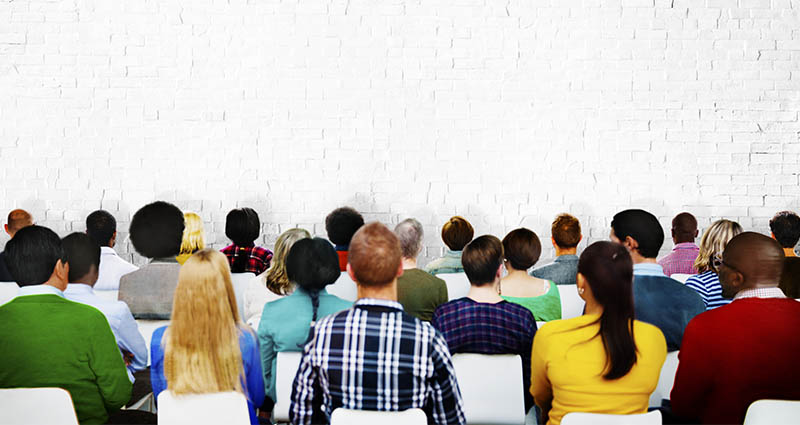 In 2021, conference panels are expected to feature a diverse range of speakers, from many different backgrounds and cultures. It is important for audiences to feel represented at events, in order to unlock innovation and empower positive change. Diversity allows attendees to see themselves on stage, and therefore strive to push the boundaries of their respective industries, and follow in the footsteps of the conference speaker.
Encouraging a diverse array of opinions, experiences and beliefs, inclusive conference panels must become the industry standard. Find out how to organise such an event in this article, so you can bring your speaker diversity pledge to fruition.
Consider Your Topic
Ask yourself: whose experiences and beliefs are going to do this conference topic justice? Your answer should not be a single group of people, but a range of speakers who can each bring a different perspective. Consider their sexuality, race, gender and age, and value intersectionality as a framework for deeper understanding.
It is important to consider your topic. If you are organising a panel on workplace discrimination and only hire White speakers, then you are leaving out entire groups of people whose valuable experiences are unique to them.
Identify Your Bias
Whether we are White or Black, male or female, straight or LGBTQ+, we will all have our own bias. Your bias is the twisted lens through which you see the world, defined by your own preconceptions. To organise a panel of speakers who do not look identical to you, you must identify your biases and actively work against them.
Once you have identified the potential bias that may be limiting your selection process, you can open your mind and value speakers from identities and cultures that are different to your own.
Create an Inclusive Environment
Booking a diverse panel is not enough to ensure an impactful experience for speakers and attendees alike, you must also create an inclusive environment. This can look like gender-neutral toilets, wheelchair ramps and considering the religious dates that may conflict with your event, before the big day.
Similarly, your conference must have a zero-discrimination policy. This should be a standard at all events, but especially when booking speakers who are at a higher risk of hate crimes. You need to have processes in place to protect everyone attending your conference.
Use a Speaker Agency
One of the easiest ways to secure a diverse speaking panel, is with a bureau like The Motivational Speakers Agency. Our booking agents will source a selection of experts with your diversity goals in mind. Using our international contacts, we will hire knowledgeable thought leaders whose diverse experiences will resonate with your attendees.
We had the honour of interviewing Ayo Sokale, one of the UK's leading voices on diversity. She shared how a lack of diversity can drastically impact an organisation's branding, profits and performance. Speakers like Ayo are not just experts in their own right, with Ayo coming from a career in civil engineering, they are also essential figures in the quest for equal conference panels.
"I think, in this corporate world when we are trying to reach huge, global communities, we must understand them better. Diversity on our corporate teams help us achieve this."
Our team of booking agents will manage the process of hiring your chosen experts from start to finish. We will organise contracts, invoices, travel and accommodation, to ensure that both yours and your speakers' requirements are met.
Gather Recommendations
If 'birds of a feather flock together', then asking for speaker recommendations outside of your immediate circle will improve diversity at your conference. Ask previous speakers who you have worked with, whose endorsements you trust, whether they know of any thought-leaders or experts who would be appropriate for the topic.
This will also reduce the likelihood of you booking a speaker out of performative tokenism, or the act of including someone from a certain group to fill a quota without valuing their skills or expertise. Receiving tailored recommendations from outside of your immediate circle is a way to authentically increase diversity.
Ask for Help
Diversity and inclusion at conferences have become widely discussed topics in recent years, so there are many resources available to help you. Research different events that have featured diverse speaking panels, and reach out to organisers to learn their process. Many events are accompanied by a diversity pledge, a promise to meet a certain level of diversity. Learn from these pledges, and implement what you have found in your own planning process.
Diversity consultants are a popular choice for organisations wanting to make their conferences more representative of the real world. They are experienced professionals, who will identify areas of improvement in your strategies, policies and planning processes, to improve diversity and inclusion at your conference.
Contact The Motivational Speakers Agency
To discuss the diversity goals for your conference with one of our team or book a diversity speaker, simply contact The Motivational Speakers Agency by filling in our online contact form or calling a booking agent directly on 0207 1010 553.