Q&A With Pen Hadow: Polar Explorer & Motivational Speaker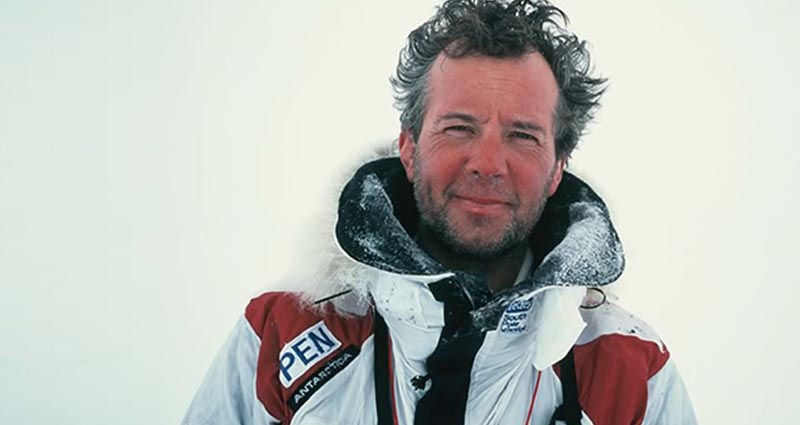 One of the foremost explorers and guides in the world, The Motivational Speakers Agency client Pen Hadow rose to fame in 2003 by becoming the first person to trek solo, without resupply by third parties, from Canada to the North Geographic Pole. This journey spanned 480miles/770km across the Arctic Ocean's disintegrating sea ice and involved 75 days alone on the Arctic Ocean, one of the world's most extreme environments.
Pen gave an in-depth interview in the May 2012 edition of The Market Magazine where he discussed his life, from early memories and setbacks to his plans and projects for the future. Here are excerpts from this interview.
In 1979, while still at school, you contracted Post Viral Fatigue Syndrome (PVFS) with its associated chronic depression. This lasted 25 years. Looking back, what effect did this debilitating illness have on your life?
"It slowed me up. It made everything – physically and psychologically – much harder, given my ambition for high achievement. And it made me more difficult to live with. There was no cure that could make the PVFS go away. The keys to improvement were my DNA, time, and avoiding overload - which were in direct conflict with moving my Arctic ambitions forward as fast as possible. I applied what became my sledging motto: "I'll get there in the end".
How did you then get involved in exploration?
"I was working for Mark McCormack's sports organisation, International Management Group (IMG), and used to pop over to the Royal Geographical Society's library occasionally at lunchtime. One day I randomly chose a gloomy-looking volume. The librarian had to cut through the page-tops with a razor blade, so I knew the book had never been read. And what I read of Bernhard Hantsch's Arctic exploration was so astounding and inspirational that I resigned from IMG later that day.

I had to return to his expedition route and reassess the fauna and flora observations he'd made 100 years earlier. As I walked back, I realised my small collection of books at home were almost all about adventure and exploration. Authors were Robin Knox-Johnston, Ranulph Fiennes, Francis Chichester, Chay Blyth, John Ridgway, Robin Hanbury-Tennison, Thor Heyerdahl, Chris Bonnington, Reinhold Messner, Eric Newby, and, of course, Willard Price!"
In 2003 your life changed in more ways than one with your record-breaking solo journey to the North Pole. This was your third attempt. Where did the idea come from?
"I was flying back from my first Arctic expedition, which had involved a 70-day sledging journey across the archipelago of Svalbard with my mentor Vaughan Purvis. It dawned on me that I had just completed the perfect preparatory expedition for a coast-to-North Pole attempt. The spark for this idea had come from an HF radio conversation our expedition had with Ran Fiennes' North Pole expedition. Here I was, talking to a North Pole expedition, hauling sledges across sea ice, with 70 days of equipment and supplies. Why not head north next time rather than east? How much difference could there be? Quite a lot, as it turned out … and I was going to do it solo."
The following year, with Simon Murray, you trekked unassisted to the South Pole, setting more world records. How different was this experience to the Arctic?
"The difference between travelling alone and with a companion is enormous. Also, if that traveller happens to be ex-French Foreign Legionnaire Simon Murray, then so much the better. The Antarctic expedition was in midsummer, with the sun high in the sky all day and all night, giving a ferociously bright reflected light. Whereas when I set off in the Arctic, it was late winter, which meant I experienced the transition from the polar night to permanent sunlight … and the spectacular colour chart of light that washes in slow motion over the sea ice surface, from lunar blues to plum-skin purples to blood orange reds.

In the Antarctic Simon and I marched from the continental coast inland and always upwards to the South Pole which lies 10,000 feet above sea level; and the temperature dropped as we made the ascent from -10°C at the start to -40°. In the Arctic I set off alone from the continental coast of Canada and headed out towards the middle of an ocean, and could only do this because of its partially frozen surface. As the Arctic sea ice can move in any direction as far as you can travel in a day, you can end up at breakfast some miles behind where you had set off from the previous day. The biggest difference is Simon and I can still enjoy sharing, reminding and joshing about our experience, whereas my solo journey sometimes seems more like an ephemeral dream."
You are well-known as a motivational speaker. What are your 'speaking services?'
I have come to see that there are some useful business performance and environmental lessons that I can highlight based on my work on and off the ice. I have been fortunate enough to deliver talks all over the world, from intimate after dinner speeches to being the keynote speaker at high profile international conferences. I lead my audiences on a very personal journey, and illustrate how setbacks, risk and mindset are important ingredients in achieving success in challenging environments.
To book inspirational explorer Pen Hadow as a keynote speaker for your conference with The Motivational Speakers Agency, simply fill in our online form or call us on 0207 1010 553 today. You can also browse our exploration speakers here.