Top 10 Thrilling Pilot Speakers Who Reached For The Stars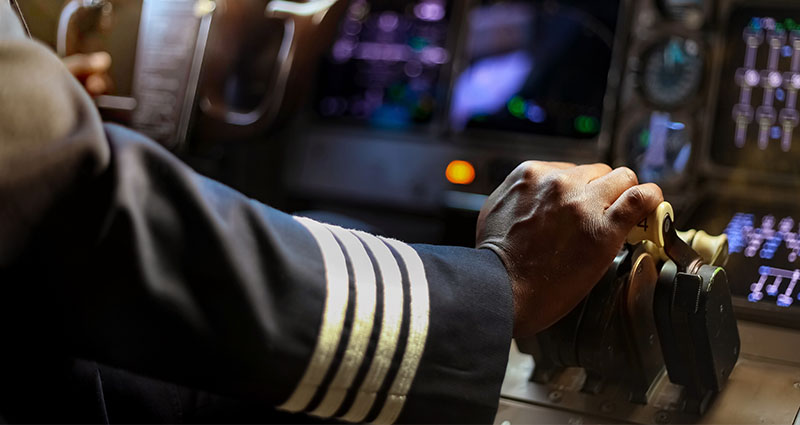 From astronauts to Red Arrows pilots, our wide range of the best aviation speakers means that there truly is someone for every event. As motivational speakers, these expert fliers have enough thrilling stories to entertain audiences from start to finish, leaving them with memories that they will never forget.
1. Andy Wyatt
Whether behind the wheel of a commercial long-haul aircraft or a Royal Air Force fighter plane, Andy Wyatt is highly-regarded for his expert ability. Upon joining the RAF aged just 18, his steely nerve and strong stomach made him the perfect Red Arrows pilot. In celebration of Andy's achievements, he was even awarded the Queen's Commendation For Valuable Services In The Air. Gain a backstage pass to the world of commercial and military aviation with Andy!
Previous client testimonials of Andy's include:
"I enjoyed the whole presentation but the items that most appealed to me was the effectiveness of the daily debrief – open and honest conversation to learn lessons and the behavioural commitment not to let what is said during the debrief affect relationships at work. It was a fascinating talk, well received and Andy was able to identify with our theme of Collaboration and Cooperation in a very meaningful way. We felt your style was one of passion, clear concise, enlightening and engaging. In summary, an excellent highly informative presentation that was one of the highlights of our Stepping up Campaign."
- Crossrail
2. Graham Duff
Graham Duff flew on several tours overseas with the RAF, before joining the Red Arrows in 2010. Over the course of his career, Graham experienced life-threatening situations on a daily basis, which taught him invaluable skills like remaining calm under pressure. Also an accomplished mountaineer, this awe-inspiring motivational speaker teaches audiences that no matter the obstacles standing in their way, they have the strength to set and achieve their goals.
Previous client testimonials of Graham's include:
"I would have no hesitation in recommending Graham as an after dinner speaker. He was great to work with; very accommodating which always makes it easier from an organiser's view point. Beyond that his talk was informative and really held the attention of our guests even after a long day of listening to commercial presentations. To be honest their only complaint was that we didn't have him on for longer so I'm sure he would be a popular choice for someone looking for a day time speaker slot too! Graham shared a fascinating insight that our audience really appreciated and never thought they would receive first hand, it was a refreshing change from the standard motivational speaker which was thoroughly enjoyed by us all."
- Handicare International
3. Jas Hawker
Want to hire the Red Arrows for your event? Well why not book one of their defining leaders, Jas Hawker. Having flown a range of challenging aircrafts, including the famed Tornado, Jas was hand picked as the Commanding Officer of the Red Arrows. This technically advanced speaker can offer incredibly valuable strategies for calculating and managing risk, whether on the front line of warzones or business.
Previous client testimonials of Jas' include:
"Thanks for your presentation yesterday. You hit all the points we discussed, and delivered it in an engaging way and in the right context. A number of attendees referenced your presentation in our wrap up at the end of the conference."
- Zoltan, NBC Universal
4. Bill Ramsey
Having spent nearly 7,000 hours in the air, Bill Ramsey is a seasoned professional. From the Hawk to the World War Two Lancaster, his diverse skill set makes him an aviation speaker unlike any other. Bill transports his audience to the frontline, giving them a never before seen insight into the mindset needed to remain focused when faced with danger. Audiences come away from his speeches inspired by his pilot perspective.
5. Barney Storey
Not all pilots spend their careers soaring through the clouds, some pilots, like Paralympic cyclist Barney Storey, soar around the track. Riding as a sighted pilot for partially sighted cyclists, he has three gold medals to his name, including from the 2004 Athens Paralympic Games. To succeed in such a sport, Barney has had to develop strong leadership skills, the strategies to which he shares as a speaker.
6. Chris Hadfield
Some pilots fly in aircrafts, while others, like Chris Hadfield, operate spaceships. A Commander of the International Space Station, his early career in the Canadian Armed Forces kickstarted Chris' love of flying. Not only is he a sensation online, with many of Chris' videos from space gaining thousands of views, he is also a sensation on the speaking circuit. The motivational speaker helps the audience to prepare for anything, teaching them that their determination is their greatest asset.
Previous client testimonials of Chris' include:
"Awe inspiring. Chris far exceeded already high expectations. The inclusion of our own messaging was incredibly well done and to get a standing ovation was just fantastic. We could not have wished for more."
- IBM
7. Mandy Hickson
Mandy Hickson is a role model to young women everywhere, who wish to follow in her footsteps and join the Airforce. Spurred on by self-belief, she defied all odds to become the only female pilot on her Frontline Tornado Squadron. During her 45 missions in Iraq, Mandy cultivated skills in determination and resilience, essential to remaining calm while operating in No Fly zones. Audiences of this motivational speaker revel in her thrilling stories, inspired to push themselves out of their own comfort zones.
Previous client testimonials of Mandy's include:
"Mandy is a fantastic public speaker. She is both inspirational and extremely well prepared. Her ability to relate her own experience working under extreme pressure and in highly performing teams to everyday situations is most impressive. She tops it all with a wonderful sense of humour and great modesty. Listening to her talking about the many challenges that she has successfully overcome should be compulsory for all girls!"
- Miriam Gonzalez, Partner Dechert LLP, International Law Firm
8. Walter Cunningham
Physicist, businessman and former American NASA astronaut, Walter Cunningham is a celebrated motivational speaker. As the third person to have walked on the surface of the moon, Walter sits proudly in the International Space Hall of Fame Inductee, a testament to his respect from the industry. Walter uses his platform as an astronaut speaker to transport audiences to the surface of the moon, a unique perspective that few speakers can explore at events.
9. Helen Sharman
As the first British astronaut in space, Helen Sharman has an unbelievable story to tell. Upon joining Soviet cosmonauts, Anatoly Artsebarsky and Sergei Krikalev, she traveled to the Mir Space Station to analyse medical and agricultural test results. Another one of Helen's responsibilities was to present to British school children via an amateur radio show, which established her as an engaging spokesperson on space.
10. Justin Hughes
Starting his career as the top cadet of his officer training, it is no surprise that Jason Hughes thrived in the military. Later promoted Deputy Team Leader and Executive Officer of the Red Arrows, he managed 90 members of staff. For corporate audiences, this motivational speaker can offer an invaluable insight into productive leadership strategies to engage a team.
Book An Aviation Speaker
To book any of the pilot speakers discussed in this post for your corporate event, function or conference, simply contact one of our expert booking agents via 0207 0787 876 or [email protected].