Interview: Ann Daniels – The First Woman to Lead an All-Female Team to the Poles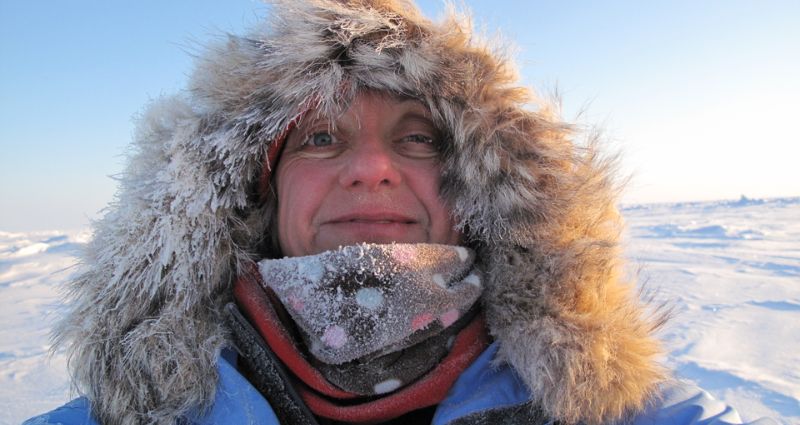 Named one of the all-time greatest British adventurers, Ann Daniels is as determined, committed and passionate as they come. She was part of an all-female ski team who battled storms and freezing temperatures to achieve their goal, an incredible achievement that positioned Ann in the adventuring Hall of Fame. 
Our director, Jack Hayes, sat down with Ann to hear why how she improves mental resilience and the shocking effects of global warming she has witnessed as an explorer. Read our exciting Q&A to find out more.  
How important are a diverse team and inclusive leadership?  
Jack: Aside from your adventuring, you are also a diversity and inclusion speaker. Why is a diverse team important and how does inclusive leadership facilitate corporate success? 
Ann: "I think a diverse team is hugely important.  
"The world is made of diverse people, and everybody is different. If you have a team with the same skills, the same colour skin, the same racial background, the same cultural background, you will always just do the same thing.  
"If you have a mixed team made of many different people, all those skills, all those ideas, they will make that team more powerful. Equality is vital for a better, more successful, happier world.  
"And how people think that it's not, I just don't even understand. So, diversity is powerful, it's huge and it is hugely important." 
Can you describe when you have seen the most shocking effects of global warming first-hand?   
Jack: We all know that global warming is an issue, but as a polar explorer you have seen its impact first-hand. Can you expand on that? 
Ann: "Oh, gosh, I've seen the shocking effects of global warming so many times. I was part of an expedition put together by Pen Hadow, he was the guy who ran it and he asked me to pathfind on the expedition.  
"This expedition was measuring the thickness of the North Pole ice caps. The scientists were expecting the thickness to be 1.9 metres or there about... it was less than 1.5. On that expedition, we saw swathes of very thin ice, kilometres of it, open water everywhere.  
"In 1997, the Arctic Ocean was covered in thick ice, and now there's hardly any of it left, it's gone. There's water, there's thin ice, there's moving ice because there's not as much there. It has gone.  
"I've been involved in ocean acidification science - which is how the chemistry of our oceans are changing - and I've seen the results of that, which is traumatic.  
"I've seen plastic in the Arctic Ocean, a place that doesn't have many communities that live right on the edge of it and there are tonnes of plastic. It's horrific and I've seen that over 20 years, the change is huge.  
"I know that the way we live our life around the world affects those very ends of the Earth. And if that doesn't bother us, what happens at the end of the world has a knock-on effect on the rest of the world.  
"We must speak out about how we live our lives, starting with supermarkets and their plastic-wrapped vegetables. I could go on forever; why are we buying vegetables in plastic bags? If we stop buying it from the supermarket, they won't do it anymore.  
"So, we can make a difference and we definitely should." 
Of all the experiences and places you have visited, what was the most memorable?  
Jack: As an adventurer, you have explored several incredible locations – which one is the most memorable? 
Ann: "The North Pole and the Arctic Ocean are my absolute favourite, the most beautiful places! 
"You're walking on a crest of ice, and you see huge lumps of ice widgets that are 30ft in high and they look solid, they look like mountains, and then you see them move slowly and it takes your breath away.  
"It's as if it's a living beast with its own personality. Nowhere have I experienced it to such an extent where the environment feels like it really has got its own personality.  
"For me, the Arctic is [the most memorable place I have visited]." 
How do you build mental resilience and maintain a healthy mindset?  
Jack: Exploring the North and South Poles required an incredible amount of mental resilience, how did you maintain a healthy mindset in such remote and challenging locations? 
Ann: "I wanted to be the first woman to complete a solo expedition to the North Pole, but it completely failed. There was nothing I could do about it; no amount of positivity was getting me to the North Pole. 
"At the beginning, I was devastated. Then I began to think about what had happened. 
"I'd had the most amazing journey on the Arctic Ocean and had five encounters with polar bears – which was just the most incredible experience. I began to feel privileged and just enjoyed the journey. I stopped worrying about the fact that I hadn't achieved [my goal]; instead, I used my failure to help me be positive about the future. 
"That's the meaning of resilience because [failure is inevitable]. Each time you do, think about the positive things, such as the skills you've learned. If you keep doing that, you will build resilience. 
"It's a process. Resilience is about taking all those difficult challenges, owning them, and then moving on and thinking how fortunate you are to do them in the first place." 
Book Ann Daniels  
To book Ann Daniels as the speaker for your corporate event, function or conference, contact The Motivational Speakers Agency via our online contact form or by phone on 0207 0787 876.