Basketballer Muggsy Bogues speaks of being the shortest ever NBA player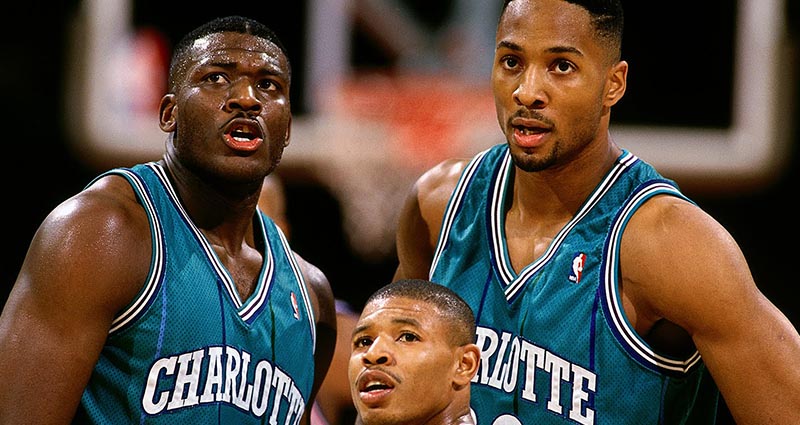 Basketball has always been known as a tall person's game, with many players in the National Basketball Association (NBA) exceeding 6'6" in height. Some individuals, such as Yao Ming and Manute Bol, are well over seven foot tall.
In spite of this, one man has carved out a long career in the premier league of American basketball despite being just 5'3", and to this day holds the record for being the shortest NBA player of all time. His name is Tyrone "Muggsy" Bogues.
The 51-year-old, visiting the UK this week for Thursday's NBA Global Games match between Orlando Magic and his former team Toronto Raptors, played 15 seasons in the NBA for four different teams.
Muggsy, so called because he always used to "mug" the opposition players and take the ball during games, played basketball throughout school and university before being selected by the Washington Bullets (now Wizards).
In 1988 he then joined the Charlotte Hornets, where he remained until 1997, and played for a further four years for the Golden State Warriors and Toronto Raptors before finally hanging up his boots.
"I knew that a lot of folks didn't understand a guy my size playing a game that's supposed to be meant for the big guys," Muggsy told reporters. "I had to break a lot of barriers down and I had to change that mindset - and the only way of doing that is by being effective on the court."
Muggsy is proof that you can achieve anything with the right blend of skill, hard work, perseverance and the right attitude, even if the odds seem stacked against you.
At the Motivational Speakers Agency we have dozens of individuals blessed with the ability to inspire, motivate and reinvigorate people in need of turning their lives around. One such individual is Pete Cohen.
One of the country's leading performance and motivational business speakers, Pete is a published author, a weight loss guru and an established media personality with more than 15 years' experience in addressing, coaching and inspiring people.
He has worked on all major television channels, presenting and appearing in high-profile roles with his enthusiastic presence. He has inspired and motivated audiences on ITV's 'Fat Chance' and 'GMTV', BBC2's 'Confidence Lab', BBC3'S 'Fantasy Retirement' and Channel 4's 'Going for the Burn'.
In addition, Pete is the author of 14 best-selling books with titles such as Shut the Duck Up!, Life DIY and Sort Your Life Out, and has even worked with a host of sports giants like Ronnie O'Sullivan, Ellen MacArthur and Arsenal Football Club.
To book an inspirational speaker at your event, contact the Motivational Speakers Agency by completing the online form or calling us on 0207 1010 553 today.