Exclusive Interview: Jonathan Shubert - Cycling 100 Miles In Under Three Hours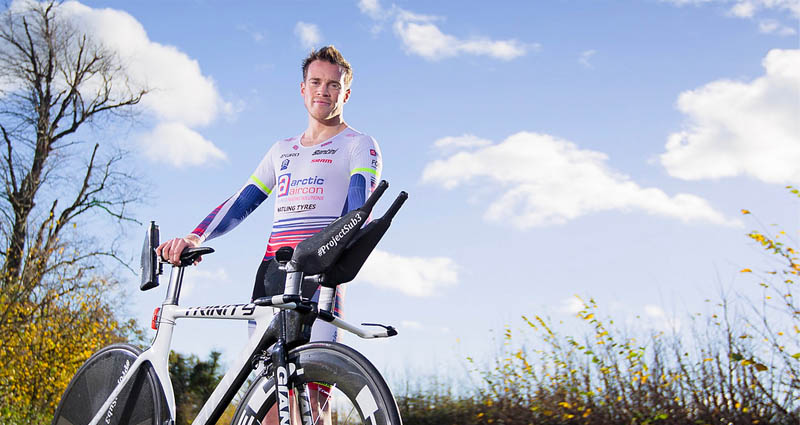 Jonathan Shubert may not claim to be "superhuman", but his World Record for 'quickest 100 miles cycled' would beg to differ! We had the privilege of interviewing Jonathan to discover how he reached such an incredible achievement.
Sports motivational speakers are the perfect orators for corporate events. Whether they are hired to discuss the Olympics, like the recent Tokyo Olympic Games, or reflect on their World Records, like Jonathan, these speakers are truly inspirational.
Discover why Jonathan is the perfect speaker for your event in our latest exclusive interview, where he revealed the secret to his World Record success.
Q: What physical and mental skills are necessary to be a world record breaker?
"Well, I think despite what a lot of people might think from the outset, I'm not superhuman. I am just an average guy in many respects - I'm a science teacher, I'm a schoolteacher. But I think what set me apart and allowed me to do something that no one else has ever done before, become the first man to break three hours for 100 miles on a bike, was my mindset.
"I'm fascinated by all sorts of things, from sport to culture to food. And what I did, I started looking outside the box. I was like, 'okay, so these are the traditional roots, and I refined all these things - this is how fast I managed to get'.
"Then I started to notice there was something very, very fundamental that I could change about my aerodynamic. In my cycling, everyone holds these aerodynamic handlebars, and I started looking beyond the sport of cycling. I started looking at nature, looking at Formula One and noticing that when you manipulate airflow, like a Formula One car, the most important part is at the very front of the vehicle determining what happens to the air.
"So, I thought, 'why aren't cyclists doing this?' I started designing and developing my own handlebar system. The shape channelled airflow around me in such a way that I was reducing my drag tremendously!"
Q: How did it feel to break the World Record?
"It's really funny, because when I was doing it, I'm so focused on the task, on the project. A lot of things went wrong -  like I was stuck in one gear - so, you know, I felt relief.
"When I crossed that line, there was relief. The elation didn't really sink it at first. It was like performing a science experiment for me, and it worked!
"There were a lot of people counting on me, there was pressure, but I managed to fill that. And the response before, during, after it was very interesting to follow the changes in my own emotions and those of other people, obviously, my team around me and all the supporters were elated.
"I don't think it sunk in for quite some time. I couldn't quite believe what I'd done!"
Q: What was the biggest challenge you faced on your quest to break the World Record?
"I think it was having patience. We needed the right weather, and I needed a wind speed of above 20 miles an hour in one particular direction.
"It's hard to motivate yourself to keep training, and the frustration, obviously, it was getting to me, and that was one of the reasons I went for the first attempt. I thought, 'we've just got to try this'. I'm not a professional athlete, so there were other things that I needed to do in my life with work and my career.
"You have to be so single-minded about something like this!"
Book a Motivational Sports Speaker
Browse our range of top motivational sports speakers then contact one of our dedicated booking agents via our online form now or by calling 0207 0787 876. We will then get back to you with a quote and can discuss your occasion in more detail.