February's Featured Speaker of the Month - The Real 'Wolf of Wall Street', Jordan Belfort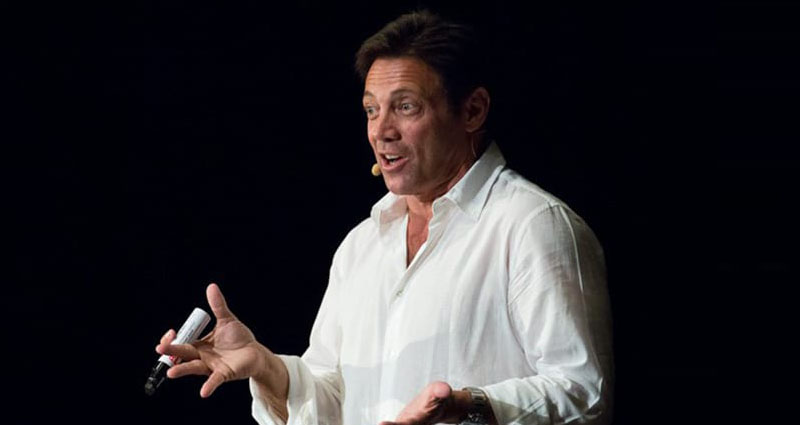 2021 has already provided us with many opportunities to supply speakers for incredible events, virtually of course. In the process of booking speakers throughout February, we have chosen our featured speaker of the month- the real 'Wolf of Wall Street', Jordan Belfort.
Who is Jordan Belfort?
Former American stockbroker, Jordan is now an author and motivational speaker focusing on the themes of sales success. He is widely known for being the man behind the famous 'Wolf of Wall Street', played by none other than Leonardo DiCaprio in the film. Pleading guilty to fraud in connection with the American stock market, Jordan was convicted for his crimes and later authored The Wolf of Wall Street and Catching the Wolf of Wall Street memoirs to document his story.
Why is Jordan Belfort a Current Speaker?
A dynamic and successful salesman, Jordan Belfort is widely known for founding Stratton Oakmont. Having previously earned sums of $50 million a year, Jordan knows what it takes to create a financially successful business. Using the Straight Line System, Jordan is able to provide insightful and in-depth training to corporate clients which helps them to create an abundance of wealth and develop skills for entrepreneurial success.
During the difficult period of Covid-19, Jordan is the perfect speaker to motivative staff by providing them with the skills and practices they need to ensure sales growth for their organisation. At a time in which businesses have struggled immensely with finances, Jordan empowers corporate clients with ethical techniques guaranteed to send their sales through the roof.
How has Jordan Adapted his Services During the Covid-19 Pandemic?
During the tumultuous period of the Covid-19 pandemic, Jordan has committed his time to helping businesses to thrive despite the hardships of the pandemic. Jordan has his own YouTube channel, titled The Wolf of Wall Street, where he uploads a series of videos covering everything from the future of social media to overcoming objection.
Jordan has also developed his own podcast, where he too shares his expertise in sales. On the podcast, Jordan has discussed the effect Coronavirus has had on businesses and individuals, touching on its impact on the stock market, what it means for small businesses and how it will impact travel.
What Topics Does Jordan Cover as a Speaker?
When booked for events, Jordan shares his expertise on how to run a successful business. He specialises in:
Straight Line Selling Systems 
Creating Customers for Life 
Closing a Sale 
Building a Business 
The Art of Persuasion 
Testimonials of Jordan's Previous Speaking Events
Jordan has become a popular speaker for events, read some of his latest feedback below.
"Jordan is one of the most engaging and motivating speakers in the world today. His life experience are truly amazing, and what he teaches about selling with the Straight Line System is simply world class. If you desire to be at the top of your game as a salesperson, don't miss this!"- Craig, CEO, NextDC
"With his energy and direct presentation techniques, Jordan enables me to clear the fog of ideas and goals that I have and enabled me to crystallise my vision going forward"- Chris, Olympic Gold Medallist
"The best part of having Jordan Belfort speak at our event, aside from his animated delivery of his tumultuous story, is the timing. When his movie comes out in the fall everyone who attended our event will get to nudge the guy next to him and say I met the real Jordan Belfort and heard his story from his own lips at the Grant Thorton Annual New York Event! Talk about lasting impressions, our event will be talked about from now until the next year"- Grant Thorton
Interested in Booking?
Interested in booking Jordan Belfort as a speaker for your event? Contact a booking agent on 0207 0787 876 or fill out our online contact form to find out more.