Leicester City Upset The Odds To Win Premier League Title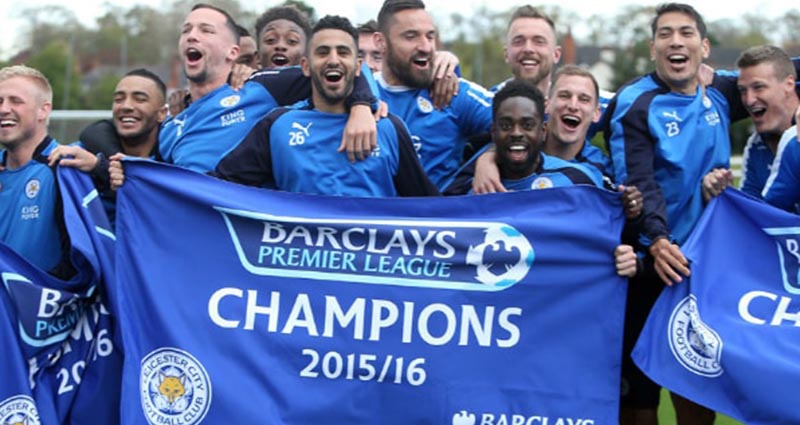 For months, they punched above their weight. For months, people thought their luck would run out eventually. But Leicester City Football Club have only gone and won the Premier League!
In what is arguably one of the greatest sporting feats of all time, the Foxes upset odds of 5000-1 to claim the English title after second-placed Tottenham Hotspur could only draw at Chelsea on Monday night.
To put it into perspective, the Miracle on Ice of the 1980 Winter Olympics was, at 1000-1, five times more likely to happen than Leicester winning the league. In fact, Elvis Presley being discovered alive is "only" 2000-1!
Even now that Claudio Ranieri's side are seven points clear of Spurs with two games to go, it still seems scarcely believable that they've done it. After all, since the English First Division became the Premier League in 1992, there has been such an influx of money from Sky Sports and billionaire owners that first place after 38 games is seen as obtainable only by the richest clubs.
Even Blackburn Rovers, winners of the 1994-95 title and the "surprise" name in the hall of fame up until this season, were originally tipped to do well after finishing second the season before, and had built up quite an impressive team on the pitch, the bench and the back room thanks to Jack Walker's funding. The club had also won the title before, albeit in the 1910s.
Leicester, however, came within a whisker of being relegated the previous season, pulling off an incredible "Great Escape", with seven wins from their last nine league games, to drag themselves off the bottom of the table and into safety.
They were one of the favourites to go down the following year, as many teams in the past would have done, particularly with the appointment of Ranieri, who was deemed past his shelf life and reeling from a disastrous spell as manager of Greece, in which the Euro 2004 winners lost to the Faroe Islands.
And yet, resignation turned to joy, joy turned to hope, hope turned to anxiety, and eventually, on Monday night, anxiety turned to a scarcely believable euphoria as a football club who had been in the third of English football just a few years earlier and with absolutely no place among the big boys of the Premier League had somehow surged to the top of the table and, this weekend, will be lifting the hallowed trophy.
At Champions Motivational Speakers, we are delighted to count a number of former Leicester City players on our books who will be able to give a personal insight into how the club was able to overcome the odds and turn the world of sport upside down.
Legendary goalkeeper Peter Shilton OBE was born in Leicester and began his career at Filbert Street, being deemed such a hot prospect that he was able to take the jersey of World Cup winner Gordon Banks, and was able to help the Foxes to the FA Cup final, as well as being crucial in the side bouncing back from relegation in 1971.
Steve Claridge, meanwhile, is one of Leicester's few pre-2016 players who won major silverware with the club, getting his hands on the League Cup in 1997 after beating Middlesbrough 1-0 in a replayed final.
To book either Peter Shilton OBE or Steve Claridge to share their motivational advice at your event or conference, contact Champions Motivational Speakers by filling out our online booking form, or calling us on +44 1509 85 29 27.