Could You Become A Motivational Speaker?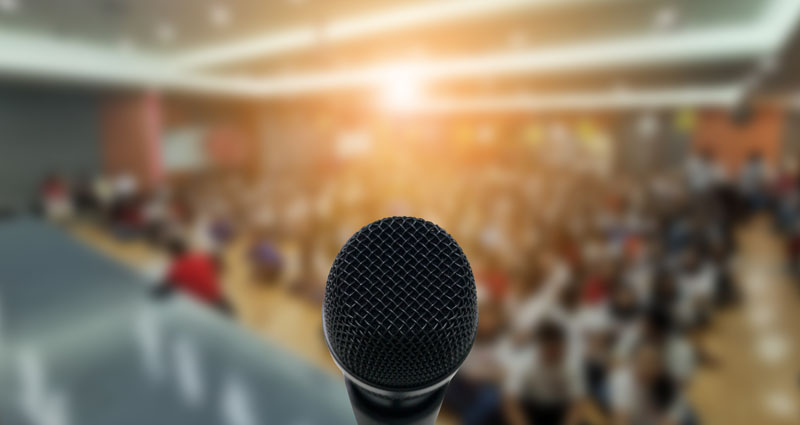 Motivational speakers are a great addition to a range of events, including corporate conferences and inspiring public occasions. Providing a boost to all events they attend, these speakers inspire, encourage and most of all motivate audiences to be the best they possibly can be. All of these speakers have certain experiences that make their deliveries so special, from stories of overcoming adversity to incredible feats they have achieved.
A career as a motivational speaker can be highly rewarding, with many possessing the ability to leave a great impact on all listening. On paper, motivational speaking seems a fairly straightforward job, however there are many factors such as personality traits and delivery styles that you need to hone to be the best in the speaking circuit. Here at The Motivational Speakers Agency, we are experts in the art of motivational delivery, could you be our next motivational speaker on the books?
How to deliver a great motivational speech
Below, we have compiled a comprehensive list of tips and tricks for delivering a great motivational speech.
Practise speech writing to plan content
Although some of the best motivational speeches over history have been done in the spur of the moment, it does not hurt to practice to discover the correct tone and style for your delivery. After all, communication is a key skill as a speaker, so get it right first time by planning out the content of your speeches, to ensure you send out a clear message.
Watch this clip of teacher Matthew Burton, a motivational figure who inspired his students to achieve their best:
Record the speeches
Video recording your speeches is a great way to watch yourself back as if you were an audience member. This technique allows you to perfect your presenting style, whether that be your posture or the amount of eye contact that you make with the audience. It is crucial to pay attention to features that will allow you to connect with your audience, making sure that not only the details of your story motivate the audience but your personality too.
Practise speaking publicly
It is important to be able to speak to large groups of people as a motivational speaker. At first it can be daunting, but with practise it becomes second nature. Start small, performing in front of friends or family and gradually increase the size of your audience. Before long you will be able to motivate large crowds, well on your way to becoming an incredible motivational speaker.
Why not read our blog about why we fear public speaking and how to overcome it?
How to stand out from the crowd
When first starting as a motivational speaker, it can be hard to make your mark and stand out from the rest of the circuit. Consider these factors:
Cultivate your motivational message
The most important part of your speech is your core motivational message. Whether it be a great challenge you have overcome, an incredible feat you have accomplished or a transformative speaking topic, it is important to find your niche. A unique story is guaranteed to captivate your audience's attention, leaving them in awe of your incredible achievements.
Take a look at this clip of motivational businesswoman Jo Fairley:
Consider different types of delivery
There are a variety of styles of delivery that make a person stand out from the crowd and leave their mark on the speaking circuit, including a formal, corporate approach or a more light-hearted and honest discussion of your experiences. Consider which kind of delivery style best suits your style of speaking and leave guests captivated by your incredible content.
What personality traits and skills does a motivational speaker have?
There are various personality traits that a motivational speaker may possess, including:
Confidence
A key factor of motivational speaking is having confidence. How is an audience member going to be motivated when the speaker has no confidence in what they are delivering? Ensure that you have faith in your speaking topics when at events, also making sure that your body image and language convey confidence too. Smile, talk loudly and clearly, stand straight and make sure you look as through you want to be there! Standing in front of hundreds of guests is a daunting task, one that many people avoid, but you must have confidence in your actions for any of your audience to have to!
Take a look at this clip of Kellie Maloney, speaking of her motivational journey of gender transformation
Self-belief
Similar to confidence, a key quality of a motivational speaker is having self-belief. It is important for a motivational speaker to believe in their own actions and take pride in what they have achieved, otherwise how will anyone else believe it? It is important to not doubt your ability, to go with your gut and believe in yourself
Ability to overcome challenges and adversity
Life is often tainted by adversity. As a motivational speaker, it is highly likely that your source of motivation was uncovered during times of hardship or whilst battling challenges. It is important for a speaker to have determination and perseverance, so they can inspire audiences to overcome their own struggles.
Take a look at this clip of Simon Weston, speaking about how he survived PTSD
Authoritativeness
Often, the greatest leaders are famed for their motivating qualities, influencing their teams to perform to the best of their abilities. Without leadership, it can sometimes be hard to stay motivated, and so a great motivational speaker will be able to take charge when needed and steer people toward success. Such qualities help as a public speaker, giving you the ability to command an event and lead the audience.
Personable & Likeability
A great motivational speaker is able to work as part of a team. As a speaker, it is important to be able to work as an individual, but to also be able to work in partnership with other speakers to create even bigger and better events. A personable or likeable speaker is guaranteed to be hired again and again, becoming a key favourite on the speaking circuit.
Think you have what it takes?
After you have practised mastering the perfect speech, chosen your style of delivery and topic of motivation, you are well on the way to the top of the speaking circuit. Here at The Motivational Speakers Agency we are fortunate to host some of the greatest motivational speakers available on the speaking circuit. From top sporting stars to business moguls and individuals who have overcome serious adversity, why not browse our speakers today to give you inspiration and motivation?