How Does Tiger Woods' Historic Sporting Comeback Rank Alongside Other Great Comebacks?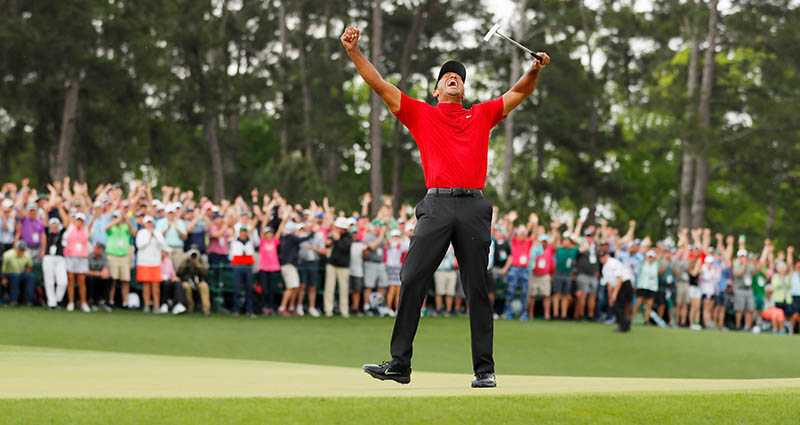 Tiger Woods was the former undisputed number one in golf and one of the world's biggest sporting figures at the time of his 14th and seemingly last Major in 2008. Fast forward 11 years and Woods remains a sporting great, though prior to Sunday's remarkable triumph, his efforts were largely resigned to the history books.
A break from golf followed a 2009 car crash, infidelities and the breakdown of his marriage, and injuries also played a part in his downfall. A drink driving charge, followed by his fourth back surgery seemed to cement his status as a fallen great in 2017. But in true Tiger style, on Sunday 14 April, he shocked the world once more, winning the 2019 Masters in Augusta to pull off what many have called the 'greatest comeback story in sport'.
Barack Obama wrote:
Congratulations, Tiger! To come back and win the Masters after all the highs and lows is a testament to excellence, grit, and determination.

— Barack Obama (@BarackObama) April 14, 2019
Winning his fifth Masters and 15th Major, Woods proved that the age-old adage of 'never giving up' is the difference between the best and the rest. His incredible display on the golf course to see off stiff competition from fellow Americans, Dustin Johnson, Xander Schaufelle and Brooks Koepka ended in a show of passion, a wide smile, a punch of the air and an audible yell. Enjoying the moment with the crowd, his family and fellow pros, Tiger ended the day in his fifth Masters Green Jacket at Augusta.
How Does It Rank In the Greatest Sporting Comebacks?
Gary Lineker was quick to call it the second greatest sporting comeback of all-time behind only his beloved Leicester City's 2015 title win. Others called it the best in history. Let's take a look at some other incredible comebacks:
Second most thrilling sporting achievement I've seen. The best: Leicester winning the league.

— Gary Lineker (@GaryLineker) April 14, 2019
Roger Federer - Wimbledon 2017
Already a legendary tennis player, Roger Federer was 35 years old with an injured knee and had not won a major since 2012 when he competed in the Australian Open in 2017. People were sure he was past it, and his exploits, though brilliant were surely a thing of the past.
Federer had other ideas as he beat Rafael Nadal to win the Australian Open before beating Marin Cilic at Wimbledon 2017 to mark an astonishing sporting comeback. He was named Sportsman of the Year and won the award for Comeback of the Year at the Laureus Awards.
Muhammed Ali - Eighth Round Knockout Vs. George Foreman
Muhammed Ali's career was up. No one believed he still had the quality to overcome George Foreman ahead of their World Heavyweight fight in 1974. In the previous years, he had lost his 100% record in losing to Joe Frazier and Ken Norton.
Despite battling back to beat Frazier in a rematch and setting up a showpiece fight against the heavyweight champion, George Foreman, Ali was written off. Ali was 32 and Foreman was considered one of the most intimidating opponents in boxing. Ali knocked George Foreman out in the eighth round to reclaim the Heavyweight Title and the rest, as they say, is history.
James Cracknell - The Boat Race
This one is a little out of the left field, and it may not be as high-profile as the others in question, but it is an inspirational comeback story all the same. Former Olympic gold medallist, James Cracknell was one of the greatest rowers in British history, competing alongside the likes of Sir Steve Redgrave and Matthew Pinsent in the Coxless Pairs and Coxless Fours in the 1990s and 2000s during a remarkable time for British rowing.
He helped the team to 6 World Rowing Championship golds and 2 Olympic golds. In 2010 however, Cracknell was hit on his bicycle by a petrol tanker while he was running, cycling, rowing and swimming his way from Los Angeles to New York. The crash resulted in brain damage but ultimately a cycle helmet saved his life. Despite such adversity, Cracknell returned to compete in marathons, ultramarathons and races across the globe, taking in the 2012 London Marathon, 'The Coldest Race on Earth' and 'The Toughest Race on Earth' in the process.
It was in 2019 though that Cracknell became the oldest competitor ever in the famous Boat Race that he completed a remarkable comeback. At 46 years of age, James Cracknell helped Cambridge University win The Boat Race.
The Rise & Fall…& Rise Again
Watching the greatest sports stars fall from grace is normally a sad sight. It has happened before, and when age seemingly gets the better of a player, time is usually right for them to call it a day.
But sometimes, be it due to their mental strength and resilience or passion and desire to do more, they carry on, and this can result in some of the most fascinating inspirational sporting stories of all time. Well done Tiger!
If you'd like to book a motivational speaker to appear at your event and talk about their story, contact us today by filling in our online contact form or by calling giving one of our dedicated booking agents a call directly on 0207 1010 553.