How To Stick To Your Resolutions In 2022 (5 Easy Methods)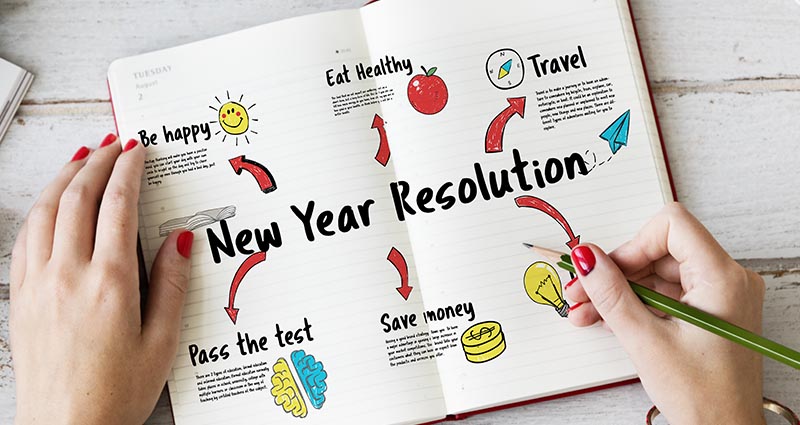 A new year, a new decade and millions of New Year's resolutions. Every year, countless people pledge to improve themselves from the 1st of January, but it isn't easy to adopt an entirely new habit.
With the lack of resolutions making it to the end of the year, it is not hard to see why.  Let's take a look at some of the methods you can employ to give your resolutions a fighting chance.
What are the most common New Year's resolutions?
People are already setting their New Year's resolutions, usually telling their family and friends all about their "new year, new me" mindset with the same steely determination as an athlete before the race of a lifetime.
But, what is the most common 2022 resolution? Find out below!
The Most Common 2022 New Year's Resolutions:
Getting fit
Increasing finances
Finding love
Dealing with stress
Achieving happiness
Source: https://antimaximalist.com/new-years-resolutions/
All resolutions point to three goals; stress management, physical peak performance and more positive mental health.
How do I stick to my New Year's resolutions?
As our January motivation is tidied away in our spring clean, pushed to the back of the cupboard alongside half-drunk bottles of Christmas spirits, our resolutions become harder to stick to.
According to YouGov, a quarter of all British people made New Year's resolutions in 2019, with half of them giving up on some of them and 28% dropping every resolution they set. That left a 24% success rate.
But, there are some small steps that you can take to help you achieve your goals.
Here are five (simple) ways to stick to your resolutions in 2022!
1. Set Goals
We have all been guilty of using phrases like "I want to lose weight, save money, exercise more", but such directionless statements are difficult to achieve. Instead, setting realistic, quantifiable goals to a timeline can improve your resolution's chances. For example;
"I am going to be able to run 10 kilometres by July, in time for a local race. I will train weekly and use a sporting app to track my progress."
A resolution as set in stone as the above is a surefire success - you just have to follow the process. Be realistic, set achievable goals and have an end objective that reflects your progress. For example, the amount of money saved or the distance ran without stopping.
2. Be Realistic
Set goals that are within your budget, time frame and abilities. If you find yourself wanting to travel the world but struggle to make ends meet, first try a beachside "staycation". If you want to run a marathon but have never done it before, first join a running club or train for a half marathon. You are more likely to stick to your resolutions if they are achievable in the first place.
Few of us are going to write a bestselling novel, climb a mountain or end world poverty by December the 31st. Some may, but not all of us, so don't put too much pressure on yourself. It is not "new year, new me" but "new year, improved me".
3. Ask For Help
Whether that be from family and friends, or professional health motivational speakers, asking for help will keep you motivated. As you see those closest to you regularly, you will feel more accountable for your resolutions. They can celebrate your successes and encourage you over hurdles.
Our Top Pick of Motivational Speakers:
4. Understand Why
It can be easy to set goals for the benefit of others under the guise of self-love - like taking up vegetarianism in solidarity with your partner. Alternatively, succumbing to the pressure of setting a resolution can lead you to make promises for the sake of answering the question: "what is your New Year's resolution?".
Either way, the most successful way to adopt a new habit is to do it for yourself.
Think about why you want to set a resolution. If you want to make your bed every morning, then understand how that will benefit you and value the reasons behind it. Your resolution should benefit you personally, making you a better, healthier, calmer person.
5. Marginal Gains
When you set a resolution, make sure to track the little victories as well as look towards the end goal. If you want to take up running, then as well as booking yourself onto a half marathon, celebrate when you achieve your first mile, your first 5K and your first 10K mark. This is called marginal gains, a key topic at motivational events. 
You will set yourself up for success by thinking small. Changing a negative habit or succeeding at a personal goal is a journey that starts with the initial step, so value those early victories. Thinking small will help you to achieve big.
Book a Health & Wellness Speaker
Make 2022 the year that your resolutions become a part of everyday life. To book a health and wellness speaker, contact us by filling in our online contact form or by calling a booking agent directly on 0207 0787 876.