Motivational Lessons to Take from the Incredible Patriots' Super Bowl Comeback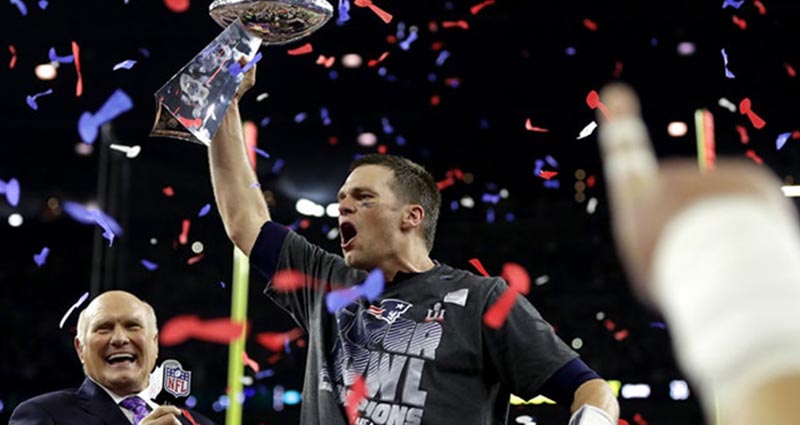 Over 100 million people tuned in on Sunday night to watch one of the greatest sporting events in history. The Super Bowl is always one of the biggest nights on the sporting calendar, from the pre-match build up to the famous halftime show, it's the elite of American Football.
The New England Patriots produced the greatest comeback in the sport's history by overcoming a record 25 point deficit to beat the Atlanta Falcons 34-28 to win their fifth title. Tom Brady was named MVP for the fourth time in a Super Bowl with many people saying he has now proven himself as the best quarterback of all time.
The Patriots demonstrated a number of qualities during their inspiring win which can be adopted by all of us to motivate and succeed in all aspects of our life. The mental toughness and never say die attitude exhibited by the Patriots is truly remarkable.
Whilst trailing the match 28-3, it would have been very easy for the players heads to drop and accept their defeat, but they still had the self-belief to dig deep and claim an unlikely victory in dramatic circumstances. This is something that we can all take on board in our day to day working life; even when it seems the world is against us, it is important to stick at it and hopefully reap the rewards.
Keeping the morale of the team up was also a vital part of the Patriots win. Coach Bill Belichick set a new record, attending his seventh Super Bowl and claiming his fifth victory. Being able to keep his players positive despite trailing in the match was a very important factor to the overall victory. This is a skill that is crucial for success in corporate businesses' as there will be times when a morale boost will be needed to increase productivity and keep people positive.
Good teamwork is integral in all sporting environments, but a bigger onus is placed on this when things aren't going your way. This was crucial during the Super Bowl as the Patriots needed to stick together and still have the self-belief that they could win the match, even when it was looking like they would be defeated. Being able to trust each other and work to people's strengths is incredibly important in a professional environment, whether that be sport or in a standard workplace.
Here at Champions Motivational Speakers, we have an abundance of fantastic motivational sporting speakers who can encourage and advise audiences on how to maximise their potential. Able to showcase their speaking talents at a variety of events and conferences, call us on +44 1509 85 29 27 or visit our website for information on how to book any of our superb speakers.