Sir Ranulph Fiennes Falls Short In His Attempt To Scale The Highest Mountain On Every Continent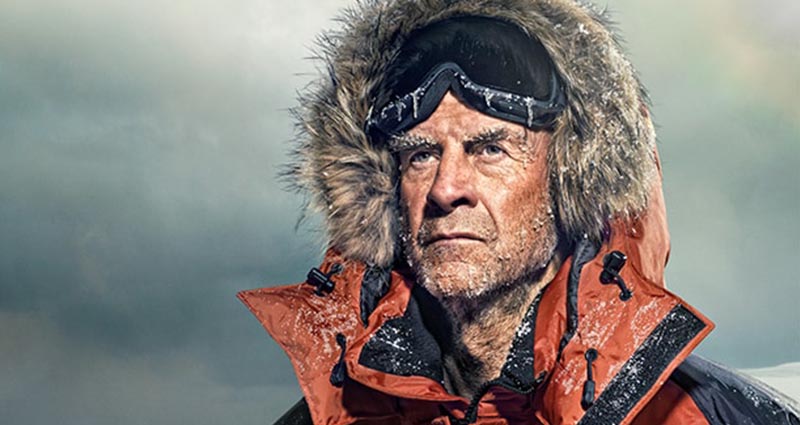 One of the world's greatest adventurers  one the planet, Sir Ranulph Fiennes efforts to climb the highest mountain on each continent has come to a premature end. At 72-years-old, Sir Ranulph was raising money for cancer charity Marie Curie. He had previously been quoted as saying "Climbing three further mountains in a short space of time is going to be a definite challenge, but if it raises money for Marie Curie then I would really like to have a go" states Sir Ranulph Fiennes.
Sir Ranulph had already seen the summit of three of the highest peaks – Kilimanjaro in Africa (5,900m) in 2004, Mount Everest in Asia (8,800m) in 2009, and Mount Kosciuszko in Australasia (2,200m) in 2015. He began his journey in July 2016 with Mount Elbrus, the highest peak in Europe at 5,600m.
Despite his dedication to reach the highest points in the world, chronic back pain has forced him to return. Climbing Mount Vinson in Antarctica (4,900m) in November 2016, he was unable to see the top of Aconcagua, the highest point in South America at 6,900m. He now plans to complete the remaining two mountains later in the year, although his health has forced his return it has not broken his spirit and stubborn will to conquer these peaks.
Once Aconcagua is conquered, the adventurer is taking on Denali in Alaska. It is North America's highest peak at 6,100m and the mountain only has an 18% success rate of climbing. To conquer this perilous mountain the adventurer must navigate five glaciers sweeping off the northern summit as well as temperatures dropping well below -30⁰c. Denali is the third most isolated peak in the world and the centrepiece of Denali National Park.
This is all for Marie Curie, a charity which aids many people who have been diagnosed with a terminal illness and their families. This charity is held close to the heart of the adventurer, as his first wife, Ginny, sadly passed away at 56 after a long fight with cancer.
Sir Ranulph has raised over £18 million in his lifetime for charity, planning to raise £2 million more, £8.3 million of that is for Marie Curie. This quest would have made him the only person to see all the highest peaks as well as traversing the North and South Poles, he crossed the polar ice caps in 1982 losing the tips of all his fingers on his left hand in the process. He has not let this stop him, Sir Ranulph continues to achieve great things. These qualities make him a fantastic motivational speaker, throughout his lifetime he has overcome adversity and continues to challenge himself despite now entering his later years.
Sir Ranulph has not let his age stop him, despite having suffered from two heart attacks, which left him with a chronic respiratory problem, he is determined to continue his adventure around the world. His experiences and wisdom make him the perfect motivational speaker, Sir Ranulph continues to explore some of the most isolated places in the world and his perseverance makes him a perfect choice for any event. Becoming a much sought-after personality on the motivational speaking circuit, his resolve to continue exploring and raising money for charity is sure to inspire and motivate any business leader.
To book Sir Ranulph Fiennes as an exploration speaker at your event, contact The Motivational Speakers Agency. Simply call us on 0207 1010 553 fill in our booking form.