International Women's Day 2024: How can my business celebrate?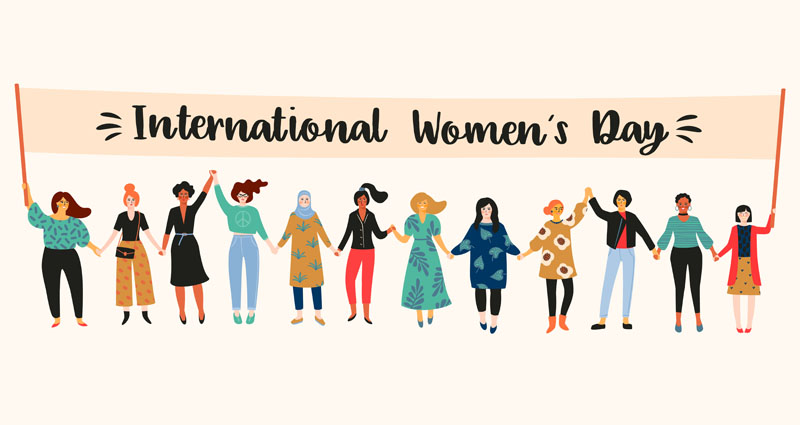 International Women's Day is a celebration of the achievements made by women throughout history and signifies a continued mission for gender equality. First celebrated over a century ago, the day is now embraced globally to collectively champion the successes of the world's great women, both past, present and future.
Contents
What is International Women's Day?
Taking place on Tuesday the 8th of March 2024, International Women's Day is a celebration of the achievements made by women over the course of history. Today, IWD appreciates the work that past heroines have completed across social, economic, cultural and political sectors. The day also represents the continued fight for equality, to eliminate discrimination and bias between genders.
In 2024, the theme for International Women's Day is #InspireInclusion.
Source: International Women's Day Official Website
When was it first celebrated?
The battle for gender equality was raging in the early 1900s with women campaigning for the right to better pay, shorter working hours and suffrage. The earliest form of International Women's Day was celebrated in 1909, linked with the Socialist Party of America and called National Women's Day.
Observed across the United States, the day was then celebrated by places such as Austria, Denmark, Switzerland and Germany in 1911 before being celebrated by the United Nations in 1975. The day was also formerly celebrated on the last Sunday of February, before it was moved to its permanent date of March 8th.
Why is IWD important, and why should we celebrate it?
Throughout history, there have been many women who have considerably impacted the world as we know it today. From individuals such as the Suffragettes claiming the vote for women to Marie Curie founding the science of radioactivity and Rosalind Franklin discovering the structure of DNA, women have continually impacted social, cultural, economic and political developments over the course of history. In a world that is still unfortunately plagued by gender bias and discrimination, it is more important than ever to appreciate such achievements.
Today, men hold 62% of management positions and there is still a gender pay gap of 8.9%, meaning it is highly important that we continue on this mission to lobby for definitive action against those who are guilty of fuelling a sexist society. IWD aims to combat issues such as gender bias and discrimination but has more recently become a celebration of all - women of all races, sexuality and identification. In the spirit of making the world a more diverse and inclusive place, IWD embraces all to make the world more welcoming.
How can I support IWD, and what are their missions?
In order for people to help support International Women's Day, organisers have set out a number of missions of which you can encourage. These include:
Build Inclusive Workplaces
A major factor of IWD is ensuring that women feel both safe and included within the workforce. In a world where 35% of women in corporate sector jobs have experienced sexual harassment and only six countries give women equal work rights, it is crucial as a company to strive to make your workplace as inclusive as can be. Not only for female employees but all employees of different races, sexualities and identification.
Wondering how you can champion diversity and inclusion? Why not take a look at our fantastic range of inspirational speakers who can bring understanding and help you to encourage diversity?
Champion Women in Technology and Innovation
With only 19% of the technology workforce being women, another mission of IWD is to increase awareness of women who are contributing to the digital and technological advancements that are innovating the world. There have been many women who have shaped technology, for instance, Grace Hopper who developed the computer and invented compilers, and so today we continue to encourage women to go against the grain and follow in the footsteps of great technological inventors.
Equality in Sport
An often male-dominated field, the mission of IWD is to encourage equality in sport. It is reported that women only receive 4% of sports media coverage, and so IWD pushes the importance of helping women secure equal pay, visibility and sponsorship for their talents. Here at The Motivational Speakers Agency, we have a number of inspirational female athletes who are available to hire, who epitomise the reason why there should be equality in sport.
Increasing Awareness of Female Creatives
Another prominent mission of IWD is to appreciate the creative work of females and to increase the visibility of such individuals so that they can secure commercial work and commissions. IWD invites female creatives to showcase their work, putting on impressive displays to highlight the true talent they possess. From artists to musicians and dancers, there is a stage out there for everyone in the eyes of International Women's Day.
Educating in Health Choices and Decisions
A crucial element of International Women's Day is ensuring that women are able to make informed and sensible decisions regarding their health. From mental health to menopause, IWD raises awareness of the illnesses that impact women and what they can do to cope with the struggles of such illnesses.
Overall Championing Female Empowerment
The final mission of IWD is to simply champion female empowerment. From those early days of the Suffragettes campaigning for the right to vote, today International Women's day encourages women to follow their dreams and strive to achieve their goals without worrying about the bias or barriers that society poses.
How can my business or organisation help celebrate IWD 2024?
Below, we have outlined how your business can celebrate International Women's Day. 
Fundraise for a charity
International Women's Day provides an opportunity for thousands of pounds to be raised for charities that make the world a better place for women. To help support IWD, your business could arrange a charity fundraiser or simply collect donations for a charity of your choice. This year, organisers have selected The World Association of Girl Guides and Girl Scouts and Catalyst as their charities of choice. However, there are many other charities that support women who would appreciate your help, such as Women for Women International, Womankind and Women's Aid.
Share stories of female achievements
Something that is not exclusive to just one day, why not share stories of achievements that empower your female colleagues or employees? Whether it be someone achieving a great promotion or solving a simple problem, shout these great accomplishments from the rooftops. Also make sure to carry on the stories of women gone by, such as role models Rosa Parks and Florence Nightingale so their stories are never forgotten.
Host an International Women's Day event
Arguably the best way to celebrate International Women's Day is by investing in a dedicated event or conference. Not only will this raise valuable awareness of the issues many women face, it will also position your company or organisation on the right side of history.
What is an event without a top speaker? At The Motivational Speakers Agency, we are privileged to work with a wide range of exciting international women's day speakers, including top-class women from the worlds of business, sport, politics and more. Simply read our list of the Top 18 Speakers to Book for International Women's Day then get in touch to reach one of our booking agents!
Phoebe Schecter is available to hire for International Women's Day events, along with our wider range of outstanding speakers!
What to do next?
Feeling inspired to hold your own celebrations for International Women's Day this year? Why not browse our selection of International Women's Day speakers hailing from all kinds of sectors, who will help your company show appreciation to the great women of the world.
Contact a booking agent on 0207 0787 876 or fill in our online contact form to find out more about what an International Women's Day speaker can offer you or your company.
6 minutes to read