Steve Jobs' Most Inspiring Quotes & Life Lessons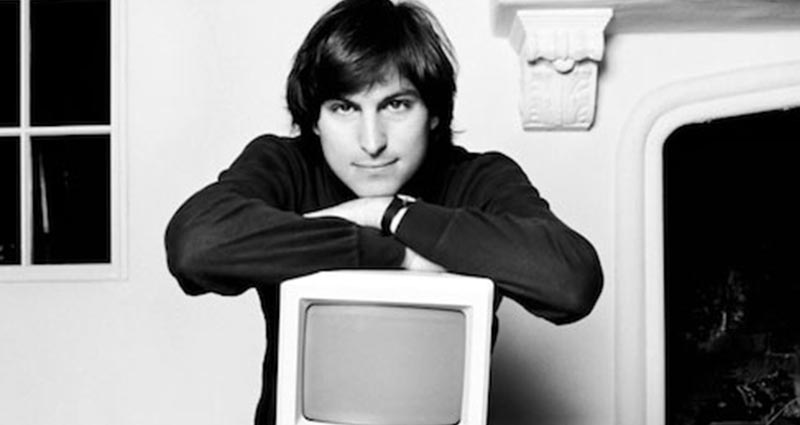 Ask anyone who the greatest business innovator in modern history is they will likely say, Steve Jobs - and for good reason. He was a pioneer of technology and the founder of one of the biggest companies in the world, Apple, a reflection of Steve's incomparable insight.
In this article, we explore some of his most inspiring and uplifting quotes, as well as the life lessons that allowed for such unprecedented success. 
Steve Job's Most Inspiring Quotes
Steve Jobs' words of wisdom continue to define markets and industries to this day, as his insight into business management, innovation and futurism inspired the moguls we have come to recognise. Read some of our favourite quotes of his below.
"INNOVATION DISTINGUISHES BETWEEN A LEADER AND A FOLLOWER."
Those who have done some reading on Steve Jobs will know that his success didn't necessarily come from his people skills, however, he was still an incredible leader. Everyone tells you that business is about networking and putting on a nice front, but Steve Jobs had the ability to think outside of the box and inspire those around him to achieve a common goal.
Even though at times his peers felt Steve was delusional, without his incredible vision Apple wouldn't have created the products that have since become a staple.  The life lesson? Steve Jobs continued to create new ideas which gave him the edge in business.
"DESIGN IS NOT JUST WHAT IT LOOKS LIKE AND FEELS LIKE. DESIGN IS HOW IT WORKS." 
Steve Jobs was well known for being in pursuit of perfection daily. His attitude towards creating products was simple – impeccable products are the only products that should be in a consumer's hands.  This style of thinking can be applied to all aspects of business, simply put – don't sell something you wouldn't want yourself.
"I WANT TO PUT A DING IN THE UNIVERSE." 
Steve Jobs could be considered as one of the most motivated and driven entrepreneurs of all time. Most people believe that it was his constant need for perfection that drove him to persevere through projects, but his biggest motivation was his desire to leave something behind that changed everything. He wanted to change the world and technology for the masses.
"STAY HUNGRY. STAY FOOLISH." 
One of Steve Jobs most widely used quotes is something that sounds counterintuitive, but in the business world, we all grow accustomed to steady paychecks and may lose our original motivation while striving for perfection.
Once upon a time, Steve Jobs was exiled from his company and could have retired a wealthy man, but he kept inventing and eventually ended up back at Apple. He only got back into Apple due to his clever and daring business tactics. This life lesson suggests to never stop pursuing bigger and better things.
Life Lessons from Steve Jobs
Steve Jobs' success can be attributed to the life lessons he learnt along the way, including how to overcome adversity and find passion in hardship. His advice permeates business to this day, as Steve's experiences are now a how-to guide for prospective entrepreneurs. 
Overcome Adversity
In 1985, after several disagreements with other high-profile figures within the organisation, Steve handed in his resignation at Apple and it looked like his future in the industry could be in doubt. He went on to create NeXT Inc alongside several of his friends who had also left Apple. The venture was a huge success and in 1997 the company was purchased by Apple as Steve returned to the business after more than a decade away.
It wasn't long until Steve was back in the position of CEO at the company, which at the time was struggling financially. Steve's expertise helped Apple return to profitability and by 2006 they had risen above competitors in the stock market. This situation indicates how he overcame adversity and went on to be a continued success, something that can be adopted by us all.
Continue To Give 100% Even When You've Made It
Whilst the journey to the top of your industry is tough, once you've made it there is no resting on your laurels if you want to continue at that level. Once Apple had fought off all their competitors to make it as the dominant players in the technology industry, they could have lost their drive. However, Steve would have never allowed that to happen.
The first iPhone was released in 2007 and at the time was considered a major development in the phone industry, alongside its OS 1.0 software. From there, the company spawned another 13 additions with at least one new phone coming out every year. Continuing to innovate and push boundaries is a mantra that has carried on beyond Steve's death, and not only have Apple released several generations of the iPhone, but have continued to release new iPods, iMacs, iPads and branched into Apple Watches. 
Be Passionate About What You Do
To be as successful as possible, it is important to be passionate about the work you are doing, and this is something that Steve encapsulated on a daily basis. Never settling for second best, he strived for perfection in every aspect of his work, determined to create a business he could be proud of.
From tinkering with computers in his garage to co-founding a company that is now worth over $200bn, Steve worked extremely hard every day to make Apple the best it could be. Even up until the day before his death in 2011 he was working for the company, showing his unwavering dedication to the business. In every line of work, it is important to care about the job you are doing, to produce a higher quality of work.
In closing, Steve Jobs was an inspirational man and he will be missed. For every day he was on this earth he achieved an incredible amount of work, mainly due to his inspiring work ethic and desire to change the world. In our eyes, he was one of the greatest motivational speakers ever, and his humble lessons will echo on throughout time.
Book a Motivational Speaker
Here at The Motivational Speakers Agency, we have a whole host of inspirational speakers who embody Steve Jobs' drive to succeed, including the current Apple CEO, Tim Cook. With experts from a wide range of industries, including finance, customer service and marketing, a motivational business speaker will ignite a spark in your organisation.
To book a motivational business speaker, simply call 0207 1010 553 or complete our online contact form and a member of our team will get back to you.