Top 10 Hosts for Your Awards Ceremony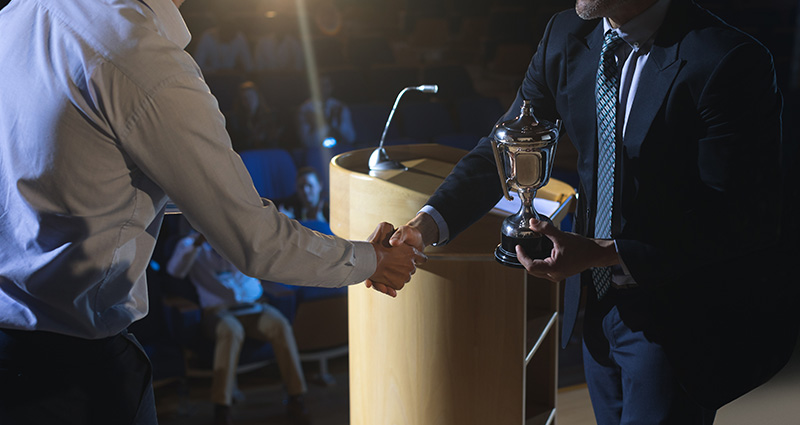 Motivational speakers can come from an array of backgrounds and share the ability to bring an event to life. From passionate presenters to experienced explorers, each speaker has their own fascinating story and impressive skillset, to offer a range of speaking topics. Able to strike the perfect balance of entertaining whilst also informing audiences, speakers enhance events to leave a lasting impression on your guests.
Here is a diverse list of motivational speakers to help you find the perfect personality for your corporate awards ceremony:
Fiona Bruce
One of the biggest names in journalism, Fiona Bruce is an award-winning presenter, newsreader, and journalist. As the first female newsreader on News at 10, Fiona has now been the face of BBC News for over two decades, and was named the Newscaster of the Year on three occasions by the Television and Radio Industry Club. Renowned for her approachable personality and eloquent presenting skills, the fabulous Fiona Bruce is available to hire as a motivational speaker for your next corporate awards ceremony.
Kenton Cool
An avid adventurer, Kenton Cool has successfully conquered Mount Everest 14 times. Kenton was a passionate climber throughout his life, joining the British Association of Mountain Guides and recently working alongside his climbing partner to become the first people to cross Lhotse, Everest, and Nuptse without returning to base camp. Kenton's time spent climbing has taught him valuable skills that he regularly relates back to life in the corporate world. His knowledge of team building and leadership are second-to-none, and his ability to deliver this knowledge in a captivating blend of adventure stories and informative lessons, makes Kenton a leading corporate speaker.
Kate Brandt
Spearheading the eco-friendly revolution, Kate Brandt possesses invaluable expertise on climate change. Currently working for Google as a Sustainability Officer, Kate has revolutionised Google's processes, ensuring they are in line with the new, environmentally friendly regulations, and that they remain ahead of the curve for renewable energy. Kate will add credibility to any awards evening centered around sustainability, as her expert advice has helped so many companies go green.
Sophie Cornish
As the co-founder of notonthehighstreet.com, Sophie Cornish is the prime example of an innovative businesswoman who spotted a gap in the market and successfully filled it. Now working with over 5,000 small business partners and selling over 100,000 products, her entrepreneurial prowess has turned her kitchen table business idea into a multi-million-pound company. Sophie now offers advice through her motivational speeches, on how to strike the right balance of creativity, teamwork, and focus.
Biz Stone
Co-founder of social media giant Twitter, Biz Stone's exceptional creative skills enabled him to challenge the popular social media platforms of the time. Inspired by his experience working for technology giant Google as a senior specialist, in 2006 Biz invented and founded Twitter alongside Jack Dorsey. The microblogging and social networking platform was an immediate hit, showcasing Biz's creative genius. This experience makes Biz an authoritative speaker, able to provide unique insight on a range of topics, particularly technology and innovation, to leave a lasting impression on audiences of any size.
Trevor McDonald
Nothing short of a television icon, Sir Trevor McDonald is best known across the globe as the anchor for News at Ten, as well as creating some of the most captivating and compelling documentaries, delivering daring footage with unique insight into topics that had never been explored before. For example, Mafia Women with Trevor McDonald. An instantly recognisable figure, Trevor's place in the nation's heart has made him one of the most celebrated news presenters of all time, and a highly sought-after awards ceremony presenter.
Ken Segall
Ken Segall is best known for his position as Creative Director at Apple. Saving Apple from going under, in 1990 he re-launched the brand keeping to Steve Jobs' 'simplicity' concept. This contributed to Apple's success, becoming the most valuable company on earth. Ken also came up with the product name iMac, thus creating the iconic 'i' that now features on all Apple devices. An internationally recognised speaker, Ken uses his own knowledge and experience to inform others on topics including the power of simplicity and how to create effective advertising, making him a popular speaker for corporate events.
Kanya King
Best known for founding the internationally recognised MOBO Awards, Kanya King is a highly influential figure. Her inspirational drive for social change led Kanya to develop a platform with the aim to provide a more diverse and inclusive foundation for talent to grow. Regarded as one of the most inspiring female figures in the business sector, Kanya has won multiple awards including the Lifetime Achievement Award. As an eloquent public speaker and with so much experience in the events sector, Kanya is the perfect choice for a motivational awards ceremony presenter.
Ann Daniels
Recognised as one of the leading authorities in her field, Ann Daniels is a hugely successful explorer who became the joint first woman in history to reach both the North and South Poles. Naturally, such a challenging career choice has led to an altered state of mind, enabling Ann to not only survive but thrive in extreme settings. As part of some of the most ambitious expeditions ever completed, Ann has gained an abundance of skills that she eloquently shares, inspiring all manner of audiences.
Akala
Beginning his career in the music industry in 2003, Akala has since gained a fierce millennial following. Akala founded the Hip Hop Shakespeare Company in 2009, supporting young people by giving them a platform to showcase their talents alongside other distinguished artists. He is highly influential, regarded as a leading activist in the Black Lives Matter Movement, and often gives talks to inspire a future generation. A real role model, Akala is a dynamic speaker focused on educating his audience and boosting the confidence of those around him.
Book a speaker
To book one of our motivational speakers for your next corporate awards ceremony, simply contact the Champions Speakers agency via our online contact form. For any further information, contact a booking agent directly on 0207 1010 553.