7 Top Tips for Organising Your Event, Conference or Seminar in 2022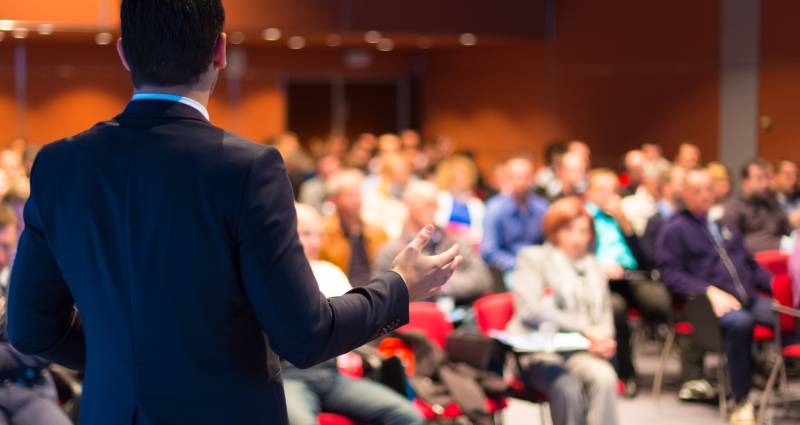 Organised events are a valuable opportunity to share your message with all in attendance, but the planning process can bring a significant amount of pressure and stress. From catering to venue hire if your occasion is in-person, and equipment to technical issues if it is virtual, each element of an event requires strong organisational skills and significant time investment.
As a speakers bureau, we have decades of experience with events, conferences and seminars, both virtual and traditional. As such, we have collated our knowledge to produce this handy guide, full of tips and tricks to organising your function.
Check out our seven top tips, then contact a booking agent to hire a motivational, keynote or guest speaker for your event.
Prepare Well In Advance
It is no secret that organising an event takes time, so if you wish to avoid last-minute stress start planning well in advance. This will also increase the likelihood of your chosen venue and speaker being available for your specific date.
If you are organising the event with a team, ensure you have regular meetings to discuss your plans for the occasion, and action things as soon as possible. Equally, if it is your responsibility to get everything in order, getting the ball rolling early will reduce the chance of something going wrong.
Saying that, we are no strangers to last-minute event planning. Our team of booking agents regularly cater to tight deadlines and clients whose events are a matter of weeks away. If you require a speaker at short notice, do not hesitate to get in touch!
Do Your Research
If you find yourself skipping the research portion of the planning process, you could be putting your event at risk of unravelling at the seams. From marketing strategies to dietary requirements, it is important that you comprehensively understand the needs of your event, to adapt and overcome potential issues as and when they arise.
This includes researching the venue, equipment required and your speaker's expertise. The best motivational speakers out there have proven track records, so researching their previous appearances will supply insight into their speaking style and specialist topics.
Every successful event shares the same quality - they are sufficiently researched.
Purpose
One of the most important factors to consider when organising an event, conference or seminar, is its purpose. By having a strong understanding of your ultimate goals, you will be able to devise a strategy and book the relevant speakers to meet those targets.
Ask yourself: "what do I wish to achieve from this event?". Such answers could include "increase brand reach", "learn from professionals", or "motivate my staff" – whatever the objective, let it guide every element of your event. Particularly when choosing the perfect speaker, consider which expert will best support your event's goal and supply relevant industry knowledge.
If you are organising an internal event, and the attendees are your employees, the purpose could revolve around improving their performance or teamwork. We recommend booking a motivational speaker specialising in workplace culture, to harness the potential of your workplace. Alternatively, an industry professional, like a customer service speaker, will instil in your staff the best practices needed to thrive in their respective roles.
Theme
Every event is categorised by its theme. Once you know this, then all the other elements will begin falling into place, so be clear from the start which topics you wish to cover.
Popular Event Themes for 2022:
Mental Health & Wellbeing
Racial Equality
LGBT+ Equality
Mental Resilience
Health & Fitness
Healthcare
Once you have decided on your theme, you can then book the perfect speaker to complement the subject. Consider their experience, personal passions and qualifications, and ask yourself how they can contribute to your event's theme. For example, if you wish to organise an event centring around mental health, an advocate like Ruby Wax is the best fit to make a transformative impact.
Venue: In-Person Event
There are plenty of different venues out there to choose from, each with its pros and cons. Such a wide variety can make finding the perfect venue feel overwhelming - but it is not impossible.
One way to make sure you choose the right venue is by physically visiting the location and seeing for yourself if it is suitable. Whilst there, ensure you ask plenty of questions so there will be no unwelcome surprises on the day of the event.
Your Venue Should Include:
Wi-Fi Access
Catering Options
Local Overnight Accommodation
Car Parking Availability
Gender Neutral Toilets
Wheelchair Ramps
Lighting System
Enough Seats to Accommodate
By finding out if these options are on offer upfront, you will be better placed to make an overall decision on where to host your event.
Venue: Virtual Event
2020/2021 saw a wave of virtual events taking the industry by storm, and they are showing no signs of slowing down in 2022. Planning an online conference certainly has similarities to in-person events, but the main difference is the lack of venue. The venue is the internet, and the stage is your home.
The success of a virtual event rests mainly on the quality of your technical equipment, the strength of your Wi-Fi and how engaging your speaker is. Ensure that your broadband connection is free from buffering, by running a speed check and conducting several technical runs. The tech run is a vital aspect of any virtual event, as they give you the chance to test how well you know your equipment.
What Equipment Do I Need For A Webinar?
Computer/Laptop • Lighting
Clean Background • Microphone
Headphones/Earphones
Internet Connection
Hosting Platform (E.g. Zoom)
Get Your Promotion Right
If people do not know about your event, then your attendance will likely suffer. Luckily, in the age of social media, marketing your event to the masses is easier than ever. By putting up frequent posts about the occasion, you can get the message out there to the right people and generate a buzz around your event.
However, do not overdo it - you do not want to bombard users with information about your event and risk a negative response. Feel free to ramp it up as the event gets closer, but ensure that all content is professional, spell-checked and enticing for users.
Invite The Right People
An important aspect of organising an event is identifying the type of audience you wish to attend. Whether it is a sales pitch, a networking event or just a social occasion, marketing to the right people can make or break the entire occasion.
Ticket sales are a direct reflection of your event's success, as they establish how eager people are to attend. Utilise the third party ticketing platforms available and add a dedicated page to your website, to make it easy for people to purchase tickets. Additionally, ensure that invites are sent out in plenty of time, otherwise, your event may collide with attendees' schedules.
Book A Speaker
Hiring a speaker for your event, conference or seminar is essential for making the biggest impression on guests. These orators are captivating by profession, they have dedicated their lives to educating and inspiring audiences, making them well equipped at communicating your message.
Able to wow people with their tales of success, just some of the motivational speakers we can offer include avid explorer Sir Ranulph Fiennes, business mogul Baroness Karen Brady and legendary cricketer Phil Tufnell. These stars can share their own fascinating stories of determination in the face of adversity, enhancing the impact of your event.
Use An Agency
Arguably one of the main tricks to avoid stress when organising an event is to source an agency that can book a speaker on your behalf, and manage an entire stage of the process. With The Motivational Speakers Agency, not only can we provide you with the very best motivational speakers on the circuit, but we are also able to facilitate other requirements they may have, like travel and accommodation.
To book any of our keynote speakers for your corporate event, simply contact The Motivational Speakers Agency by filling in our online contact form. Alternatively, for any further information, call a booking agent directly on 0207 0787 876.