Top 10 Motivational Speakers For School Events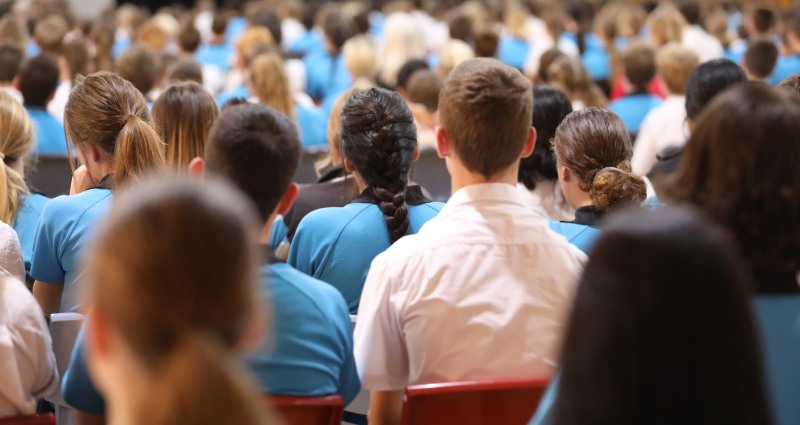 With their ability to connect with young audiences on a personal level, school speakers can ignite their audience's passion for education. Each speaker has their own thrilling story of adversity and success, essential for connecting with pupils and leaving a lasting positive impression. Their speaking topics can include mental wellbeing, maintaining focus under pressure and overcoming personal challenges.
Take a look at some of the best motivational speakers for school events and assemblies!
Matthew King
When Mathew King was injured in a freak accident during a rugby match, his life changed forever. Paralysed from the neck down, he was forced to alter every aspect of his day to day life, in order to adapt to his new spinal condition. Matthew went on to earn a law degree, join a London law firm, become a globally renowned artist, complete several marathons and ski down the slopes of Sweden, a reflection of his determination. For young audiences, his story inspires them to set and achieve their goals, despite perceived personal limitations.
Ashia Hansen
Ashia Hansen is one of the best Olympic speakers for schools, due to her pioneering career as an athlete. With her winning mindset and story of success, she uses her story to inspire students to follow in her footsteps. Ashia has set over 20 British records as a triple jumper, and even held the world record with her jump of 15.16 metres. With several Commonwealth gold medals to her name, she leaves audiences eager to test their own ability on the track.
Eddie 'The Eagle' Edwards
Regarded as one of the most famous faces to come from the Olympics, Eddie The Eagle Edwards is an immensely popular sports speaker for schools. As the first ski jumper to represent Britain, Eddie took the crowd by storm at the 1988 Canada Winter Olympics with his daredevil jump and likeable personality. His story was even immortalised as the film. Eddie can connect with young audiences, encouraging them to try new sports and activities with his story.
Kelly Holmes
Multi-gold winning Olympian, Kelly Holmes, found fame at the 2004 Athens Olympic Games, where she came first in both the 800 metres and 1500 metres. Kelly has enjoyed a greatly successful career on the track, teaching her essential skills for maximising success and achieving peak performance. The honorary Colonel and British Army veteran instills these skills in her audience, setting them up for life.
Brownlee Brothers
Embodying camaraderie and brotherhood, the Brownlee Brothers made sporting history at the 2016 Mexico World Series. As Jonathan approached the finish line, exhaustion caused him to collapse. However, his brother, Alistair, was on hand to forfeit first place and help his brother to finish the race. The pair inspire teamwork and sportsmanship in their audience, improving the interpersonal relationships of a class.
Alastair Humphreys
Alastair Humphreys thrills and excites audiences with his stories from around the world, including his 46,000 mile mission across seven continents. He keeps young audiences on the edge of their seats, a mark of a truly talented motivational speaker. With his infectious passion for adventuring and natural confidence, Alastair leaves pupils eager to get out there and discover the world for themselves.
Michelle Dewberry
As the first female contestant to win The Apprentice, Michelle Dewberry is a pioneer of British business. After founding her own business consultancy company, she now tours the speaking circuit to inspire a business mindset in her audience. For older students, including at university graduations, her story of early success encourages entrepreneurs to take the leap of faith, and pursue their business dreams.
Rebecca Adlington
Since smashing the 800 metre swimming World Record, Rebecca Adlington is widely regarded as one of the most decorated female Olympians in British history. Over the course of her athletics career, she has earned seven gold medals at the Olympic Games, World Championships, European Championships and Commonwealth Games, a reflection of her incredible achievements. Rebecca is a role model to young audiences, and motivates them to achieve their goals.
Gail Emms
Inspiring motivational speaker, Gail Emms, won gold at the 2006 Madrid World Championships and silver at the 2004 Athens Olympic Games - a testament to her sporting prowess. Commonly booked as an after dinner and motivational speaker, she discusses gender representation in sport and the winning mindset, resonating with audiences in all stages of education. From Thames Valley Police to Ashridge Business School, Gail is greatly respected on the speaking circuit.
Hannah Jenner
Hannah Jenner is the first female to skipper in the Clipper Round the World Yacht Race, a life story that thrills and inspires young audiences. She proves to female students that gender does not dictate success, a sentiment that actively redefines gender stereotypes. From RAF Fighter Pilots to students nationwide, Hannah promotes the importance of overcoming challenges in life and presents the skills needed to do so.
Book A School Speaker
To book one of our inspiring school speakers, simply contact The Motivational Speakers Agency by filling in our online contact form or by calling a booking agent directly on 0207 1010 553.