How to Create an Unforgettable Fireside Chat at Your Event (The Ultimate Guide)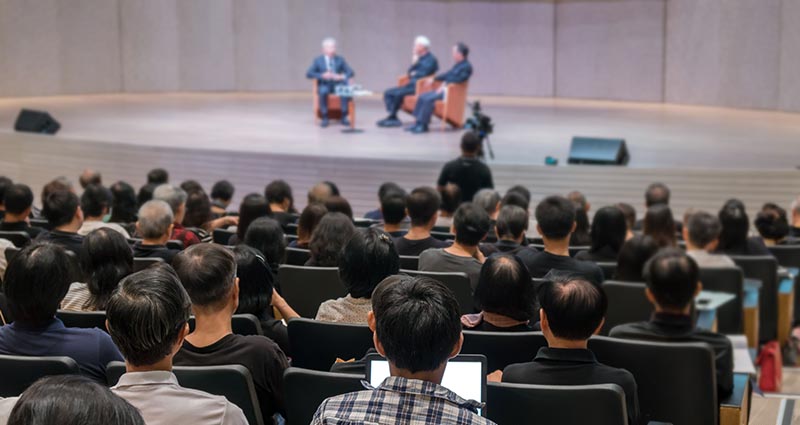 It is the hottest corporate event trend right now. The fireside chat has, to some degree, displaced the keynote presentation. It is more personal, multidimensional and interactive. Fireside chats are keeping conferences fresh. We take a look at what they are, why they're great and how they're bringing execs and event planners on (fire)side.
What is a Fireside Chat?
The notion is far from new. In fact, the concept of fireside chats is over 80 years old. But we will come to that in a moment.
Today, we define fireside chats as an informal conversation between a speaker and n interviewer. The unique format allows those in attendance to feel immersed in a discussion. Asking the questions that everyone wants to know the answer to, the interviewer and audience themselves have a say in the takeaways they experience. In simple terms, it is a conversation, a Q&A, a discussion led by the interviewer, moderator or facilitator (whatever you wish to call them) involving the audience too.
Think Question Time, the current affairs classic on prime-time television which, either side of debates allows audience members a chance to input their ideas, opinions and questions. Think, Friday Night with Jonathan Ross, where Jonathan Ross converses intimately with his guest, asking leading questions that prompt entertaining anecdotes. Let's say it's a mix of both, and that is in a nutshell, is the meaning of fireside chat.
Looking for less of a nutshell? Let's take a little trip back to 1933. President Franklin D Roosevelt was using the radio as a means to get his message across to the nation. Just eight days after taking to the office he was speaking candidly, openly and in direct response to the rumours and uncertainty around his policies. The fireside chats' significance was monumental. It proved extremely effective and "redefined the relationship between President Roosevelt and the American people" according to the Library of Congress.
What are the Benefits of Fireside Chats?
The conversational approach of a fireside chat format means it is naturally more engaging than a traditional speech. The aim is to enliven audiences in a conversation that merges stories with succinct questions and answers. It goes deeper than the average chat, is more unpredictable, more on-the-spot, it is live entertainment at its purest. Let's take a look at some of the benefits of fireside chats.
Intimate Connections - You can create a stronger bond between the speaker and audience
A Wider & Better Pool of Talent - Not all experts have a keynote speech ready to go
Interaction - The audience is able to get involved and ask the questions they want
Surprising - With the moderator and audience asking the questions it is impossible to predict what is learned from the speaker
Informal - By nature, fireside chats are more relaxed. This should include both the setting and the style of the format
Tips on Finding Great Fireside Chat Questions
Great fireside chat questions all revolve around your audience. Make sure they are handcrafted to meet an event's needs. Ask yourself why the audience are in attendance. There are a few possibilities as to why they're attending your fireside chat, make sure you know what they are. Ask yourself:
What are they here to learn? What level of industry understanding is required by the moderator? What makes them tick? What takeaways do they want to gain? What do they care about? How do they wish to feel?
With this in mind, we can build fireside chat questions that appeal to the focus of an event. Try and make the questions open-ended, allowing the speaker to go off in whatever direction they want.
Casual Questions
What would you say was your biggest challenge?
What do you do to let your hair down?
If you could invite a famous face for dinner, who would it be?
What's the best compliment you've ever received?
What do you want to be remembered for?
These questions can open up a can of worms. Asking speakers to talk more personally can bring more of an emotional connection between them and an audience. The casual fireside chat questions are executed perfectly by the likes of Graham Norton on The Graham Norton Show. Check it out to see the successful implementation of the fireside chat format.
Industry-specific Questions
What challenges does [your industry] face?
What are the emerging trends in [your industry]?
What is your approach to competition?
Is it increasingly difficult to enter the [industry] market?
Reputations are at stake when you discuss an industry in a room full of industry experts. One wrong turn from the interviewer or speaker can turn your credibility to dust. Ensure the interviewer has sufficient knowledge of the subject so the audience isn't spending their time at the fireside chat wondering how the interviewer got the job. The above questions are a guide to build on as you specify your questioning.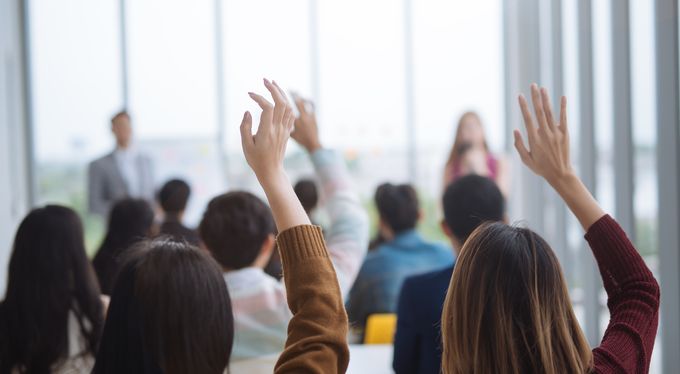 How to Make Your Fireside Chat Wow Your Guests
Ask the Right Questions
The right moderators don't only probe deeper into the personal and professional life of a speaker, they ease them into the discussion. Asking the right questions is important but asking them at the right time is just as important. For example, without easing the speaker in, you are at risk of more laboured answers to the questions that matter most. Making them relaxed is the key skill here. Dive in, sure, but don't dive in like you've got a personal mission to fulfil. A fireside chat is all about the journey!
Make it Easy to Follow
A directionless chat is many delegates' worst nightmare. If there is little structure put in place prior to the fireside chat, delegates may well be scratching their heads and wondering why they are wasting their time when they have stacks of work to be getting done. Assume that you are taking up valuable time and make it unmissable. Part of this comes with developing a step by step plan for your fireside chat. Allowing it to flow means following a narrative, whether it is chronological or experiential in nature - maybe you wish to freeroll into questions as the interview goes on, seeing where questions best fit into a discussion. Either way, make sure the interviewer knows when to stop on a topic and has questions, discussion points and the odd point or statement they want to make. Tracking milestones in the conversation is the key to making it easy to follow.
Don't Limit Audience Participation
While the moderator and speaker will work in tandem to uncover the experiences from a speaker's life, the drivers to their success, the key skills they've honed and industry secrets they can share - a fireside chat can be quite general, in order to appeal to the majority. The beauty in audience participation is that it is individualistic, the person asking the question wants to know for them and no one else. This doesn't mean no one else is interested - quite the contrary. Let your audience speak up and give them ample time to do so. To control the quality of questions coming in, you can pick and choose from those who send their questions to the event's social team.
Don't Just Book a Speaker...Book the Right One
It's easy in theory to imagine all speakers with ample experience are on a level playing field. But this won't be the case. Some will be used to fielding media questions, others will have regularly spoken to large audiences. The key for the fireside chat format is to find a personality who can capture the imagination, a speaker who is just as at home storytelling as they are on-the-spot. You want them to open up and you want an interviewer capable of helping them to do so. Whether this means you choose to book a speaker and a moderator or merely a speaker who is tried and tested in this format - at The Motivational Speakers Agency, we can help you book the best in the business.
End it with a Takeaway
Don't let your fireside chat burn out. Keep the flames crackling as the audience walks out the door. If done right, your fireside chat should have many takeaways, but don't miss out on a chance to make one more. Here is the interviewer's chance to be the understated hero of the fireside chat. Wrap it up in a neat and tidy fashion with the question and answer to end all fireside chats. Leave them pondering. Leave them with something to do. Leave them with a goal.
To book a moderator or speaker for a Fireside Chat, simply contact The Motivational Speakers Agency by filling in our online contact form or by calling a booking agent directly on 0207 1010 553.