Racial Equality Speakers: What, Why, Who, When?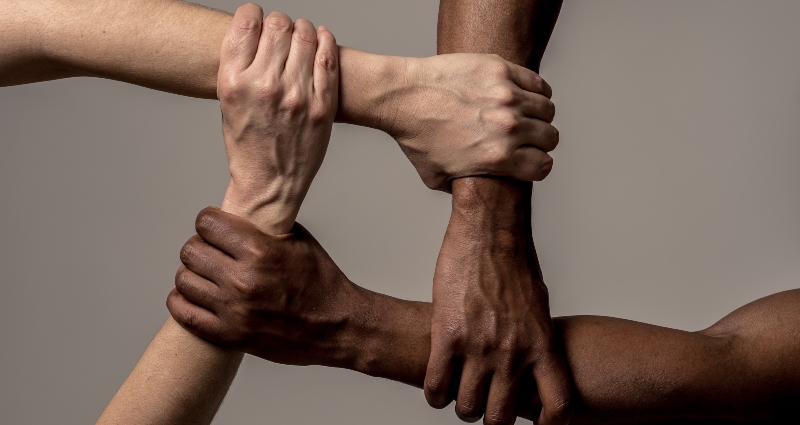 Throughout history, brave people of colour has stood defiant in the face of racial injustice. However, their plight continues. Find out how a racial equality speaker can be the key to your business's diversity, below.
What is a Racial Equality Speaker
People have been fighting for equal racial rights for generations, however, racial discrimination is still very much an issue prevalent in today's society. Our racial equality speakers have the first-hand experience of the challenges faced by those in discriminated communities, often from minority ethnic backgrounds themselves. 
Why Book a Racial Equality Speaker?
Research shows that people from ethnic minorities are more likely to suffer from mental health problems, be stopped and searched by the police and face institutionalised racism regularly. With these harrowing facts, it's easy to see that we as individuals and organisations must do more to end racial injustice, and hiring an expert equality speaker is an ideal way to do just that. A pivotal study, published in 2019, found that 70% of ethnic minority employees had experienced racial harassment in the past five years, and corporate responsibility is essential in eradicating this statistic. In booking a racial equality speaker, your business can benefit from implementable expert advice to ensure you are a progressive and fair employer.
Who Should I Book? Our Top 5 Racial Equality Speakers
Here at The Motivational Speakers Agency we host an extensive portfolio of insightful speakers from minority ethnic backgrounds, have a look at a few of our top picks below:
Akala
Named Best Hip Hop Act 2006 at the MOBO Awards, Akala is more than an award-winning musician, he is a powerful black man utilising his talents to bring about meaningful change. The historian and spoken word artist has appeared publicly on a range of topics from the viewpoint of the black community. From knife crime to mental health, he has captured the attention of the world through his dynamic storytelling and captivating content. One of the UK's leading figures in the Black Lives Matter movement, Akala can offer articulate and insightful talks that will transform your audiences' perception of racial prejudice.
Take a look at what our educational client had to say about Akala at their event:
"Completely engaging, and the breadth and depth of his knowledge was amazing. He was a resounding hit"
Kanya King
The MOBO Awards are an annual occasion to recognise talented creatives from minority ethnic communities, aiming to bring black culture into the mainstream media. Behind these influential awards, is the equally influential Kanya King. Upon founding the diversity event in 1996, Kanya has strived, tirelessly, to defy the odds and gain representation in British culture of black and other minority contributors. The MBE awarded businesswoman now uses her prominence and experience to inspire audiences as an inclusivity speaker, proving that knocking down barriers and championing equality is the only way forward.
Here's what our business client had to say about Kanya as a speaker:
"Kanya is an inspiration to women around the world! Listening to her journey really kicked off the launch of our diversity & inclusion program. Her endless energy and positivity shines through in her speaking. Our employees left feeling motivated, invigorated and compelled to follow their dreams."
Farrah Storr
Farrah Storr has been shaping global brands for over a decade, as the former award-winning editor-in-chief of Cosmopolitan UK and current editor-in-chief of Elle UK. A prolific leader in the creative industry, Farrah was featured on The Guardian's list of Britain's Most Powerful People 2017, and was one of only 36 BAME leaders to be named. A sign of her prominence, Farrah's influence as a racial equality speaker is undeniable, exploring how businesses can not only replicate her industry success, but her corporate responsibility with regards to inclusion.
Viv Anderson
As the first black player to represent the English national team, Viv Anderson's football career can only be described as history defining. The former Nottingham Forest defender, spent the duration of his career standing strong in the face of racial discrimination, a quality that made his international debut in 1978 even more heroic. Now, Anderson empowers others with his personal experiences as a black footballer through his work as a diversity speaker, able to inspire audiences to overcome adversity to pursue their dreams.
Lenny Henry
One of Britain's best-loved performers, Lenny Henry is most prevalent on the comedy scene, and has utilised his status in the industry to raise awareness of global issues. A co-founder of the Comic Relief charity, Lenny's ability to use his hilarious talents as a catalyst for change is inspirational, and a skill he replicates on stage as a speaker. Infusing transformational talks with relevant humour makes Lenny a highly engaging racial equality speaker, and his prominence as one of the 100 Most Influential Black Britons 2017, is evident in his captivating speeches.
When Should I Book a Racial Equality Speaker?
Now! With such inequality still plaguing modern society, the best time to book a speaker to educate and inspire your audience, is now. From expert talks on becoming an inclusive employer, to motivational speeches from those who are defying the statistics, The Motivational Speakers Agency has the speaker for you. View more of our seasoned equality speakers here, get in touch via the online form or phone 0207 0787 876 to book a transformative speaker today.