Top 13 Fourth Industrial Revolution Speakers To Book For 2022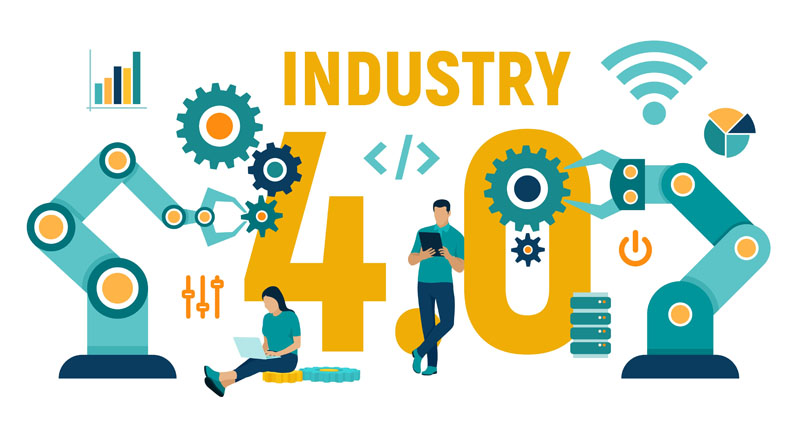 The Fourth Industrial Revolution has almost arrived and with it, a series of profound changes will affect how people work, live, and communicate. Disrupting every industry in every country, the revolution will transform entire systems including production, management, and governance. There will be a fusion of technologies combining physical, digital, and biological spheres.
Unlike anything humankind has ever experienced, the Fourth Industrial Revolution is evolving on an exponential level. It will be comprised of breakthroughs in artificial intelligence, the internet, robotics, autonomous vehicles, 3D printing, nanotechnology, biotechnology, quantum computing and material science amongst others. 92% of businesses from a range of sectors will feel a negative impact if regulators don't keep pace with the changes within 2-3 years.
Furthermore, the job market will become increasingly segregated and 40% of current Fortune 500 companies will not be around by 2025. Therefore, it is paramount for organisations to prepare for these inevitable changes by seeking the advice of experts. At the Motivational Speakers Agency, we offer some of the leading Fourth Industrial Revolution speakers who will prepare you for the forthcoming changes.
Top Fourth Industrial Revolution Speakers to Book Today!
Sophia the Robot
A taste of what The Fourth Industrial Revolution will offer, Sophia the Robot demonstrates ground-breaking innovation and the speed of technological advancement. Created with the most advanced blockchain technology and revolutionary integrated speech recognition software, Sophia will shock her audience with her sophisticated interactions and the accuracy of her conversation.
Ray Kurzweil
Renowned futurist and inventor, Ray Kurzweil is known for his role as Chief Futurist at Google. Ray began inventing products whilst at college and is credited with developing the first omni-font optical character recognition system. An innovator, he founded Kurzweil Computer Products which produced an array of cutting-edge technology, often ahead of the market.
Recognised for his contribution to machine learning and language processes, Ray was inducted into the National Inventors Hall of Fame. He is famous for predicting several technological advancements with an astonishing 86% accuracy making Ray a perfect speaker to book for The Fourth Industrial Revolution.
Testimonial:
"Ray's keynote set the right inspirational tone for the entire summit. I believe his keynote will be talked about as one of the iMedia "greats" for years to come." - iMedia Summits, iMedia Communications
Alice Charles
A leading expert in urbanisation, environment, climate change and infrastructure, Alice Charles is a distinguished authority on future-proofing urban services. As the Lead of Cities, Infrastructure and Urban services for the World Economic Forum, Alice holds a prestigious position at the forefront of implementing advanced technologies in smart cities.
Furthermore, she is responsible for developing the Fourth Industrial Revolution City Preparedness Protocol at the WEF. In her speaking engagements, Alice demonstrates an outstanding insight into the latest developments of the Fourth Industrial Revolution.
Dr Ayesha Khanna
World renowned expert on AI, Smart Cities and Fintech, Dr Ayesha Khanna is always miles ahead of the market. Formerly on the World Economic Forum's Global Future Council, Ayesha has held several influential positions, in addition to co-founding one of the leading AI companies ADDO AI in 2017. Her company was listed in Forbes top four leading AI companies in Asia list.
Playing an integral role in transforming Dubai into a smart city through her work on the Smart Dubai project, Ayesha has also worked on other high-profile international projects for clients including SMRT and Habib Bank. A highly respected expert with international exposure, Ayesha has published many books on emerging technologies. With such an extensive insight into both the public and private sector technological advancements, Ayesha is an exceptional speaker to book.
Testimonial:
"Please forward our thanks to Ayesha. Her session was amazing and really inspiring for all of us to watch! - Nidhi, AppDynamics
Scott Amyx
Futuristic disruptor Scott Amyx is well known for his pioneering work on ambitious projects such as human survival in deep space and climate change mitigation and adaptation. As well as founding several businesses, Scott has enjoyed a vibrant career working for some of the leading consulting firms including PWC and Charles Schwab. As the Managing Director of Astor Perkins, Scott is at the forefront of innovation, working with cutting-edge technology to find solutions for a host of extremely complex challenges. Also, the author of The Human Race, Scott explores the role of AI and the Fourth Industrial Revolution on humans making him a highly knowledgeable speaker.
Testimonial:
"Strive. Pushing through our limits, doing the hard things, and focusing on constant and never-ending growth and improvement is the ticket to impact and fulfilment!" – Tony Robbins
David Rowan
David Rowan is a massively well-credentialed technology journalist with an impressive portfolio comprised of 60 tech start-ups, two of which have achieved Unicorn status. A prominent thought leader with profound insight into the impact of technology on business, David is also a distinguished speaker who has worked with international governments and prestigious institutions including TED and World Economic Forum.
A Cambridge University graduate, David is also the Founding UK Editor in Chief of WIRED and has extensively covered emerging tech, business innovation and future opportunities with a particular focus on future-proofing businesses. In his number one best-selling book, Non-Bullshit Innovation: Radical Ideas from the World's Smartest Minds, David discusses digital disruption and shares tips on future-proofing businesses, subjects he excels in during his speaking engagements.
Testimonial:
"The team was blown away and they are a hard group to impress. – Google
Dr Kate Darling
Dr Kate Darling is a leading expert on social robotics and robot ethics, whose TED talk was viewed by over 1.6 million people. Named by Robonhub in the 25 Women in Robotics You Need to Know About; she is also considered one of the biggest names in science.
Kate is a regular contributor to Robohub and IEEE Spectrum where she writes about pressing issues including the intersection between society and technology and the law governing robotics. With the dawn of the Fourth Industrial Revolution almost upon us, Kate's work will help lay the foundations for the Human-Robot Bond, a topic which she eloquently discusses in her speaking engagements.
Jonathan Zittrain
Renowned Professor of International Law, Jonathan Zittrain teaches at the prestigious school of law at Harvard University. A specialist in intellectual property, cybersecurity and content control, Jonathan's mastery of the law is legendary and has proven to be essential in creating ethical governing of the web.
With the idea of Web3 gaining more momentum and its impact still undetermined, Jonathan's profound knowledge in computer science, cognitive science, and artificial intelligence, in addition to previous roles such as the Chair of the Internet Governance and Regulation, place him in the leading position to create technological policy. As an eminent expert on the future of the internet, Jonathan's insight is unparalleled.
Testimonial:
"Jonathan Zittrain is the Jon Stewart of the internet- incredibly sharp, funny, incisive. The unexpected bonus is that he brings out the best in the people around him- whether they are his students or colleagues- by expecting the best. An extraordinary teacher, thinker and person" - Donna, Senior Editorial Manager, Access Now
Tom Gruber
Tom Gruber is a distinguished AI expert and Board member of the International Journal of Human-Computer Studies. Known as the co-founder of Siri, a technology familiar to everyone who has used an Apple product, Tom believes we are in an AI renaissance period. He champions the role of AI in helping humans in several aspects of their lives including cognitive function, work, and social lives.
An exceptional orator capable of delivering highly engaging talks on complex subjects, simplistically, Tom's TED talk was viewed over two million times. Having published several articles in leading academic journals, Tom has also authored books that have contributed to the advancement of computer science and AI. Tom's work on AI has already impacted so many people, placing him in a leading position to speak about the role AI will play in the future.
Testimonial:
"Tom Gruber is the rare practitioner who can lucidly explain how things work – and what they mean for us. His understanding of social impacts of digital innovation is built from the ground up and he brings to the stage an unusual insight into AI and a strong sense of how designers and engineers can change digital systems to better confront the ethical challenges that this new age poses." – Mark, Editor & Publisher, Willamette Week, Founder, TechfestNW
Inma Martinez
Digital technology and machine intelligence expert Inma Martinez has been involved in the transformation of mobile internet, sensor-based data, and emerging technologies. A Top 50 AI Influencer to follow on Twitter, Inma has held several prestigious positions including member of the Steering Committee Multitask Expert Group and on the advisory council at the Ministry of Economy and Digital Transformation.
As a highly respected expert she has also worked as a guest lecturer for Imperial College London and provided advice for the EU on AI. Several steps ahead of her contemporaries, Inma is already thinking about the Fifth Industrial revolution with her book The Fifth Industrial Revolution: How Space Commercialisation Will Derive the Biggest Industrial Expansion of the 21st Century. A futuristic innovator specialising in digital disruption, Inma will deliver highly informative speeches.
Testimonial:
"Excellent presentation. Engaging, informative and thought provoking. – First Rate Exchange
David Hanson
Award-winning creator of intelligent human-like robots, David Hanson is perhaps best known for his revolutionary creation, Sophia. As a foremost AI expert, David is the man who will awaken machines, giving them the power to feel, think and communicate as any human would, through his company Hanson Robotics, he is pioneering the most innovative technology to make his dream a reality.
Labelled a genius by WIRED, David's work is ground-breaking and is a continuous source of interest for leading media publications such as The New York Times, BBC, CNN, and Popular Science amongst others. There is no doubt that his inventions will cause profound disruption to the way society functions, therefore it is a great privilege to prepare for those changes by booking David for a speaking engagement.
Kate Matsudaira
Renowned technology expert and Google's Director of Engineering, Kate Matsudaira is considered one of the most innovative specialists in her industry. Skilled at growing start-ups with her ingenuity and proficiency in cloud computing, web services and in-depth knowledge of large-scale websites, Kate rapidly accelerates their growth.
Kate has worked at some of the leading technology companies including Microsoft, Amazon, and Moz. In 2013, she founded her company Popforms which was later sold to Safari in 2015. As a highly respected expert in technology, Kate is at the forefront of technological developments, therefore she has access to the latest insight which she enjoys sharing in her speaking engagements.
Danilo McGarry
Distinguished thought leader on artificial intelligence and big data, Danilo McGarry is the current Head of Automation at Alter Domus. With over 15 years of experience in an extremely fast-paced industry, Danilo's plethora of knowledge and expertise in implementing advanced technology and future-proofing organisations is outstanding.
Having previously worked at CITI as Head of Artificial Intelligence and Machine Learning, Danilo's work in AI is considered ground-breaking. However, what differentiates Danilo is his extensive work across multiple industries allowing him to provide relevant advice for several sectors. Believing in making AI accessible to all, Danilo enjoys sharing his expertise in his speaking engagements.
Book a Fourth Industrial Revolution Speaker Today!
If you are interested in booking one of our talented Fourth Industrial Revolution speakers to speak at your next event, get in touch with one of our dedicated booking agents directly on 0207 0787 876 or by filling out our online contact form to secure your speaker today.