6 Female Football Speakers To Celebrate The 2019 Women's Champions League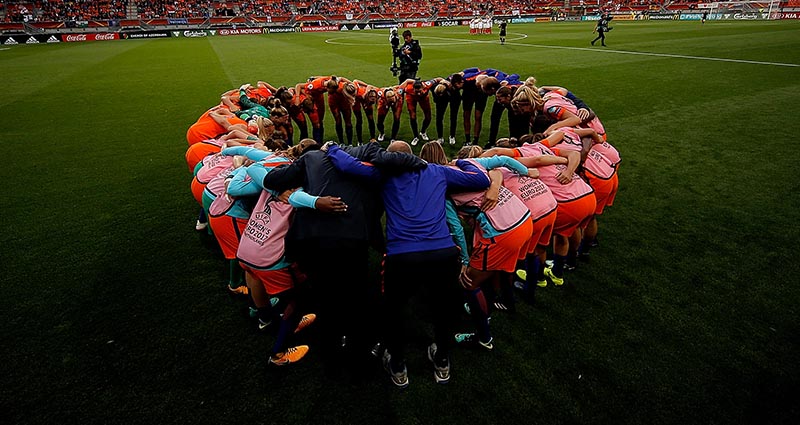 After a nail-biting season, Lyon Feminines took home the Champions League title for the fourth time at the weekend, after dominating against Barcelona Femenino. The game started in Barcelona's favour, but after a hat-trick from Lyon's Ada Hegerberg in the first half, the fate of the Champions League was set. The 2019 Women's Champions league was a testament to the skill, determination and passion of these incredible women, as they proved their capabilities when persevering in the face of injury and failure. In the wake of BBC Sport's #changethegame campaign, where they vowed to air more live female sporting events to level the playing field against their mainstream male counterparts, here are 6 female football speakers to motivate the audience at your next event.
1. Alex Scott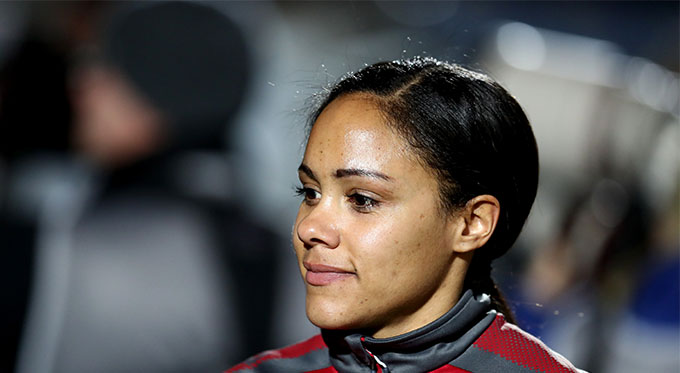 After signing with Premier League club Arsenal in 1992, Alex Scott took the pitch by storm. Compared to her teammates, Alex's ability to adapt and diverse skill set made her stand out as an exceptional player. Playing with Arsenal until 2005, Alex helped them achieve multiple victories, including the FA Women's Premier League and the FA Women's Cup during her 72 games for the club. During Arsenal's historic 'Quadruple' season in which they won all of their trophy competitions, including the 2006/07 UEFA Women's Cup, Alex played a crucial role in their victories.
As an engaging and inspirational motivational speaker, Alex is a prime example of what dedication can achieve; in a game mainly dominated by men, Alex proves that female footballers deserve just as much of the limelight. During her career, Alex collaborated with Kingston College and Puma, where she created The Alex Scott Academy. Her footballing academy has one aim - to assist the female footballers of tomorrow. With a passion for the sport, Alex highlighted the growth of women's football and the contribution they made to the "beautiful game". Through her public speaking, Alex talks candidly about her experience rising to the top, resulting in a truly engaging, motivating experience for any audience member.
2. Kelly Smith MBE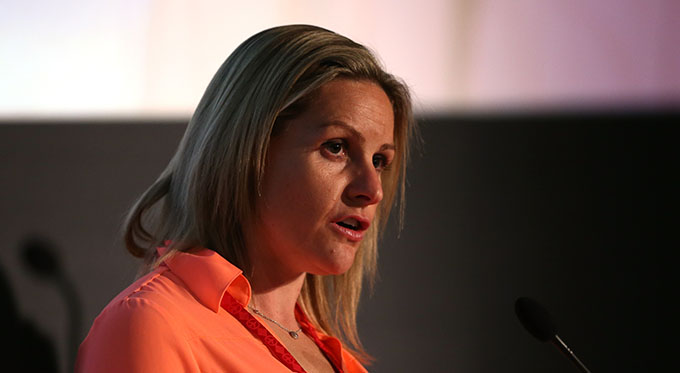 Kelly Smith MBE is arguably defined as England's greatest female football player, with an impressive 177 caps and 46 goals. During her career she was a player and coach for Arsenal, having started her career in 1994 for Wembley Ladies as a product of the American soccer college system; to date, Kelly holds the record for most goals scored in college football to date. Kelly is an immensely popular player in the USA, reflected through her stint as a TV pundit for FOX Sports during the Women's World Cup.
In her early years, Kelly frequently played on the boys' football team until the age of 7, when she was banned from playing. Due to the complaints from the male player's parents, Garston Boys Club lost their top goalscorer. Further, into her career, Kelly suffered from the pressures of playing professionally, when she succumbed to alcoholism after an injury, only pulling herself back out with the help of former Gunner captain Tony Adams' Sporting Chance clinic. Kelly is an inspiration to women everywhere and regularly works with young people to develop and better themselves. 
3. Casey Stoney MBE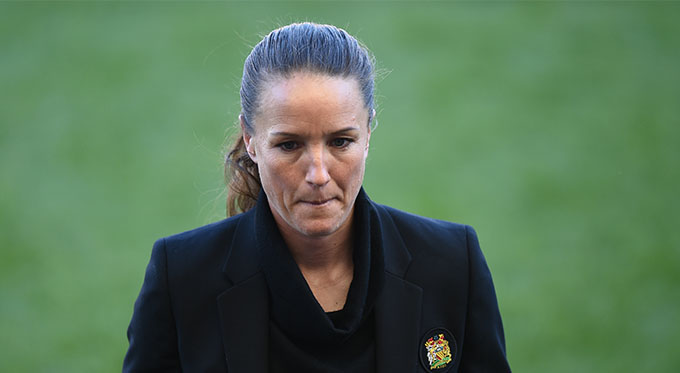 Best known for her contribution as Captain of the England and GB Team at the London 2012 Olympic Games, Casey Stoney MBE is a footballer like no other. As a versatile defender, she has capped more than 100 times for England's women's national football team, after making her debut in 2009. By the 2007 FIFA Women's World Cup in China, Casey played every minute of every match and won the Nationwide International Player of the Year award for the season, ahead of fellow football speaker, Alex Scott.
Casey is an advocate for women's and LGBT+ rights, using her voice to highlight injustices in not just the sport, but in society as a whole. When Charlton Athletic men's team was relegated in 2007, Charlton disbanded their entire women's team, despite their incredible success. Frustrated, Casey made a statement against the decision; "I'm disgusted with the club – the men get relegated and we get punished". Casey continues to highlight the unjust decision, using her prolific status to speak for the disappointment of countless fans. Named 50th on The Independent newspaper's Pink List of Influential Lesbian and Gay People in the UK, Casey incorporates her advocacy for LGBT+ representation into her motivational speeches.
4. Eniola Aluko
Eniola Aluko has proven herself to be one of the most talented footballers of her generation, whilst playing in some of the world's top clubs Eniola has consistently delivered as a player. Beginning her career with Birmingham City in 2001, Eniola was named Young Player of the Year at the 2003 FA Women's Football Awards. Such success earned her attention from Charlton Athletic, resulting in Eniola helping them win two League Cups, two Charity Shields and an FA Cup. At the peak of her career, Eniola returned to Chelsea in 2012 to smash 32 goals in 73 games, also helping Great Britain gain a Quarter Final place at London 2012.
On top of her natural talent as a footballer, Eniola also became the first female pundit on BBC's Match of the Day in 2014. With a taste for the screen, she then joined the punditry team at the 2016 European Championships and later an ITV pundit at throughout the 2018 World Cup. Due to her charismatic speaking style and explosive footballing career, Eniola is one of the most sought-after female inspirational speakers and football speakers in the country. Eniola engages audiences everywhere, positioning herself as a leading sporting authority.
5. Fara Williams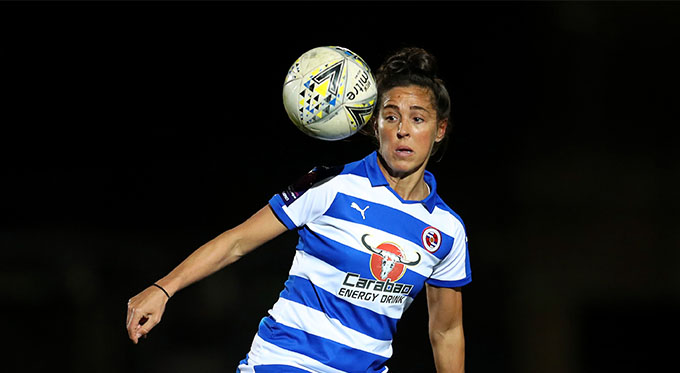 As a speaker, Fara Williams has an incredible story. As a footballer, she dominates the field. Having spent 18 years with some of the top teams in English football, it is no surprise that Fara is England's most capped footballer of all time with an unprecedented 170 appearances. After making her debut for Chelsea Ladies in 2000, Fara went on to collect accolades as Charlton's Player of the Year and the FA's Young Player of the Year in the 2001-02 season. Continuing her explosive role within the sport, Fara was also named FA International Player of the Year on the back of an impressive season playing for England.
Fara's personal story is a far cry from her positive sporting career, having previously been homeless before taking the sport by storm. As a young woman on the streets, Fara is no stranger to the dangerous life of someone below the poverty line. Despite it all, it is football that kept Fara fighting to be noticed. As a public speaker, it is impossible not to be motivated by Fara's tireless work ethic and mental resilience, earning her a spot as one of the best inspirational players, leaders and speakers globally.
6. Steph Houghton MBE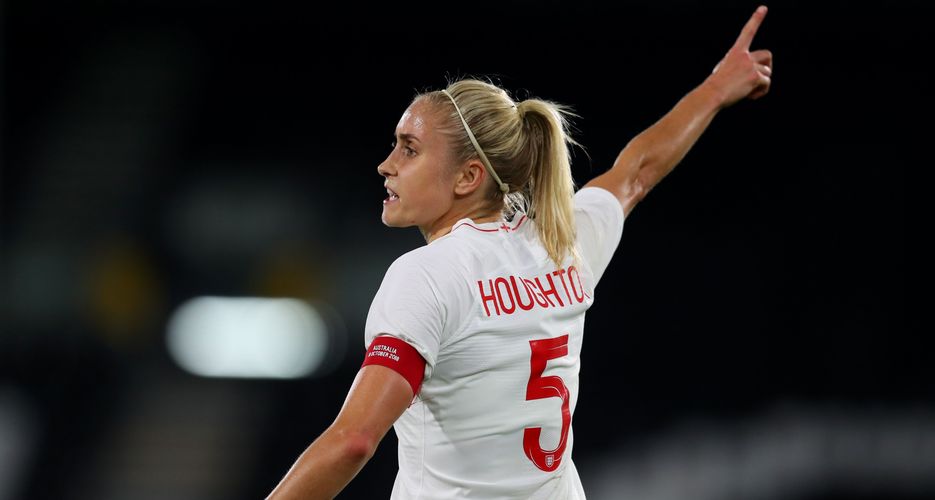 As a leading light in women's football, Steph Houghton's unflinching passion for the game is palpable. She has gained resounding success captaining both Manchester City Ladies and the England team, leading both teams to significant success. Thriving as a centre-back, Steph is categorised by her tough tackling, positional play, fearless leadership. With her momentous skill set, Steph has earned herself 100 caps for England and countless trophies for whichever team she plays for. Ahead of the 2015 World Cup, Steph was named England captain, helping them secure their first semi-final appearance - a major achievement for the Three Lions.
Steph is a loud voice against the stereotype that women's football is anything other than on par with men's football, prominent in 2012 when she was appointed as one of eight digital media ambassadors. Continuing her monumental influence on the sport, Steph later became the first female cover star of the Shoot football magazine in 2014. Steph is an ideal speaker for any event, engaging with audiences to promote the same determination she used to gain sporting success.
To book any of the female football speakers mentioned in this post, please contact our booking agent, The Motivational Booking Agency by emailing motivationalagent@championsukplc.com or by calling directly on 0207 1010 553.