10+ Most Popular Keynote Speakers Available to Book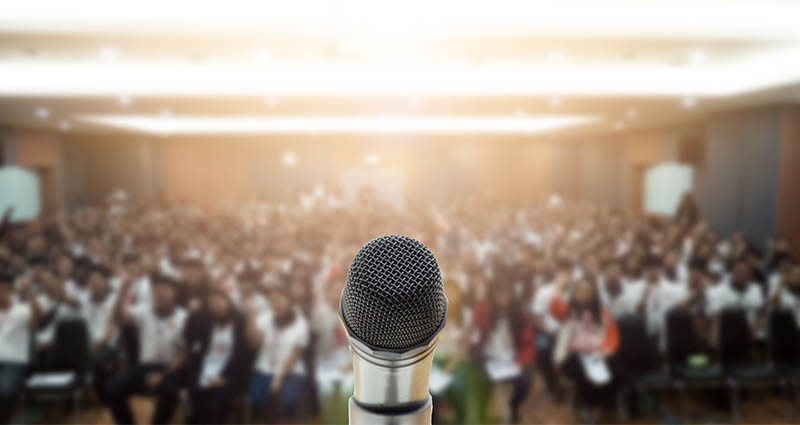 Keynote speakers offer a wealth of benefits when booked for events, including insight, knowledge and an empowering personal story. This has led to their incredible popularity on the speaking circuit, with corporate clients from across the globe requesting keynote engagements for their virtual and in-person events. These speakers are professional storytellers; audiences remember important facts and figures from their speech long after the curtains close.
Source: Forbes
With thousands of keynote speakers available to hire, it can be difficult to know who to choose. The Motivational Speakers Agency have a whole host of top keynote speakers who are perfect for all events.
Including their raving client testimonials and video clips of their previous appearances, below is a list of the very best keynote speakers we can offer.
Who are the top keynote speakers available to book?
Learn more about these outstanding speakers below.
Geoff Ramm
Everything about Geoff Ramm is Hollywood. Featured in Forbes, he is the masterful creator behind Celebrity Service and OMG Marketing.
Helping brands to design memorable customer service experiences, Geoff offers a compelling insight into branding, allowing businesses to push the boundaries of their marketing strategy.
Counting British Airways, Specsavers and Suzuki among his long list of clients, Geoff is a keynote speaker unlike any other.
Testimonial
"Geoff was great! He totally captured us with his amazing stories and the messages were on point! I've had lots of great feedback and one of the team has even recommended Geoff to his previous organisation. Thank you for a great recommendation – spot on!"
- MDL Marinas
Piers Linney
One of Britain's most dynamic businessmen, Piers Linney is an award-winning entrepreneur and former star of the investment show, Dragons' Den.
Named in the Top 100 BAME Leaders in Business, Piers is an expert at supporting start-ups and SME's scale-up. In his role as a Non-Executive Director of the British Business Bank, he helped secure £12 billion of financing for growing businesses.
Former CEO of Genesis Communications and a market leader in the cloud-based space, Piers is a keynote speaker specialising in technology and business management.
Testimonial
"Truly an inspiring speech… Relatable to many in some shape or form. Perseverance is the key to success!"
- Hamstead Law Practice
Greg Rutherford
One of the most down-to-earth and pragmatic sports speakers in the UK, Greg Rutherford has inspired countless audiences with stories from his personal journey.
Showcasing the drive and determination that saw him end his long-jump career with six Gold medals, including one at the London 2012 Olympic Games, Greg enjoys a reputation as one of the country's most-loved sportspeople.
He even has a golden post box engraved with his name in his hometown of Milton Keynes. Tapping into themes such as peak performance and mental resilience, Greg is an engaging presence at all manner of events.
Testimonial
"Greg gave a great speech and I'm sure the children will remember the phrase "fat don't fly" for years to come! He was very generous with his time meeting the children, posing for photographs, etc after his speech. Thank you for your efficient organisation."
- Heath Mount School
Martin Eberhard
World-famous engineer and co-founder of Tesla, Martin Eberhard has been named among the Top 24 Innovators in the world.
He played a key role in the growth of Tesla, helping to drive them to new heights. Today, Martin's experience is helping businesses to do the same, through his keynote engagements.
A specialist in electrical engineering, as well as a pioneer in the fields of sustainability and technology, Martin offers a level of expertise and experience unlike any other keynote speaker on the circuit.
Gerd Leonhard
Offering a uniquely breathtaking keynote presentation, Gerd Leonhard is without a doubt one of the most in-demand futurism speakers of the modern era.
Having penned the bestselling book, 'Technology Vs Humanity', Gerd was instantly recognised as a thought-leader in his field. In his keynote speeches, he can discuss in detail how humanity can triumph in the face of dramatic technological change.
Appearing at over 1500 events in countries across the world, speaking in total to 2.5 million people and counting, his knowledge of both the challenges and opportunities that technology brings is unprecedented.
No matter if your conference focuses on consumer trends, humanity, e-commerce, business, leadership or the future - Gerd is a must-have speaker.
Testimonial
"Gerd was the opening keynote speaker at our social media and content marketing event and made a huge impact to all 400 listeners. People discussed and quoted him throughout the day and in many blog posts afterwards. We organisers were all very happy about this."
- Helsinki Event
Tracey Neville
Head Coach of England's national netball team, Tracey Neville led the team to many historic achievements. Tracey herself earned 81 caps for England as a netball pro.
Since she retired from physical playing, she has earned herself a place among the most successful netball coaches in the game's history.
Responsible for helping to revolutionise netball in England, she has instilled a vibrant team culture that was showcased in England's Gold medal win at the Commonwealth Games 2018.
Crucial to growing awareness of netball and other women's sports, Tracey presents a wealth of wonderful stories and experience beneficial to businesses big and small.
Testimonial
"We had a brilliant day – Tracey was tremendous."
- Greencore Inc
Ranulph Fiennes
Referred to as 'the world's greatest living explorer' by The Guinness Book of Records, Sir Ranulph Fiennes has lived life from record to record.
His incredible array of experiences include becoming the first man to reach both poles, circumnavigate the world along the polar axis and cross the Antarctic and the Arctic Ocean, alongside fellow explorer, Charles Burton.
He continued to break the boundaries of human endeavour throughout his career, successfully summiting Everest in May 2009 to become the oldest Briton ever to do so. He raised a remarkable £14 million for UK charities, making him the top fundraiser on JustGiving UK.
A truly special explorer with a passionate story to tell of defying odds and overcoming adversity, Sir Ranulph Fiennes was listed as One of the World's Top Ten Speakers by The Daily Telegraph.
Testimonial
"Sir Ranulph was the best speaker we have ever had. He was extremely entertaining and our guests only said glowing things about his talk. He was a complete professional on the night and was a pleasure to be with. I regretted only letting him talk for an hour as we could have listened to him for much longer. I would happily recommend him."
- Vail Williams LLP
Khadija Kalifa
A much-admired contestant on The Apprentice 2018, Khadija Kalifa is the owner of the award-winning eco-cleaning company, Opal & Pearl.
The confessed 'mumpreneur' has inspired corporate audiences with the story of her impressive rise in business.
In demand as a keynote speaker, Khadija can discuss a range of topics from staying on trend to beating the competition.
Testimonial
"Khadija's journey from A-Level student to entrepreneur is inspiring. She is able to speak with passion and authority to deliver her step by step guide to success. She shares her dreams and goals and openly discusses her motivations. Khadija's presentation asks you to think about your own ambitions and provides that all-important nudge in the right direction."
- Ormiston Bushfield Academy
Warwick Davis
An actor and television presenter capable of fulfilling various roles from comedy to action, Warwick Davis is one of the most recognisable faces on screen.
Having played beloved characters such as Ewok Wicket in Star Wars Episode VI: Return of the Jedi, Willow in the Leprechaun films and Professor Flitwick in Harry Potter - he has proven his dedication to his profession.
Also appearing in the television sitcom Life's Too Short, Warwick has consistently shown his talent and versatility.
Ideal as a guest speaker for events, he is passionate, engaging and has plenty to discuss regarding his remarkable career inside and outside of the film industry.
Testimonial
"He was a HUGE success as I'm sure you can imagine, and our Twitter went wild last night. He was wonderful to work with, so polite and generous to all the 'selfies' requested."
- Mortgage Introducer
Steve Wozniak
One of the men behind technology giants Apple, Steve Wozniak single-handedly developed the 1976 Apple I - the computer that leads to the launch of the company.
Alongside Steve Jobs, he founded Apple Computer Inc, but little did they know that this would lead to fame and fortune on a global scale.
In the 1980s Steve sold his stock in Apple, to continue making an impact on the world of technology. Wanting to give something back, he fulfilled his ambition of becoming a school teacher, teaching computer classes.
An outstanding keynote speaker, Steve can discuss his career at Apple as well as offer his expert views on the world of technology and what innovations he predicts for the future.
Sarah Willingham
Well-known amongst audiences as one of the famous entrepreneurs who used to appear on the BBC's Dragons Den, Sarah Willingham rose to fame as the manager of popular high street restaurants Pizza Express and Planet Hollywood.
One of her first ventures into business came in 2004 when she took over at the Bombay Bicycle Club restaurant chain. Taking over a company that was making a loss, Sarah transformed its fortunes, turning it into a thriving business.
Investing in several high-profile businesses across the country, Sarah has forged a reputation as one of the country's most successful entrepreneurs. In 2016, she was named one of the Most Influential People in Britain by The Sunday Times, credited to her onscreen personality and business-savvy mindset.
As a keynote speaker, Sarah can cover a range of topics including sales, marketing and overcoming adversity.
Stuart Pearce
To be successful in sport there are certain personal qualities you need, including self-belief, hard work and immense dedication. Former England and Nottingham Forest defender Stuart Pearce MBE had all of these qualities and much more, to establish himself as one of the most iconic figures in the English game.
During his 24-year career, he played over 700 professional games, 502 for Nottingham Forest, and earned 78 England caps. Establishing himself as a no-nonsense defender, Stuart is best remembered for one particular incident.
Demonstrating how you can overcome adversity and still go on to be successful, this inspirational message is something Stuart brings to all of his keynote speaking engagements.
Book a Keynote Speaker
If you would a keynote speaker to appear at your corporate event, function or conference, simply contact The Motivational Speakers Agency by filling in our online contact form or by calling a booking agent directly on 0207 0787 876.
8 minutes to read