Top 10 LGBT+ Speakers To Promote Workplace Inclusion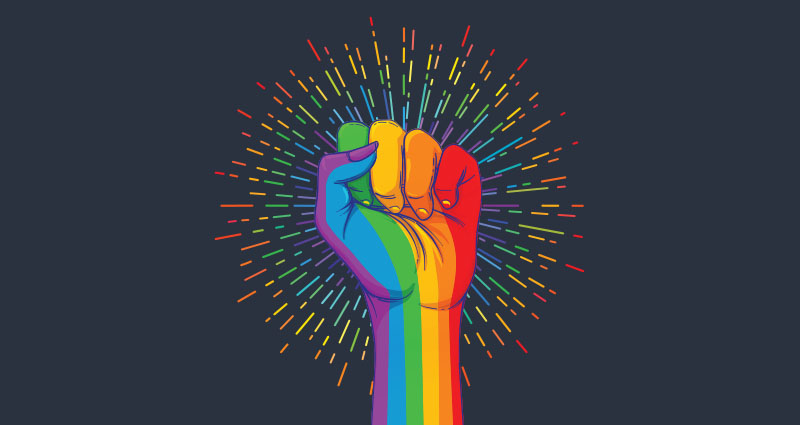 From famous LGBT speakers to pioneering advocates, the array of influential figures available to book means there is someone for every event.
These speakers are committed to improving the wellbeing of LGBTQ+ employees, by educating businesses on inclusion and the correct terms to use. Workplace inclusion is not just beneficial for the staff, but the business owners also, as it encourages a diverse range of perspectives and ideas.
Take a look at our top pick of inspiring LGBT speakers, perfect for your event.
What does LGBTQIA+ stand for?
The current official acronym used to describe the LGBT+ community, LGBTQIA+, stands for:
Lesbian
Gay
Bisexual
Transgender
Queer
Intersex
Asexual
And more!
Source: https://ok2bme.ca/resources/kids-teens/what-does-lgbtq-mean/ 
As more sexualities, genders and identities are coined, more letters are added to the acronym. It is essential for businesses to stay up to date with the current community and its members, to best support their employees - no matter how they identify.
If you hear a term that you are unfamiliar with, make sure to research online before using it to ensure you fully understand its meaning.
Alternatively, book an LGBT speaker. These resident experts have dedicated their lives to improving our understanding of the community, by defining terms and promoting the importance of inclusion in the workplace.
Check out our top LGBT speakers below!
Kellie Maloney
LGBT guest speaker, Kellie Maloney, started her career as an esteemed boxing promoter under a different name. After publicly transitioning to a woman, she now uses her story as a transgender activist to educate others, including business owners.
From larger conferences to intimate workshops, Kellie is celebrated for her "candid, down to earth" personality and talent as a speaker. Book one of the most high-profile sports stars ever to undertake gender reassignment surgery, and nurture a more inclusive, understanding workplace.
Gareth Thomas
From the pitch to the stage, Gareth Thomas is a positive force for good. Voted the Most Influential Gay Person in the UK by the 2010 Sunday Pink List, Gareth came out as gay in 2009, making him one of the first openly LGBTQ+ professional rugby union player.
He was later awarded the Stonewall Hero of the Year award, a testament to his positive influence as a role model. When booked for events, Gareth shares his story of publicly coming out, enlightening audiences to the adversity faced by the LGBTQ+ community.
Matt Ellison
After transitioning from female to male in 2013, Matt Ellison became a transgender activist, dedicating his life to education and awareness. Matt was the Co-Chair of FTM (Female to Male) London, where he worked closely with the NHS, the British Government on the Gender Recognition Act, and supplied support groups for transgender people.
As an LGBT keynote speaker, Matt connects with audiences on a personal level and educates business owners on the importance of inclusion.
Dr Ranj Singh
Openly gay TV doctor, Dr Ranj Singh, uses his celebrity platform to speak out against oppression and injustice. When booked for events, he discusses his personal growth as a member of the LGBTQ+ community and the importance of acceptance, especially in the workplace.
Combined with his medical knowledge, Ranj's unique perspective serves to enlighten corporate audiences to the experiences of a gay professional. Audiences are drawn to Dr Ranj and his charming personality, making him a captivating spokesperson for the LGBTQ+ community.
Jake & Hannah Graf
Jake and Hannah, otherwise known as the UK's Transgender Power Couple, prove that love is love. The inspirational duo encourages acceptance for LGBTQ+ couples, individuals and the community, through their public story of gender transition, together.
Influencing both the filmmaking industry and the British army in their professional roles, Hannah and Jake are booked to share their respective journeys, discussing such topics as sexuality, mental health in the LGBTQ+ community and gender. From NBC Universal to London Pride, the influential couple have been booked by a range of high-profile clients.
Nigel Owens
Having started his refereeing career in 1987, Nigel Owens established himself as one of the best rugby union referees before coming out as gay in 2007. He was later awarded the 2007 Gay Sports Personality of the Year and 2015 Gay Sports Personality of the Decade, a testament to Nigel's positive influence as a member of the LGBTQ+ community.
When booked for events, whether as a sports speaker or an LGBT speaker, he enlightens audiences to the struggles of a gay professional in a stereotypically masculine world.
Colin & Justin
Celebrity style experts and famous couple, Colin and Justin, celebrated their love with a private civil ceremony in 2008. Authors of The Million Pound Property Experiment, which was awarded the WHSmith's People's Choice Lifestyle Book of the Year, and How Not to Decorate, which was later turned into a television show, the pair are authorities on design.
Colin and Jason have documented their love story online, promoting acceptance for the LGBTQ+ community and normalising homosexual romance in a straight world. The duo is booked to retell their inspiring love story.
Inga Beale
Inga Beale is a pioneer of female and LGBTQ+ representation, as the first female CEO of Lloyd's of London and openly bisexual businessperson. Three centuries since the company's debut, Inga's promotion was a landmark moment in gender equality, shifting Lloyd's of London onto the right side of history.
As a speaker, she specialises in workplace equality, both for women and the LGBTQ+ community, using her story to promote the importance of inclusion. For corporate leaders, an expert speaker like Inga is essential.
Paris Lees
As the first transgender presenter and columnist for Vogue Magazine, Channel 4 and BBC Radio One, Paris Lees is a pioneering LGBT+ speaker. She uses her unique experience to open her audience's eyes, reflecting upon the adversity faced by the transgender community and how business owners can ensure inclusion in the workplace.
Paris is a passionate writer, founding her own British magazine for the trans community, titled META, and becoming Vogue's first transgender columnist. When booked for events, she reflects upon these impactful achievements and the positive impact they have had on the LGBTQ+ community.
Gina Battye
After dealing with immense homophobia in the workplace, Gina Battye has dedicated her career to improving the standard of inclusion across industries. She reflects upon her physical and mental journey as a speaker, expanding upon her best-selling book, How to Beat the Biscuit Tin Blues.
Gina works with some of the most influential brands in the world, to provide transgender, LGBTQ+ and non-binary inclusion training, educating both staff and managers.
Book an LGBTQIA+ Speaker
To book an LGBT speaker for your event, get in touch via our online form or phone 0207 0787 876 to book a transformative speaker today.