Pride Month 2022: 5 Ways to Support Your LGBTQ+ Employees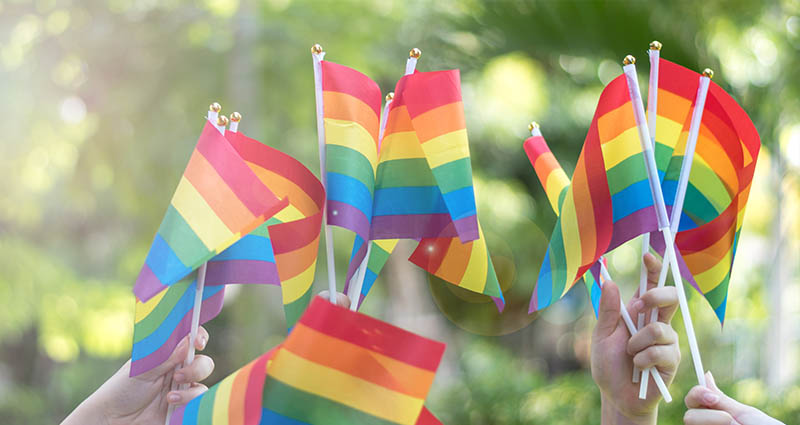 With LGBTQ+ pride month fast approaching, now is the best time to reflect upon your company's stance and make your workplace a more welcoming environment. For your LGBTQ+ employees, inclusion can mean the difference between feeling understood and feeling excluded, emotions that can impact their confidence and performance. Self-assured LGBTQ+ staff are key to business innovation.
Make 2022 the year you pledge to support your LGBTQ+ staff, using our top tips below.
When is Pride Month?
LGBTQ+ pride is celebrated every June, to recognise the US Stonewall riots in 1969. On June 28th, protesters took to the streets following a police raid on the Stonewall Inn, marking the first Pride march, a term coined the following November by gay rights activists.
Source: https://www.bbc.co.uk/newsround/52872693
Celebrate Pride Month
One of the best ways to support your LGBTQ+ employees is to publicly celebrate Pride month. This sends a clear message that you see them, you support them, and you will not stand for discrimination.
Decorate the office with rainbow flags, host a charity cake sale or even book a slot at your local pride parade, where you can pledge your company's commitment to the LGBTQ+ community. Getting everyone involved will promote an inclusive environment that celebrates pride.
Organise Inclusivity Training
LGBTQ+ inclusion requires all employees to cultivate a welcoming environment. However, it is not up to your lesbian, gay, bisexual and transgender staff to educate their peers. Inclusivity training workshops fill this role and serve to educate members of your team.
A lack of education can lead to misgendering, incorrect terminology and hurtful phrases, whether on purpose or not. Many LGBT+ advocates have dedicated their careers to leading such workshops, to ensure that attendees receive the most relevant and impactful advice possible.
Host an LGBT Speaker
What better time to hire an LGBT speaker, than pride month 2022?
When you book an LGBT speaker, you are investing in your workplace's inclusivity. You are telling your LGBTQ+ staff that you care about their experiences, their happiness and their identity. An LGBT speaker will relate to their struggles, and open the eyes of their straight colleagues, leading to unity and understanding.
At The Motivational Speakers Agency, we have collated a list of the Top 10 LGBT Speakers to Promote Workplace Inclusion, the perfect place to find your speaker. Browse our selection, then contact a booking agent to receive your free quote.
Embrace Preferred Pronouns & Gender Neutrality
Removing the Male/Female signs from your toilets and embracing gender neutrality may seem trivial, but for transgender and non-binary employees, it is incredibly empowering. It eliminates the everyday stress caused by gendered toilets, and make it easier for all staff to find an available bathroom.
Asking for someone's preferred pronouns should be second nature, but for many, it is an afterthought. This can put non-binary and transgender people in an uncomfortable situation, and cause unnecessary trauma. This pride month consider adding all of your employees' preferred pronouns to their email signature, to normalise not assuming someone's gender.
Raise Money for LGBTQIA+ Charities
Raising money for an LGBTQ+ charity does not just support your employees; it improves services in your local area for all members of the community. Whether you can pledge funds, volunteers or simply promote the charity as a beneficial resource, investments of all kinds will have a positive impact on your LGBTQ+ employees – especially for those who rely on such services.
LGBTQ+ Charities to Support:
What's Next?
To book an LGBT+ speaker for your event, get in touch via our online form or call us on 0207 0787 876 to receive your free quote.