Fireside chat speakers News Posts
Fireside Chat Speakers
If you want information on the latest trends and topics relating to fireside chats, as well as tips on how best to implement them - look no further.
What is a Fireside Chat?
The fireside chat meaning is uncomplicated. It refers, at least nowadays, to a conversation between three parties in a relaxed setting. Who are those three parties? The speaker, the moderator and the audience. Without one, the format fails. With all, it offers a unique expression at corporate events that serves to better both the understanding and action points for those in attendance.
At its bare bones, a fireside chat is an informal question and and answer session. It represents a chance to sit down and discuss a topic in detail with a person of interest, whether an expert in their field or more generally.
Why Use the Fireside Chat Format?
A fireside chat's purpose differs depending on the intent of an event. In most circumstances, the aim is to provide a platform for interaction and innovation. By allowing audiences to contribute, in a way that a speech doesn't neccessarily do, a fireside chat is more tailored to audience expectation and desire.
Naturally a fireside chat is engaging, and in many ways a more unpredictable format than the traditional methods of conference communication. Fireside chats don't stand still, they move swifly through discussion points, and the content up for discussion is driven largely by the moderator and audience.
Why Book a Moderator?
Booking a moderator is key to this fireside chat format. Having had experience in the facilitation and moderation of conference and corporate events, they are well-suited to discussions. Experts in their field, and confident about digging deeper, moderators can mean no stone is left unturned. Organised and meticulous as well as engaging and friendly, they put the audience and speaker at ease, as well as inspire them to answer the questions audiences truly want to know.
Jack Hayes
|
15th October 2019
The fireside chat format is a unique approach to engaging audiences at corporate events. Comprised of an interviewer and interviewee, the goal of a fireside chat is to answer the questions that are the most relevant to those in attendance. More…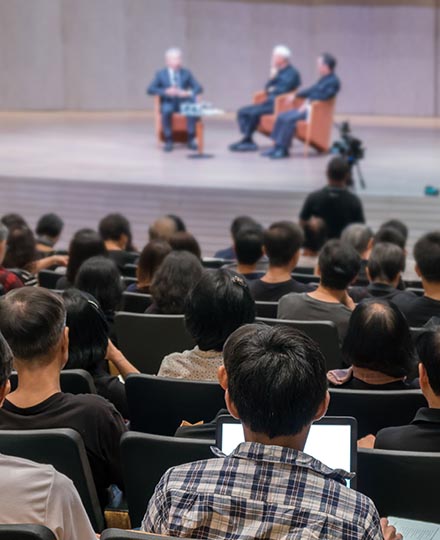 Jack Hayes
|
25th July 2019
It is the hottest corporate event trend right now. The fireside chat has, to some degree, displaced the keynote presentation. It is more personal, multidimensional and interactive.