Top 10 Black Motivational Speakers for Your Corporate Event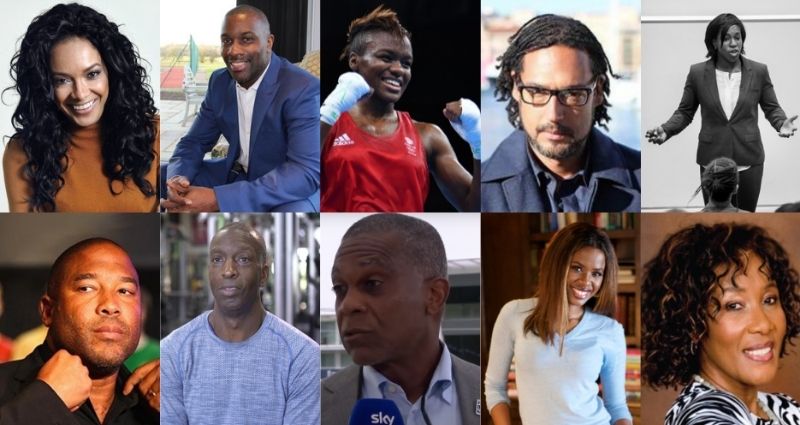 Motivational speakers have become increasingly in demand over the last few years, given their passion and ability to inspire their audiences. Available for in person or virtual events, motivational speakers come from all backgrounds, cover a wide range of topics, and can captivate audiences of all industries. 
Why book a Black motivational speaker? 
Black motivational speakers have unique stories that make them the perfect people to discuss resilience and overcoming challenges in life. Trailblazers in their own fields, they are guaranteed to hold the attention and inspire your audience.  
Choosing a Black speaker will also see them resonate and relate to an organisation's Black employees, whose personal experiences may not be covered otherwise. Acknowledging the experiences of Black employees is also a step in the right direction to improve inclusivity and diversity throughout a business.  
Here we look at 10 of the best Black motivational speakers on the circuit.
John Barnes 
Despite a torrent of racist abuse, John Barnes, one of England's greatest ever footballers, continues to show a great desire to achieve when quitting may have been an easier option. The sporting icon won an FA Cup and League Cup, as well as the PFA Player's Player of the Year Award. 
Now John is one of the most vocal voices in fighting for equality and challenging racism, not just in football but in society. John brings the passion he displays in his fight for equality into his speeches. He also uses his experience from the very top of English football to explain how to stay calm under pressure and continue to achieve at the highest level. 
June Sarpong  
Successful in whatever she has turned her hand to June Sarpong is a prime example of how you can achieve your dreams no matter what they are. A businesswoman, social activist, author, presenter, and philanthropist she has a varied CV that contains plenty of achievements. 
Booking June as a speaker guarantees an empowering speech, with plenty of personal stories of overcoming challenges and how she has succeeded in so many areas of her life, leaving audiences inspired to go out and succeed in their work. 
Maggie Alphonsi  
Maggie Alphonsi showed great drive and determination as a rugby player, remaining at the highest level of the women's game for 11 years, winning seven consecutive Six Nations Championships and the World Cup.  
Not content though after retiring she has gone on to smash the glass ceiling, becoming the first woman to commentate on a men's international rugby game. Having spent her whole career motivated to chase greatness, Maggie is one of the top choices for any organisation looking to motivate their staff to achieve their goals. 
Derek Redmond
A former World Champion, Derek Redmond knows exactly what it takes to succeed at the highest level, but it is not winning that Derek is most known for but rather finishing. During the Barcelona Olympic Games in 1992, he tore his hamstring with over 200 meters left but continued to run the race. With the help of his father, who had sprinted onto the track to support his son, he reached the finish line in one of the most inspiring moments in sporting history.  
A true example of achieving your goals no matter what you face Derek is a fantastic choice for any organisation looking to inspire its employees. 
Nicola Adams
As a Black, female boxer from the LGBTQIA+ community, Nicola Adams serves as an inspiration to many. She made history in the boxing ring as she was the first female to win an Olympic Boxing event back in 2012, before becoming the first Brit to defend a boxing Gold in 92 years when she won again in 2016.
Away from the ring, she has pushed for equality and inclusion and made history again as she was the first celebrity to appear on Dancing on Ice in a same-sex couple. Nicola is passionate, enthusiastic and can keep any audience captivated, making her a great motivational speaker.
Makaziwe Mandela-Amuah 
The daughter of Nelson Mandela, Makaziwe Mandela-Amuah has forged her own path holding senior roles at the Development Bank of Southern Africa and the Industrial Development Group, while also still being motivated to carry out real change.
From campaigning to business advisory, she is looking to improve the lives of marginalised groups, and as a speaker, she comes ready to deliver a powerful speech. She will also provide strategies to encourage and support organisations and individuals to take steps to move forward both at work and in wider society.
Kanya King
The founder and CEO of the MOBO Awards, Kanya King is one of the world's leading entrepreneurs, but she had to risk it all to get there. Back before the MOBOs were one of the biggest events on the music calendar, it was a dream that Kanya risked everything for by re-mortgaging her home to pay for the first launch.
Her inspirational story of risk and reward paired with fantastic energy and presenting style makes her a great motivational speaker for your event.
Michael Holding
Growing up in the West Indies, Michael Holding played cricket from a young age but studied alongside his playing career as he felt his financial prospects were limited. However, as one of the most talented players to play the game and with a lot of effort, he made it work.
Now known as a one of the best bowlers ever, a pundit and a powerful speaker, Michael us a great choice for a motivation speaker. His passion and enthusiasm when talking about his career, societal issues and how he overcame the struggles in his life, will leave any audience inspired and ready to tackle their own challenges.
Michael Johnson
Four Olympic Gold medals and eight World titles make Michael Johnson one of the world's greatest ever athletes. His longevity and success in the sport has been put down to his Olympic mindset and how he passes that down to the next generation with his own agency, aimed at helping track and field athletes.
As a speaker, Michael can bring that mindset to your organisation letting any audience know what it takes to reach the very top of their respective fields.
David Olusoga
A leading historian, David Olusoga used the racism he faced growing up in the UK to shape his career positively. His work has looked at shining a light on forgotten parts of history, focusing on race as well as aiming to tackle racial injustice happening in the modern world
As a speaker David is eloquent and captures any audiences' attention, and his personal experience of turning a negative situation into an award-winning career can be a lesson for anyone to follow.
Book a Black Motivational Speaker
Get your workforce ready for their next big project, or just inspire them to hit their current targets by booking a motivation speaker today. Whether it is one listed in this blog, our vast list of diversity and inclusion speakers, or you have another inspirational person in mind, our agents can help you find the best speaker for your event.
To book a black motivational speaker, simply get in touch via our online form or call us on 0207 0787 876 to receive your free quote.