Top Trending Ethical Hacking Speakers To Hire For 2022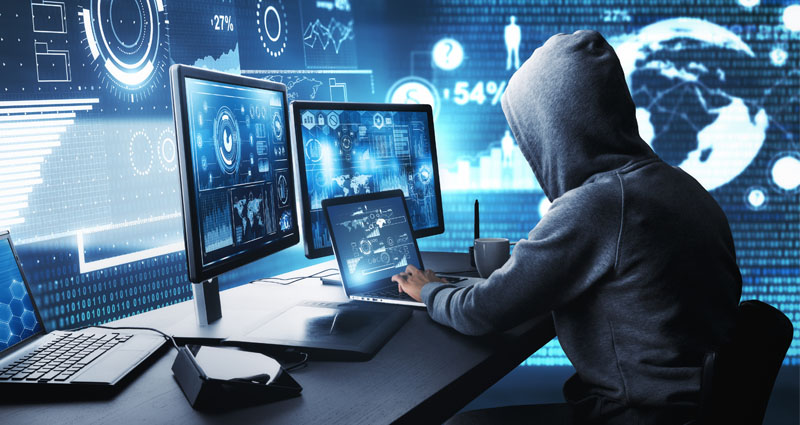 As the world of technology ever evolves, each and every day new vulnerabilities emerge in technology that can be targeted by cybercriminals. The job of an ethical hacker is to identify vulnerabilities and insecurities in technology, hack into the technology to assess those vulnerabilities, and help organisations to improve their security to ensure that these targets are not exploited by cybercriminals.
With the ethical hacking industry representing a worth of almost $4 billion, it is clear that ethical hackers are a worthwhile investment for businesses wanting to protect their assets. It is also forecasted that the information security industry is to grow by 32%, with more and more organisations realising the crucial importance of ensuring their technology is protected.
Here at The Motivational Speaker Agency, we are fortunate to work with some of the world's leading technology experts, many of which have detailed expertise on ethical hacking and cybersecurity.
Take a look at the top trending ethical hacking speakers to hire in 2022, listed below!
The Top Trending Ethical Hackers to Hire in 2022
Book an Expert Ethical Hacker Today!
Kevin Mitnick
Kevin Mitnick is one of the most renowned hackers of the modern digital world, having made headlines as the former FBI most wanted hacker – arrested in 1995 after relentless pursuit for a plethora of communication and computer-related crimes, including hacking into Pacific Bell voicemail computers. Using his expertise in exploiting technical vulnerabilities, Kevin is now the CEO and Chief White Hat Hacker of Mitnick Security Consulting, providing a range of penetration testing, incident response and security strategies to the biggest governing bodies and corporations.
Author of Ghost In The Wires: My Adventures as the World's Most Wanted Hacker, Kevin is an expert keynote speaker who will share his story of being one of the world's most infamous hackers.
Speaking topics:
Computer Forensics
Computer Hacking
Computer Security
Consumer Products and Protection
Cryptocurrency
Cybercrime and Threats
FinTech
Hackers and Hacking
Security Awareness
Information Security
Thomas Webb
Thomas Webb is famed for his talents as a creative hacker, using programmes, algorithms and real-time data to blur the lines between viewers and technology. An expert on hacking and social technology, Thomas has previously delivered the TEDx talks Hacking and Subverting the Internet and How Future Artists Think. Working on video game engines, 3D rendering software and custom-written physics applications, Thomas has previously worked with the likes of Mercedes-Benz and Valentino.
Awarded the Ashurst Emerging Artist of the Year 2019 New Media Prize for his work on hacking Twitter to display only real-time tweets from users experiencing depression, Thomas is a revolutionary new media artist guaranteed to captivate audiences all event long.
Greg van der Gaast
Greg van der Gaast has earned the title of one of the 5 World's Most Infamous Hackers, now considered an authoritative voice on information security. Applying a humanistic and transparent approach to security solutions, Greg is the Founder of the Creative Minds Consulting Group and works with businesses to provide them with real security solutions that leave them hacker proofed.
Renowned for his involvement in one of the largest mass hacks of the 90s, which led to a national incident being declared, Greg has also shared his expertise with the US Government to investigate breaches and intelligence activity. Having spoken at The Future of Cyber Security Birmingham and PrivSec London 2020, book Greg van der Gaast for a holistic yet radical speech on ethical hacking and cyber security.
Testimonial:
"Please do send my thanks over to Greg! His part in the event was amazing and definitely provided the wow factor, it was great to see him and Phil talk openly as opposed to death by Powerpoint slides." - Phoebe, Exclusive Networks
Jamie Woodruff
There are little companies that are safe from the prying eyes of Jamie Woodruff, having made a name for himself as an expert ethical hacker. Hacking into computer systems since he was just 9 years of age, Jamie is renowned for hacking into YouTube, Twitter, Facebook, Google and Kim Kardashian's website. A fully qualified Penetration Testing Engineer at Metrix Cloud LTD, Jamie helps blue-chip companies globally to better protect their digital assets.
Named Europe's Number 1 ethical hacker, Jamie is widely regarded as one of the world's leading authorities on hacking and cybersecurity. Also dedicating his time to supporting the Cyber Smile Foundation as a Cyber Safety Advisor, book Jamie Woodruff today to educate audiences on how to stay safe online.
Testimonial:
"Jamie Woodruff went down brilliantly with the clients with his engaging, thought-provoking and slightly scary keynote speech and presentation!" - Kate, Baker McKenzie
Keren Elazari
An internationally recognised authority on cyber security, Keren Elazari is renowned for her expertise in hacking and the importance of secure networks. The first Israeli woman to deliver a TED talk, Keren shared her expertise in the speech Hackers: The Internet's Immune System – detailing the story of a hacker that found a vulnerability in ATMs which allowed them to withdraw large quantities of money for free. Promoting how ethical hackers are crucial for strengthening defences against malicious hackers, Keren's TED talk has been viewed over two and a half million times and was voted as one of TED's Most Powerful Ideas.
Now the Founder of BSidesTLV, the largest hacker community event since 2016, Keren is committed to helping companies identify their technical vulnerabilities and keep their digital information safe from malicious activity. When looking for an influential speech from a leading ethical hacking expert, book Keren Elazari today.
Testimonial:
"Keren was great. She was a highlight of our meeting and I received great feedback about her presentation. She was lovely to speak with, as well!" - ARGO Group
Ben Hammersley
Ben Hammersley has enjoyed a successful career as a technological guru, famed as the Principal of Hammersley Futures. Founder of Agathonic.AI Inc and Contributing Editor to WIRED UK, Ben has also formerly shared his expertise as the Prime Minister's Ambassador to TechCity. Working with governments, corporations and executives on identifying disruption risks and opportunities in the digital landscape, Ben provides insider knowledge on the greatest advantages and disadvantages of digital technology.
Having also worked as a Non-Resident Fellow of the Center for 21st Century Security and Intelligence at The Brookings Institution, Ben is a preeminent authority on the future of digital technology, cybercrime, cyber security and hacking. Author of the Hacking series – HackingGmail, Hacking Moveable Type and Now and Then – book Ben Hammersley for an engaging speech on all things technology.
Testimonial:
"Ben was a great personality to work with and an excellent speaker. His speech gave a lot of new insights and refreshing opinions. He was our highest ranked speaker of the day." - Robeco
Chris Kelly
Sitting at the forefront of the fight against digital crime, Chris Kelly has dedicated his career to cybersecurity. Famed as the Chief Privacy Officer of Facebook, Chris has since become an influential investor across the technology and finance sectors. A member of the Board of Directors for the San Francisco 49ers Academy, Chris has also committed time to acting as the Democratic nominee for Attorney General of California.
Having set the standards for security policies at one of the world's leading social media platforms, Chris provides inside knowledge of how he protected one of the most used platforms to date. When looking for a preeminent authority on privacy, security, safety on social media, the future of technology and cybersecurity, book Chris Kelly.
Brian Wagner
The former Head of Compliance EMEA in Financial Services for Amazon Web Services, Brian Wagner is a respected authority on cybersecurity with knowledge on everything from GDPR to encryption strategies. Now the Chief Technology Officer of Bulletproof and Defense.com, Brian shares his expertise to help businesses transform their technology and security strategies.
With detailed knowledge of compliance and information security, Brian provides inside knowledge on the vulnerabilities that lie in technology and how businesses can arm themselves against malicious hackers. With a career dedicated to cybersecurity, book Brian Wagner today to learn the true importance of ethical hackers.
Testimonial:
"I engaged Brian as a public speaker across three continents and five countries. He's an adaptable, engaging and compelling speaker who always challenges the audience to really follow up on the content afterwards – with tangible takeaways. I would consider Brian one of the best speakers and content creators for cyber security, as he captures content from emerging to expert." - Alex, Customer Success Lead, Microsoft Azure
Jessica Barker
Renowned for her human approach to innovative tech, Jessica Barker is famed as the Co-Founder and Social-Technician Lead of Cygenta. With detailed expertise in sociology, Jessica provides audiences with a unique perspective on the human nature of cybersecurity, cyber threats and social engineering. Named as one of the Top 20 Influential Women in Cybersecurity in the UK, Jessica engages with everyone from ethical hackers to senior executives on how to better understand the mind of malicious hackers.
An award-winning global leader in cybersecurity, Jessica is working to prove the importance of ethical hackers and their expertise in identifying vulnerabilities that can be targeted by malicious cybercriminals. Chair of ClubCISO, a community of senior information security leaders, book Jessica Barker to learn the importance of ethical hackers and identifying cyber threats.
Testimonial:
"Event went really well and Jessica is a star, a true pleasure working with her! The average rating of the speakers during the event was high, 3.82 overall and Jessica got 4.68, which is the highest score of the day." - IDG AB
Andrew Amery
Andrew Amery is a revolutionary figure in large-scale security, famed for his role as the Head of Security for the London 2012 Olympic Games. Having formerly worked in security for the Royal Family, such as providing security measures for the Queen Mother's funeral and Golden Jubilee, Andrew knows first-hand the vulnerabilities that people with malicious intent target.
Having navigated the possibility of everything from cyber assaults to terrorist attacks, Andrew is an expert at keeping the priorities of the company in mind whilst ensuring they are as protected as can be.
Frank Abagnale
The famed imposter and former conman, Frank Abagnale spent years disobeying the law whilst avoiding the consequences. Caught red-handed defrauding banks, Frank was eventually imprisoned and was offered a job catching criminals that attempted to duplicate his past tricks. As the realities of his past crimes were released, Frank published the semi-autobiographical book Catch Me If You Can to detail his experiences.
With the power of his abilities as a scammer evident, Frank has since established Abagnale and Associates, a company dedicated to providing education on protecting confidential information and avoiding malicious fraudsters. When looking for a speech from a malicious hacker turned white-hat hacker, book Frank Abagnale today.
Testimonial:
"The GWSAE audience was absolutely enthralled during your speech. I've never heard such unanimous comments – superb, great, I loved the speaker – for any speaker we have had!" - Greater Washington Society of Association Executives
Alasdair Allan
A preeminent thought leader on artificial intelligence, cybersecurity and hacking, Alasdair Allan is renowned for revealing that Apple's iPhone tracks users at all times. Also widely known for hacking into hotel radios, Alasdair reveals the insecurities of various forms of technology and how these vulnerabilities can be targeted by malicious hackers.
A seasoned speaker, Alasdair previously delivered the TEDx talk The Coming Privacy Crisis on the Internet of Things, in which he discussed the privacy issues we face in the modern digital world. Now the Head of Documentation for Raspberry Pi Trading, Alasdair is putting the power of computing and digital into the hand of people across the globe, and ensuring they do it safely.
Misha Glenny
Misha Glenny is renowned for changing the face of organised crime in the digital era, formerly working as the Central European correspondent for The Guardian and BBC. He has delivered two TED talks, titled Hire The Hackers and The Real Story of McMafia, sharing his expertise on the biggest failures of the cyber security industry. Explaining how cyber security needs to be integrated into all aspects of business, Misha draws on the many interviews he has conducted with cyber criminals to reveal the motivation behind their malicious actions.
When booked as a speaker, Misha shares the importance of ethical hackers and their role in identifying possible areas of crime. Offering a unique insight into the criminal mind, book Misha Glenny today to learn more about ethical hacking and cybercrime.
Speaking Topics:
Cyber Security Is Made Out Of People
Cryptocurrencies and Blockchain – Two Sides of the Same Bitcoin
The Real McMafia – The Rise of Organised Crime and Global Money Laundering
Get In Touch To Book An Ethical Hacker Today!
If you are interested in booking one of our talented ethical hackers to speak at your next event, get in touch with one of our dedicated booking agents directly on 0207 0787 876 or by filling out our online contact form to secure your speaker today