10 Popular Speakers for Your Virtual Event (2021 Edition)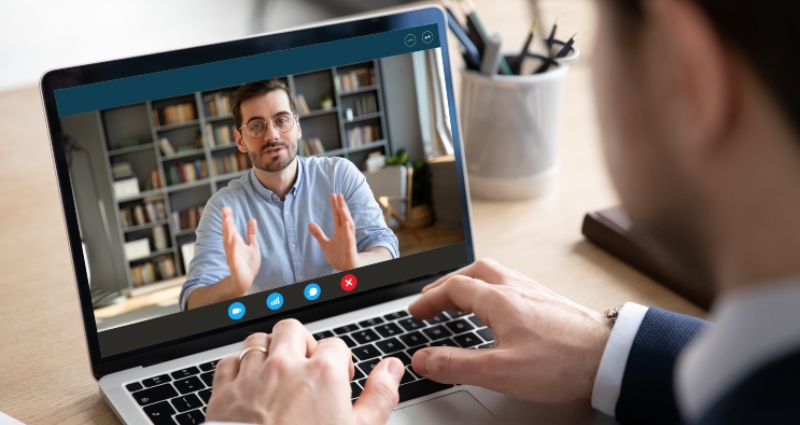 Negating the need for a physical venue, webinars and similar occasions are not only cost-effective but time-efficient and highly accessible. They make it is easier than ever to reach your target audience. Similarly, time is a hot commodity for all, and a virtual event ensures audiences can watch a recording of the online occasion at a time and place that is convenient to them, ultimately improving viewer satisfaction.
To ensure that your virtual event is a resounding success, a professional speaker is an essential requirement. With 48% of consumers citing poor presenting as the reason a webinar was unenjoyable, hire a talented and experienced presenter, facilitator or online speaker to captivate all in attendance of your online event.
Who Should I book as a Virtual Event Speaker?
Here at The Motivational Speakers Agency, we boast the best speakers in the business. Experienced in the art of transferring their talks to an online platform, these are our top picks for online events.
Alex Gregory
Olympic rower and global explorer, Alex Gregory, has experienced first-hand the power of mental resilience. The Guinness World Record holder has pushed the boundaries of Arctic exploration, taking to the water on more than one occasion to complete staggering rowing missions. When booked for virtual events, he supplies powerful stories and impressive images from his expeditions, to captivate audiences. Learn the secrets to winning multiple gold medals with this Olympic legend.
Here is what a previous client thought of Alex's speech:
"Your presentation style is completely engaging and the humility you displayed as you spoke meant you could have held everyone's attention for at least a few more hours, I'm sure! The effective way you brought your inspirational story of ultimate sporting success following the overcoming of many personal adversities, back to the jobs of every individual in the room, meant everyone could not help but be left with a compelling feeling of personal motivation from your words. A week or so since the event, you are still being quoted continually by members of our team – a sentiment to how well your story still resonates with us all."
- Restore Datashred
Jason Fox
Former Special Forces Sergeant turned star of Channel 4's SAS: Who Dares Wins, Jason Fox has extensive first-hand experience in adaptability, mental resilience and effective leadership. Now a regular contributor to the mainstream media, Jason is supporting others in acquiring his enviable skillset through his mind and fitness coaching platform; Battle Ready 360. Jason is a truly exceptional asset to any online event, as his personable nature and rewarding speaking topics leave audiences feeling empowered and motivated.
Here is what a previous client thought of Jason's speech:
"Jason Fox spoke at our Company Conference. He was humble, yet inspiring, and managed to keep the audience's attention throughout his whole talk. He stimulated more questions from the team than we have ever had before for a speaker. I would highly recommend him to businesses who want to inspire their team on teamwork, resilience and positive mental attitude."
- Hasbro
Helen Sharman
As the first Briton in space, Helen Sharman's career has epitomised pioneering exploration. Whilst conducting ground-breaking tasks, Helen became an expert in communication, especially under challenging circumstances, which has led her to become a highly successful virtual speaker. The equipment required for a virtual event is nothing compared to that required for lift-off, and Helen's decades of public speaking ensure she is just as engaging and inspirational virtually as she is in person.
Here is what a previous client thought of Helen's speech:
"We were delighted with our first virtual event, with Helen Sharman, which covered the challenges of working as a team in extreme conditions and in isolation. The results were excellent and much appreciated by the wider group. Helen handled the brief superbly, and she was calm and patient as we worked through the technical details before the event."
- Clinigen Group
Wendy Dignan
Named the Mental Health Specialist of the Year in 2020, Wendy Dignan is a psychology and business consultant unlike any other. She relates to her clients on a personal level, forging valuable connections to generate life-changing results. Stepping away from typical courses of mental health relief, like anti-depressants and therapy, she arms her audience with the skills needed to live their lives to the full. Considering the challenges faced by people in the 21st century, a virtual speaker like Wendy is essential.
Here is what a previous client thought of Wendy's speech:
"As an ex-athlete I've always advocated the benefits of keeping in shape physically, but it's just as important to look after your mental wellbeing. Book a session with Wendy, she's the person to help you look after your brain just as you would your body."
- Graham Bell
Ruby Wax
Ruby Wax is the international comedian campaigning tirelessly to tackle the mental health taboo. The established comic, Sunday Times Bestselling author and actress, is backed by over fifty years of on-screen experience, which lends her to influential engagements as a virtual speaker. Awarded an OBE for services to mental health, Ruby's impact on the understanding of mental health is world-renowned. Combining her iconic humour, on-screen presence and insightful health-based content, Ruby effortlessly connects to audiences of virtual events, educating them on her extensive mindfulness work.
Here is what a previous client thought of Ruby's speech:
"Ruby Wax spoke with passion, amazing depth of knowledge and, of course, great humour about the pressures and pitfalls of the human mind. She was incredibly well-received by all who attended. I would definitely recommend Ruby for any event where mindfulness and mental health are a priority."
- HSBC
Terry Jones
Terry Jones is a pioneer of innovation in the face of disruption. The world-renowned keynote speaker supplies outstanding virtual speeches, complete with visual presentations and downloadable resources. Audiences come away with a new outlook on their professional potential, and a newfound ability to innovate. In an ever-evolving digital world, Terry's virtual presentations teach audiences how to build relationships with online consumers, as well as traditional customers, using his cutting-edge strategy.
Here is what a previous client thought of Terry's speech:
"Our partners have new energy and focus on innovation for our firm and our industry after listening to Terry. Terry Jones is a master innovator, and knows how to translate his experiences disrupting business models into practical advice for businesspeople across industries."
- Grand Thornton LLP
Kriss Akabusi
Olympic medallist, Kriss Akabusi knows first-hand what global success looks like, having achieved individual and team victories in both hurdles and relay. Speaking of his illustrious sporting career, Kriss has since established himself as an international media personality and launched The Akabusi Company. Tasked with transforming audiences through his motivational talks, Kriss has recently honed his craft to ensure an equally engaging delivery as an online presenter.
Here is what a previous client thought of Kriss' speech:
"Kriss was absolutely fantastic! He was incredibly engaging and enthusiastic and brought so much energy into the room. He was an absolute pleasure to deal with and very professional from start to finish, wanting to find out as much about the company as possible to tailor his talk to the industry and make sure it resonates with the audience. I would definitely recommend him to others."
- Efficio Ltd
Perrine Farque
Described as a "force of nature", Perrine Farque's fearless approach to such topics as diversity and inclusion encourages audiences to sit up and listen. As a virtual speaker, she leaves all in attendance with a new outlook on equality in the workplace and a passion for diverse opinions. From gender to race, sexuality to age, Perrine encourages corporate clients to value their employees' differences as a vehicle for innovation and productivity.
Here is what a previous client thought of Perrine's speech:
"Perrine spoke at our company's inaugural leadership kick-off event in Napa, California. Perrine is a fearless storyteller who leverages her own experiences to teach meaningful lessons in leadership, coaching and radical vulnerability. Perrine's distinct voice in the effort to champion workplace equality is as impactful as it is inspiring. I look forward to learning more from her!"
- PagerDuty
Tim Peake
The man who engaged the world from outer space, Tim Peake, can now engage your audience from the comfort of his own home. As one of the world's most iconic astronauts, Tim shared his ground-breaking journey aboard the International Space Station with audiences back on earth, through his hugely popular Cosmic Classroom series. Continuing the success of his live space streams, Tim now streams into virtual events for clients globally, as a captivating space speaker.
Here is what a previous client thought of Tim's speech:
"Tim Peake addressed the VIP dinner of Europe's leading CIO's and gave them a fascinating insight into what it takes to be an astronaut and his training to manage risk and obstacles, such as the spacewalk."
- Next Technology Conference
Ash Dykes
From Madagascar to Mongolia, Ash Dykes has travelled the world as a record-breaking explorer. He was described by the renowned adventurer, Ranulph Fiennes, as "an example of great determination", a testament to Ash's unrivalled perseverance. When booked for virtual events, he captivates audiences with his incredible stories and insight into the limits of human endurance. Woven within his anecdotes are actionable strategies for mental resilience, a popular topic among business owners and virtual event organisers.
Here is what a previous client thought of Ash's speech:
"Ash delivered a powerful speech at an event in the UK Parliament to help explain the devastation of malaria, and how the UK is playing a huge role in the astonishing progress we've made over the last 15 years, saving more than 6 million lives. His personal story helped put a spotlight on the impact of malaria for an audience of MPs, the private sector and scientific community."
- UK Parliamentary Reception
Book a Virtual Event Speaker
There is no better time to complement your virtual event with a professional speaker than now. Whether you require a facilitator, keynote speaker, presenter or consultant, The Motivational Speakers Agency not only has the perfect addition to your occasion but the most experienced speakers in virtual events on the circuit.
Browse more of our virtual event speakers online, and to book a speaker get in touch via the online form or telephone 0207 1010 553 to speak to one of our agents today.