5 Astronauts & Space Speakers To Speak At Your Conferences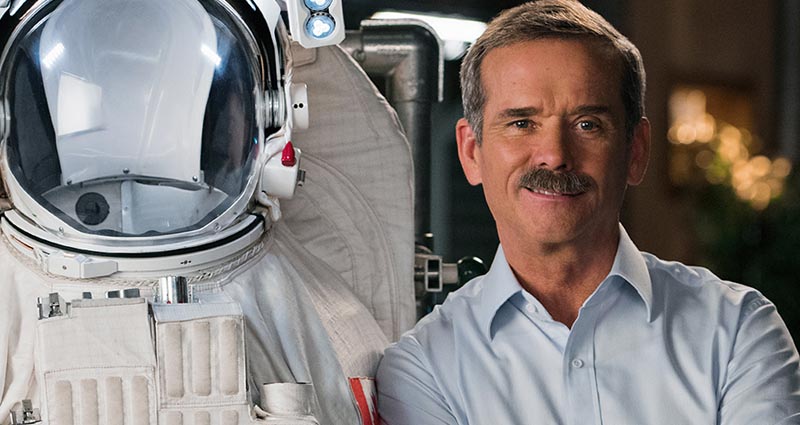 We take a look at five of the biggest name keynote speakers in space travel right now. From the second man on the moon to the leading space innovators of today - we combine the new with the old and the brave with the bold.
Whether you're looking to give your product launch lift-off, recreate the astonishing tales in a theatre environment or run a Q&A at your conference with the world's greatest space authorities - we are here to help.
Chris Hadfield
Not only has Chris Hadfield stepped out into space, and become the first Canadian astronaut to do so, he has also acquired a passion for entertaining the masses. His heartwarming viral video tribute to David Bowie, in which he mimed the hit song Space Oddity, endeared Hadfield to the world.
An entertaining speaker and host as well as a leading authority on space exploration and astronomy, there are few space speakers as perfectly suited to a corporate occasion as him.
Elon Musk
Forbes named Elon Musk 25th on their Most Influential People in the World 2018 list, and it is his continued efforts to innovate, in hope of ensuring the survival of our species that has made him a global sensation.
While people have recently begun discussing the future of mankind, Musk has been busy searching for solutions for many years. Just when space was beginning to become uninteresting to the average Joe, Elon Musk stepped in to make it exciting once more. With a basin of tech knowledge, the engineer and tech expert is making reusable rockets a reality. This is believed to be the first step in affordable, sustainable and regular space travel.
With a seemingly endless imagination, a deep desire to do good and potentially rescue mankind from our impending show-down with climate change - Musk's Space X is looking at exploring Mars, the moon and space with the goal of enabling people to live on other planets. A true visionary!
Helen Sharman
Britain's first astronaut to enter space, Helen Sharman underwent a rigorous selection process to be handpicked from 13,000 applicants to join the Soyuz TM-12 mission in 1991.
The eight-day mission saw Helen team up with Soviet cosmonauts to journey into space. With little experience outside of her day job as a food technologist, she learned Russian and participated in an intense training routine prior to launch.
Today, Helen is a popular motivational speaker able to discuss the training involved in her mission, as well as her incredible experiences of the launch and space itself. In addition to providing an in-depth insight into life in space, Helen is able to discuss themes of teamwork and leadership as well as weightlessness and adjusting to life back on earth.
Buzz Aldrin
Who better to speak at your event than the second man on the moon, Buzz Aldrin? Alongside his now deceased Apollo 11 co-pilot, Neil Armstrong, Buzz Aldrin took the world's first steps on the moon. Helping establish a new era of space investigation and exploration, Aldrin is instrumental in history.
His remarkable achievements earned Aldrin streaks of accolades. He was awarded the Legion of Merit, the NASA Exceptional Service Medal and the NASA Distinguished Service Medal. Aldrin was inducted into the International Space Hall of Fame and was awarded the Presidential Medal Of Freedom by Richard Nixon in 1969.
The 89-year-old former engineer, fighter pilot and astronaut remains a key historical and cultural figure, able to entertain and inspire guests at all manner of events with his remarkable tales of space travel and the moon landing. He is a regular guest speaker capable of delivering fascinating keynote speeches on stage and screen.
Stephen Attenborough
The commercial director behind Sir Richard Branson's dream of taking untrained passengers into space, Stephen Attenborough is one of the men credited with making private space travel possible.
He has been heading up the commercial team at Virgin Galactic for the past 15 years, helping lay the foundations for one of the most forward-thinking projects in history. While the engineering team at Virgin Galactic are busy designing a technically flawless rocket, Attenborough's role is pivotal in ensuring that the groundbreaking project proves profitable.
With an other-worldly knowledge of space innovations, technology and exploration, as well as a profound understanding of the commercial side of space travel, Stephen Attenborough is an inspirational keynote speaker able to transmit complex ideas in a unique and entertaining way.
Book An Astronaut Speaker to Wow At Your Event
The Motivational Speakers Agency offers plenty of world-class space and astronaut speakers for private and corporate occasions. We offer keynote speakers from areas such as space, technology, innovation and business. Contact us via our online contact form or by calling a booking agent directly on 0207 0787 876.