The Best Female Motivational Speakers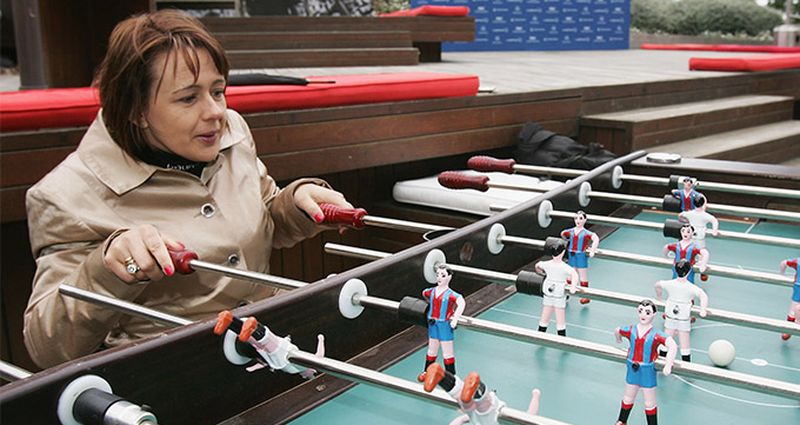 This summer, we all celebrated when the England Women's Football Team defied all expectations and made it to the semi-finals of the European Championships in the Netherlands. Following on from 2015's remarkable third-place World Cup finish, the team continues to go from strength to strength.
In recent years, the popularity of the women's game has greatly increased, in line with England's national team performing better than their male counterparts when it came to major tournaments. Here at Champions Motivational Speakers, we have a whole host of the best fantastic female speakers who are perfect for all motivational speaking events.
Below are just a selection of the speakers we have on offer.
1. Baroness Tanni Grey-Thompson
One of the most successful British Paralympians of all time, Baroness Tanni Grey-Thompson has 16 Paralympic medals to her name, 11 of which are gold. One of the world's best wheelchair racers, she also won six World Championships medals and the London Marathon six times in 10 years.
Wheelchair-bound with spina bifida, Tanni never let her condition prevent her from becoming a world-renowned athlete. She recorded some incredibly fast times in the 100m, 200m, 400m and 800m disciplines. Beyond her sporting career, Tanni has also become an inspirational political figure, and was introduced into the House of Lords in 2010.
"Dame Tanni's presentation was outstanding. She delivered a talk that met the aims of the conference. The audience were completely engaged and hung on every word. The feedback was positive. They felt Tanni was an inspiration and felt that her comments about sport were easily transferable to education."
- Jewish Schools Conference
2. Elaine Sihera
Known as Miss Diversity, Elaine Sihera's motto, "always be yourself", sets her apart as a life coach. The first black graduate of the Open University, she is one of the most inspirational women in the UK. In her role as a life coach, Elaine helps people to overcome adversity in their lives.
Also owning a national magazine, Elaine has provided motivational speeches for events including the Paris Global Women's Leadership Conference. She can also work as a confidence guru, relationship coach and lifestyle expert, helping people to embrace themselves and lead a happier life. For corporate audiences, she can reignite a team's cohesion and inspire a more positive workplace culture.
3. Roz Savage MBE
One of the world's most fearless adventurers, Roz Savage MBE is best known for being the first woman to sail solo across three of the world's most treacherous oceans, the Atlantic, Pacific and Indian. Before conquering these incredible natural wonders, Roz worked as a marketing consultant, but knew that rowing was always her main goal.
In 2006, she took on her first challenge - completing the Atlantic Rowing Race in just 103 days. During the expedition, Roz's stove, navigation equipment, music player and satellite phone all failed, but she did not let this deter her from completing her mission. Showing incredible resolve, she arrived in Antigua, becoming only the 5th woman ever to sail East to West across the Atlantic.
"Roz was energetic, passionate, engaging and real. Her connection with both our employees and our clients, and the dialogue it sparked both within the room and beyond was tremendous. Everyone left with a little optimistic spring in their step, inspired to make changes and live their lives a little differently. It was an amazing experience to share her world for that hour."
- Jill, Credit Suisse
4. Rona Cant
From housewife to adventurer, Rona Cant is an incredibly inspiring female speaker. While most women were thinking of slowing down, she set her sights on "the challenge of a lifetime", taking to the open seas in a yacht. Rona inspires her audiences to embrace the opportunities at their fingertips and push themselves out of their comfort zone.
For corporate audiences, Rona can help business teams to understand how teamwork and interpersonal support can produce incredible results. From goal setting to calculating risk, she has the experience to back up her leadership strategies. Author of A Challenge Too Far? and Snow, Sleds & Silence – The Story of the Nordkapp Expedition, this inspiring figure can effectively engage audiences.
"Highly motivational and inspiring. Rona is able to make the impossible, possible and in the telling of her adventures encourage others to try to make changes that they want to happen in their lives too. Thank you, Rona, for bringing your spirit of adventure to our workplace and for your help in motivating us to introduce something new or different into our work and personal lives."
- Lloyds TSB
5. Helen Sharman
As the first British astronaut in space, Helen Sharman was at the forefront of space exploration. Additional achievements include being the first woman to visit the Mir Space Station in 1991, along with a PhD from Birkbeck, University of London. After beating 13,000 other candidates, Helen went on to join Project Juno.
Gruelling training, mental challenges and physically restrictive space capsules were just some of the issues Helen faced. In 1991, she joined Soviet cosmonauts Anatoly Artsebarsky and Sergei Krikalev at the Mir Space Station, for the Soyuz TM-12 mission. As a speaker, Helen's impact stays with audiences long after the event ends.
6. Bonita Norris
When Bonita woke one morning, she decided that she wanted to climb Mount Everest. An incredible feat for seasoned climbers, her lack of experience made the whole experience that much harder. However, with her drive, determination and self-belief, Bonita successfully climbed the infamous mountain in 2010.
Such an achievement was followed by four more expeditions - Geographic North Pole in 2011, Mt. Ama Dablam in 2011, Mt. Imja Tse in 2012 and Mt. Lhotse in 2012. As the youngest British woman to reach the summit of Mount Everest, Bonita's motivational speeches inspire audiences to embrace their own capabilities.
"I want to say thank you so much to Bonita for the talk that she gave to the 300 young people on Friday evening in Loughborough. Her story and presentation style resonated fantastically well with the themes of the camp and we were able to use excerpts from what she told us about her experiences throughout the weekend. The audience of talented young athletes and coaches were gripped from start to finish and I am certain that they will take away some really significant learning and influence from the session."
- Will Roberts, Head of Talent, Youth Sport Trust
7. Rebecca Adlington
Rebecca Adlington has achieved a whopping seven gold medals, from such high profile events as the Olympic and the Commonwealth Games. At the 2008 Beijing Olympic Games, she broke the 19-year-old world record for the 800 metres freestyle. Rebecca boasts an incredibly successful career, the skills she developed from which feature heavily in her speeches.
Since retiring from competitive sport, Rebecca now works as a swimming pundit for the BBC's coverage of the Olympic Games. As a testament to her achievements, she was named the 2008 Sports Journalists' Association's Sportswoman of the Year and was appointed Officer of the Order of the British Empire in 2009.
"Thank you so much for Friday, everyone loved your straight-talking, honest and interesting session. You understood the tone of the event perfectly and all the attendees remarked at how down-to-earth you were and lovely it was when you stayed for photos and chatted with everyone. Thanks again for all the dedication you showed, was much appreciated and the event was a real success."
- Ollie Sidwell, RMP Enterprise
8. Lauren Rowles
Continuing the athletic theme, Lauren Rowles is a gold-medal winning Paralympian. When she was diagnosed with transverse myelitis at the age of 13, her life was changed forever - but Lauren never let it hold her back. Inspired by the 2012 London Paralympic Games, she set her life on elite sport.
In 2015, Lauren won her first major medal; silver at the 2015 Aiguebelette World Championships, in the TA mixed double sculls. Her first Olympic Games was the 2016 Rio de Janeiro Summer Paralympic Games, where she won her first gold medal. With a taste for first place, she then won another gold medal at the 2019 Ottensheim World Championships.
"Lauren was great and received a standing ovation. Her speech was truly inspirational and her incredible story worked really well within our programme. She touched everyone in the room and we received so much praise on the event due to her. Thanks so much, Lauren again, it was an honour to have you as our guest speaker"
- Sarah, London Borough of Barking and Dagenham
9. Victoria Pendleton
Born into a sporting family, Victoria Pendleton followed in her father's footsteps when she began cycling aged nine. She started taking her training more seriously while studying at the University of Northumberland. Victoria was inspired by Jason Queally, who experienced great success at the 2000 Sydney Olympic Games.
With a grand total of 14 gold medals to her name, from such elite competitions as the 2012 London Olympic Games and the 2010 Ballerup World Championships, Victoria is an expert on peak performance. Now, Victoria inspires young female athletes to enter the world of elite sport, and believe in their capabilities.
"A great success! We can highly recommend her for similar occasions. She incorporated conference messaging where appropriate, spoke genuinely and confidently and responded well to on the spot questions from the audience. People were delighted she took the time to stay for so long after her speech for individual questions, autographs and photos. Incredible and inspirational!"
- Involve UK Ltd
10. Dame Jessica Ennis-Hill
One of the most famous British Olympic names, Dame Jessica Ennis-Hill has a wealth of stories to tell from the forefront of elite sport. With a whopping eight gold medals, including one from the 2012 London Olympic Games, she is well versed in the mindset needed to succeed.
Following her retirement, Jessica was appointed Dame Commander of the Order of the British Empire in 2017, for her incredible services to sport. The British record-holder now features on BBC's sporting coverage, as a celebrity panellist on entertainment shows and at motivational events. As a testament to her career, Jessica was the first woman to win the BBC Sports Personality of the Year Lifetime Achievement Award.
Book A Female Motivational Speaker
For booking information regarding any of our wonderful female keynote speakers and motivational speakers, get in touch with Champions Motivational Speakers agency. Making a booking could not be simpler, call us directly on 0207 1010 553 or fill out our online booking form and a member of our team will get back to you.