10 Great Women Who Changed the World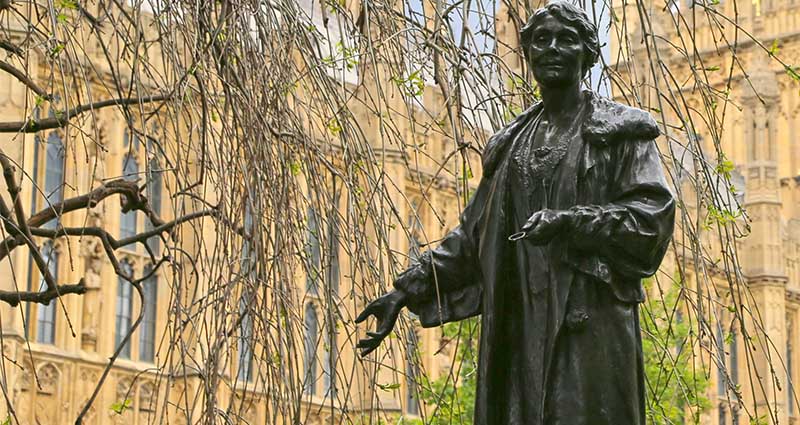 We take a peek at the women whose name sends shivers down the spine due to the magnitude of their achievements, be it in arts, politics, healthcare, exploration or business. In this blog we pay tribute to the women who changed the world; the ones who brought new opportunities to women of the current day, to reach new feats and fight new challenges.
Here are ten of the names that opened new doors, not only for women but for the world:
1. Marie Curie
Through the pioneering research of Marie Curie, the lives of countless people have been saved. Her research and work on radioactivity earned her the Nobel Prize.
She was the first woman to receive the prestigious award, and her name is heralded to this day. Not only has her discovery contributed to treatment for cancer, but it also formed the foundation for x-rays to be used today.
2. Ada Lovelace
Incredibly, Ada Lovelace – the daughter of Lord Byron - arguably upstaged her famous father. As early as 1840, alongside British inventor Charles Babbage, the duo conceptualised the first computer and she wrote the programme. Of course, she only wrote the algorithm on paper, but this was the beginning of computers as we know them.
3. Jane Austen
Known for her ability to tell timeless stories, the English author of such classics as Pride and Prejudice and Emma have made Jane Austen an icon. Her delectable writing style and wit have made her novels among the most treasured, not only in the country but also the world.
4. Joan Clarke
When World War II was in full flow, behind the scenes a great mind that goes by the name of Alan Turing was working to end the war by developing a computer programme to crack the Nazi code. Behind him, he needed a team that trusted him implicitly.
Lacking the social skills himself, Joan Clarke, a mathematician of great talent, stepped in to help him earn their trust. Due to her social skills and elite skills as a mathematician, Clarke was able to work closely with Turing to gain the support of their team, and thus achieved their hefty ambition, knocking years off of the war to save many lives.
5. Emmeline Pankhurst
Now here is a name that helped define the society that we know today. Emmeline Pankhurst was the leader of the movement which won women the right to vote. She fought long and hard for the rights of women and some seventy years since she left her imprint, the activist was included by Time magazine as one of the hundred most important women in history. Her struggle is perhaps best described in her own words: "We are here, not because we are law-breakers; we are here in our efforts to become law-makers."
6. Rosa Parks
Another great activist, one with a different agenda, Rosa Parks' legendary story of standing up to pressure for her to move, as a black woman at the back of a bus in a segregated America, made her one of the symbols of a civil rights movement that changed the world.
7. Aretha Franklin
Aretha Franklin was a woman that came to define her time, with megahits like 'Respect' and '(You Make Me Feel Like) A Natural Woman' and 'Think'. Before the 70s rolled in, Aretha had become the Queen of Soul and had already earned a legacy of one of music's all-time greats. That status was confirmed when she was awarded the Presidential Medal of Freedom in 2005.
8. Mother Teresa
It is a tribute to Mother Teresa that her name has been used to describe people who do acts of kindness nowadays. The late-great Roman Catholic nun and missionary ensured there was food and service for the poorest of the poor throughout her lifetime and received the Nobel Peace Prize, as well as being recognised by the church as a Saint. Wow.
9. Princess Diana
The people's princess was welcomed into the hearts of the people when she married Prince Charles to become British royalty. The princess of Wales earned admirers for her charity work for the likes of London's Great Ormond Street Hospital. Her work to raise awareness of Aids/HIV, mental illness and cancer left an unforgettable legacy. She is considered one of the most famous female leaders of our time. Her legacy is continued today by her loving sons, Prince Harry and Prince William and their spouses.
10. Victoria Wood
The late great Victoria Wood undoubtedly deserves as a place on this list. Though her exploits did not pass over the Atlantic, the comedy legend changed the genre forever and allowed future female stars to emerge. Writer, comic and director of Dinnerladies fame, Victoria was an inspiration to generations for four decades from the mid-seventies onwards and her legacy is one that will continue to inspire.
Inspirational Female Speakers
These great women who changed the world, and many more, from Emilia Earhart to Florence Nightingale; Agatha Christie to Marylyn Monroe; Helen Keller to Joan of Arc, challenged social norms and culture as they knew it. They reinvented ideas as they had previously existed and fought for what they believed in to make a better world for everyone in it. These top women in history helped to pave the way for a more inclusive, inventive and cooperative society. Who's next?
To book a female inspirational speaker for your corporate event, function or conference, simply contact The Motivational Speakers Agency by filling in our online contact form or by calling a booking agent directly on 0207 1010 553.