50 Women Who Are Changing The World Today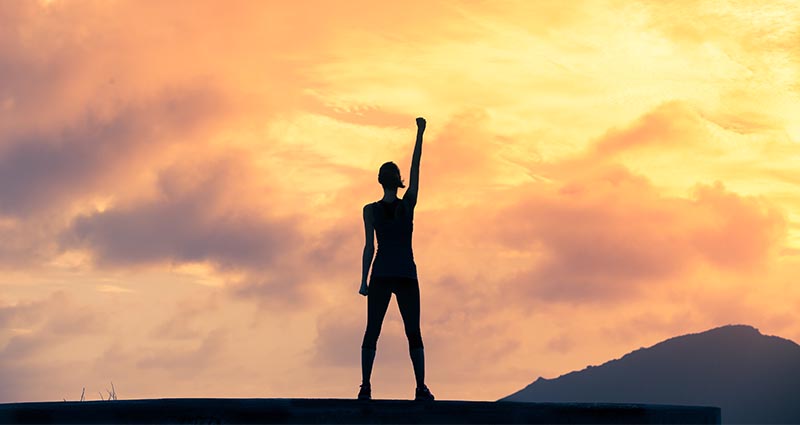 There are many great women who changed the world as we know it and fought off adversity to reach fame, fortune, justice and untouchability. We look at the most influential women today; the women reaching new feats and fighting new challenges; women who put their lives on the line for others or their life on hold to realise their dreams.
Meet the women who have helped make a thriving society where equality duly prevails. Meet the inspirational women of today, the women who are going further, doing more, breaking through barriers and giving people courage. We have assembled a list of great women from various areas of expertise. With a focus on the UK, here are 50 of the most inspirational women of the 21st century who are changing the world.
1. Malala Yousafzai
"I tell my story not because it is unique, but because it is the story of many girls."
This modest young lady is the youngest Nobel Prize laureate the world has ever seen. This incredible woman overcame an assassination attempt by the Taliban in occupied Pakistan at the age of fifteen to campaign for women's rights and children's rights to an education. But to do it in an area where the Taliban reign supreme makes her a contemporary heroine. Malala has fought life and limb for what she believes in.
2. JK Rowling
We can scarcely imagine a world without the witchcraft and wizardry of Harry Potter. It is almost inconceivable how one mind could imagine a world so complex and engaging. A world that so many have fallen in love with. One so layered and so magical that it not only entertained millions to become the best-selling book series of all time but also inspired and supported people with its themes of courage, love and bravery. JK Rowling is so much more than one of the greatest storytellers the world has ever seen- she is a national treasure and a global inspiration.
3. Greta Thunberg
At just 15 years of age, climate change activist, Greta Thunberg founded the Youth Strike for Climate Change movement. Encouraging young people to voice their views and contribute towards the ongoing battle against climate change, Greta has proven to be the inspiration for hundreds of thousands of young people. For her role in spreading 'school strikes', Greta was nominated for a Nobel Peace Prize. With much talk of young people being the leaders of tomorrow, Greta is certainly not waiting for tomorrow to lead the fight against climate change. 
4. Michelle Obama
American lawyer and writer, Michelle Obama, became a source of inspiration to millions in the US when she became the first African American First Lady of the United States in 2009, during Barack Obama's eight-year presidential reign. Her impact was felt so strongly that she has become a role model for women across the globe, and a leading advocate for health, wellbeing, education, poverty and fashion.
5. Indra Nooyi
The Board Director of Amazon and a regular keynote speaker at World Economic Forums, Indra Nooyi has earned a spot on the Forbes list of The World's 100 Most Powerful Women. Knowledgeable, experienced and a top-level Director - Indra is a must-have authority at international conventions.
6. Melinda Gates
American philanthropist and wife of Microsoft owner, Bill Gates, Melinda Gates has become one of the most powerful women in the world, with her efforts to support areas of society in desperate need of help or remodelling. Together with Bill Gates, she was awarded the Presidential Medal of Freedom by Barack Obama for their extraordinary efforts.
7. Madonna
Madonna is known as the Queen of Pop. She has broken records in the music industry on her way to becoming one of the most powerful women on the planet. Her sheer drive and unprecedented success have seen her lauded as "America's smartest businesswoman" and one of the biggest influences on contemporary pop music. As a result, Madonna is a true tour-de-force of the entertainment industry. Not only that though, but Madonna is also an international ambassador for feminism, freedom and equality.
8. Angela Merkel
The Chancellor of Germany, Angela Merkel remains one of the foremost figureheads in global politics. An expert in a range of fields, Merkel is often described as the 'most powerful woman in the world'. The longest-serving leader in the European Union and one of the most inspirational female speakers in the world, Merkel's influence is indisputable.
9. Joanna Lumley
Joanna Lumley's role as Patsy Stone in hit British sitcom Absolutely Fabulous endeared her to television viewers across the country. Her true-to-life, rebellious yet charming attitude may have made her a television star, but it is her work as a human rights activist, not least during the Gurkha Justice Campaign- that has earned her a place on this list, and more importantly a charming status as the 'Daughter of Nepal'.
10. Emma Gonzalez
When her school was invaded by a gunman who killed many of her friends, she stood up to let the world know that she and her classmates demanded change. She brought the world to tears with one of the most courageous speeches of our time. Still leading the fight, with her dedicated team, against gun laws, Emma Gonzalez will not be going away anytime soon.
11. Queen Elizabeth II
HRM was the youngest monarch in history when she took to the throne and is now the longest reigning monarch of all time. Having seen 13 Prime Ministers come and go since her 1952 coronation, Queen Elizabeth II is highly respected due in some part to her astonishing status as the world's oldest ruling monarch. Queen Elizabeth II has become a mainstay of British culture and will remain a hallmark of history.
12. Linda Cruse
"Linda Cruse makes the impossible, possible" – Sir Richard Branson
There a few testimonials with as much weight as one from the multi-billionaire philanthropist but Linda Cruse deserves it. She has been changing lives with programmes designed to support communities and businesses. This modern-day Mother Theresa is no doubt one of the finest humanitarians in the world today.
13. Fiona Bruce
You may know her name from her presentation of the BBC News at Six, Crimewatch or the Antiques Roadshow but there is more behind the scenes to Fiona Bruce. She has become an outspoken feminist, has worked with many charities like Women's Aid and NSPCC. The latter even inducted the newsreader into their Hall of Fame thanks to her hard work for the charity. In 2019 she made her debut as the new presenter of Question Time, drawing praise from critics for her expert handling of the show, after taking charge of the prestigious current affairs show when David Dimbleby retired.
14. Dame Jane Goodall
British national treasure and the world's first chimpanzee expert, Dame Jane Goodall is a force of nature. Her conservation and environmental work, as well as her work as one of the leading primatologists, brought her a long string of awards including a UN Messenger in Peace award and a Benjamin Franklin Medal in Life Science.
15. Randi Zuckerberg
When your brother is the creator of the biggest social media platform of our time, Facebook – it would be easy to fade into obscurity. Not Randi Zuckerberg. After becoming one of the powerhouses of the marketing team at Facebook, she founded Zuckerberg Media, working with Fortune 500 companies like Paypal and Conde Naste. She still found time to become a New York Times best-selling author and feature on television coverage of the US midterm elections which earned her an Emmy Award in 2011.
16. Ann Daniels
Ann Daniels has led men and women into the most dangerous terrain on the planet. A world record holder, she is considered to be among the top British adventurers of all time. Along with her teammate Caroline Hamilton, she was the first woman to reach the North Pole and the South Pole in an all-female team.
17. Zaha Hadid
One of the world's most innovative architects, Zaha Hadid has conceptualised and realized the process, from planning through to execution, of some of the most enticing buildings worldwide. She is an award-winning titan of the industry and a truly inspiring woman.
18. Oprah Winfrey
What superlatives haven't been used to describe Oprah Winfrey? America's sweetheart overcame a background shrouded in poverty and abuse to become the biggest name in entertainment. A tireless activist, campaigner and television host, the superstar became the richest African American of the 20th Century. She was also the youngest female billionaire in history. Today she is a respected philanthropist and recently received worldwide acclaim for her passionate, inspirational #MeToo speech. Oprah is undisputedly one of the most inspirational women of the 21st century.
19. Emma Watson
It was always going to take some doing to come out of the spotlight of her fame as Hermione Granger in the hit film adaptation of the Harry Potter series. Emma Watson showed the resilience and talent to do so, making herself an icon through her work as an actress, model and activist. The star has had no end of successes in film and fashion as well as being chosen as the Woman of the Year by British GQ in 2013. She was appointed as a UN Women Goodwill ambassador in 2014, reflecting her assiduous campaigning.
20. Pussy Riot
Russian feminist pop punk protest band, Pussy Riot have been campaigning for women's rights, LGBTQ rights and other concerns since 2011. They were famously tried and sentenced for their artful protests which were construed as hooliganism. Their latest high-profile protest held at the FIFA World Cup Final in 2018 was aimed at demanding the state to free political prisoners and allow political competition in Russia. They are contemporary activists who dare to stand up for what they and others believe.
21. Christine Lagarde
Chairwoman of the International Monetary Fund, Christine Lagarde is one of the world's most powerful women. A former lawyer and politician, Lagarde has earned the respect of international peers, establishing herself as an intellectual authority and thought-leader.
22. Kathryn Bigelow
The first and only female Academy Award Winning Director in Hollywood to date, Bigelow has made history. Her Academy Award-winning film, The Hurtlocker is one of many of her successes. She is a leading luminary in showbiz and one of the most influential women today.
23. Sheryl Sandberg
A key player in the technology sector, Sheryl Sandberg is the Chief Operating Officer (COO) of Facebook. The first woman to serve on the board for the social platform's team, she was inducted into a list of Most Influential People in the World by Time magazine in 2012 and has gone on to be worth well over a billion.
24. Beyoncé
A symbol of power and independence among women, Beyoncé is a true icon. The American singer-songwriter has a belting voice and a songbook that has inspired generations. She has used her fanfare to become a superpower influence on young people today. She has shown her support for the LGBTQ community on many occasions, as well as tackling matters such as feminism. When Beyoncé talks, people listen.
25. Jessica Ennis-Hill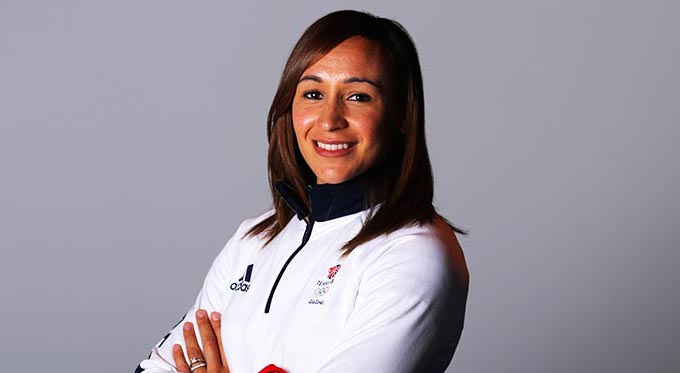 The London 2012 Olympic Games broke records in every area. An already incredible triathlete and heptathlete, Jessica Ennis-Hill was one of the big hopes for the games. She defied all expectation and became the face of the 2012 Olympic Games and one of the most decorated athletes in the country's history. Now a national treasure and an inspiration to many up and coming athletes, she is an incredible motivational speaker.
26. Bonita Norris
Summiting Everest is the challenge of a lifetime and one you would expect to take many years to prepare for. Bonita Norris, however, gained adulation for having gone from novice climber to the top of the world in just two tough years. This amazing achievement made her the youngest woman in history to reach the summit, at just 22 years of age.
27. Leanna Shuttleworth
From the youngest woman ever to have climbed the great heights of Everest, to her successor for the title. Leanna climbed to the summit of Everest at just 19 years of age in 2012, two years after Bonita, before becoming the youngest British female to have completed the 'Seven Summits'. She is now dedicated to helping young girls chase their dreams.
28. Maria Shriver
One of the leaders in the fight against Alzheimer's, Shriver has used her influence as a journalist and author for the greater good. She won an Academy of Television Arts & Sciences Award for The Alzheimer's Project and a Pathfinders to Peace Award for her continued commitment to peace and compassion.
29. Kylie Jenner
The social media mogul, entrepreneur, television star and model Kylie Jenner has made waves over the years, picking up legions of fans on social media channels on her way to becoming the most influential teenager in the world. In 2017, she became the youngest person on the Forbes Celebrity 100 list and a year later, at twenty, she was named the next 'youngest self-made billionaire' in the world by the same publication. What a future this star has.
30. Hillary Clinton
Former US Senator, First Lady and the 67th US Secretary of State, Hillary Clinton is another politician who is shrouded in controversy. But her commitment to making a better world for women and children especially, with her work for the Too Small to Fail initiative and No Ceilings: The Full Participation Project shows that she is a torch holder for women everywhere.
31. Abisoye Ajayi-Akinfolarin
Named the most inspirational woman in the world in BBC's 2018 list, young teacher Abisoye has changed the face of communities in Nigeria. Founding NGO, GirlsCoding she has taught young women coding, design and web development - vital to the future endeavours of the women in her community. 
32. Judy Murray
Judy Murray is perhaps most famous for being the mother and original coach of Britain's most successful tennis players, Wimbledon winners Andy Murray and Jamie Murray. The foremost was the British men's singles No.1 and for some time the world No.1 and Jamie is a former doubles world No.1. Judy balanced motherhood with coaching to ensure her two boys reached the absolute top of the game and was awarded an OBE for services to tennis, women in sport and charity.
33. Dame Judi Dench
One of the most naturally gifted actresses in British history, it is no surprise that Dame Judi Dench has become one of the most decorated stars of the screen in our country. The seven-time Oscar nominee was a popular theatre performer before she became a megastar as M in the James Bond film GoldenEye. Her success in the role saw her cement her place in the franchise for 20 years. She was made Dame Judi Dench in 1998 and has been recognised for her outstanding contribution to arts.
34. Amal Clooney
A leader in international law and human rights, British-Lebanese barrister Amal Clooney is one of the most high-profile names in law. She is currently representing Julian Assange, the WikiLeaks founder engaged in a legal battle against extradition. She has also represented Prime Ministers and famous journalists and happens to be married to Hollywood megastar George Clooney.
35. Meghan Markle
The newest addition to the immediate royal family, Meghan Markle married Prince Harry in a ceremony which had the world watching in awe. The first person with African American ancestry to become a member of the British royal family, the feeling is that this represents a new chapter for the monarchy. Now the Duchess of Sussex is one of the most influential women in the world and has the potential to inspire those watching on.
With many years' experience as a campaigner for women's rights and human rights behind her- balanced alongside her former acting role- there is little doubt among spectators that she will fulfil her potential as one of the most inspirational royals the country has ever seen.
36. Baroness Shields OBE
One of the leading names in the technology and security sectors, Baroness Joanna Shields OBE acts as the UK Prime Minister's Special Representative on Internet Safety, after serving as Minister of Internet Safety and Security under David Cameron. She has been lauded as an inspirational leader and top tech personality.
37. Elizabeth Blackburn
A biological researcher who became the recipient of a Nobel Prize in Physiology or Medicine when she co-discovered telomerase, an enzyme able to repair and protect the telomeres of a chromosome. Sound complicated? Not for this modern-day science sensation.
38. Kate Middleton
Kate Middleton is married to the likely future king of England, making her the future king's consort and one of the most important names in British society. Her charity work, especially as an advocate for mental health, has made the Duchess of Cambridge a much-appreciated member of the royal family and a great motivational figure for many.
39. Jennifer Lawrence
The modern-day Marilyn Monroe, Jennifer Lawrence beats off competition from the likes of Taylor Swift, Ariana Grande and Miley Cyrus for a place on this list as a person with a defining influence on young people and women today. Fearless and brave like her character from the hit film, The Hunger Games, Jennifer is relatable to modern men and women and is not afraid to speak out for others.
40. Baroness Karren Brady
The 'first lady of football', Baroness Karren Brady is a successful businesswoman in the construction industry, West Ham United FC's Chairwoman and a representative in the House of Lords. Her success has known no bounds and she has regularly featured as a dragon on BBC's entrepreneurial television show, Dragon's Den and as an advisor to Lord Sugar on The Apprentice.
41. Twiggy
British model and symbol of the swinging sixties, nobody quite summed up the era's fashion and musical evolution quite like Twiggy. She was named 'The Face of 1966' by the Daily Express and voted Woman of the Year that same year. Ask your parents or grandparents about her - they'll tell you she was the Kate Moss of the sixties.
42. Serena Williams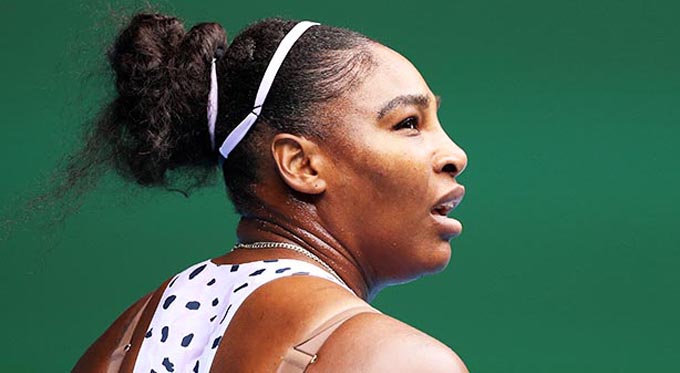 23-time Grand Slam winner Serena Williams is an American tennis player who has broken records to be considered by many as the greatest female tennis player of all time. In addition to her great feats on the court, she has inspired many with her support for the LGBTQ community and the Black Lives Matter campaign.
43. Martina Navratilova
Right there beside the last tennis great is Martina Navratilova, another tennis star who can claim to be one of the greatest female tennis players of all time. Like her contender for the title of the biggest name in tennis, Martina is a committed activist. She has worked with charities on animal rights, LGBTQ rights and for underprivileged children. She won a National Equality Award in 2000 for her commitment to these causes. She is a star and an inspiration to generations.
44. Paula Stone Williams
An LGBT ambassador, pastor and equality speaker, Paula Stone Williams has become a leading speaker. As a transgender woman, she can discuss the difference between living as a male and living as a female in America. Her insight has served universities, government agencies, religious groups, publications and blue-chip companies for many years. Alongside the likes of Caitlyn Jenner and Kellie Maloney, her role in the LGBT and especially transgender community has proven pivotal.
45. Dame Kelly Holmes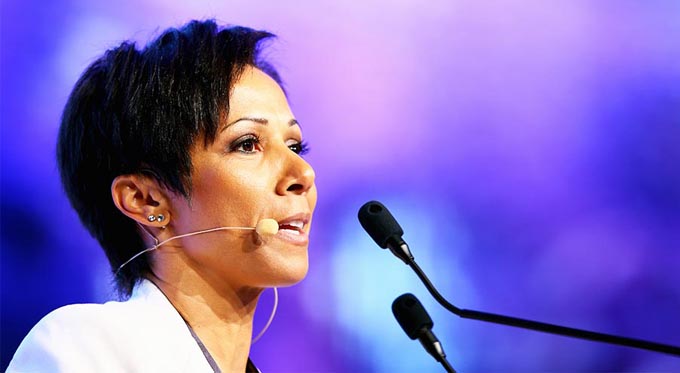 A story that was so nearly one of disappointment and failure to deliver on potential became one that summed up the power of never giving up. Bouncing back from injury at the age of 34, after a career where Olympic gold had eluded her Dame Kelly Holmes managed to win a double gold medal in her final Olympic appearance in Athens in 2004. Remarkable!
46. Rita Clifton
Former Chair of Interbrand UK, Rita Clifton is a thought-leader in all things brand-related. Helping to revolutionise the future of British and worldwide brands, Rita has been quite the revelation. Referred to as the 'Doyenne of Branding' and 'a brand guru' - she is one of the most engaging female keynote speakers in marketing.
47. Marissa Mayer
Former President and CEO of multinational search engine and news hub, Yahoo!, Marissa Mayer was the youngest woman ever to be listed in Fortune Magazine's annual list of America's 50 Most Powerful Women in Business at just 33 years old. She followed this up with a place in that ranking for the following eight years. One of the most influential businesswomen in the world, Marissa Mayer helped to smash the glass ceiling for women in business.
48. Baroness Tanni Grey-Thompson
Baroness Tanni Grey-Thompson won 11 gold medals, four silver medals and a bronze medal over five Paralympic Games to become one of the UK's most successful Paralympians of all time. Competing in short distance events to wheelchair marathons, this superstar has become a popular figure on television and as a crossbench peer in the House of Lords.
49. Laura Kenny
The most successful female Olympian in British history as well as the most successful female track cyclist in the sport's history - Laura Kenny is an inspirational female Olympic speaker and athlete who is seemingly unbreakable.
50. Victoria Wood
The late great Victoria Wood undoubtedly deserves as a place on this list, because her influence is changing the face of British comedy, even following her passing. Though her exploits did not pass over the Atlantic, the comedy legend changed the genre forever and allowed future female stars to emerge. Writer, comic and director of Dinnerladies fame, Victoria was an inspiration to generations for four decades from the mid-seventies onwards and her legacy is one that will continue to inspire.
More and more women are pouring into roles of high authority within society and that is down to the outright diligence of many of these inspirational women and their high ambitions.
To book an inspirational female speaker to appear at your corporate event, function or conference, simply contact The Motivational Speakers Agency by using our booking form or by calling a booking agent directly on 0207 1010 553.