5 Ways to Champion Diversity & Inclusion in the Workplace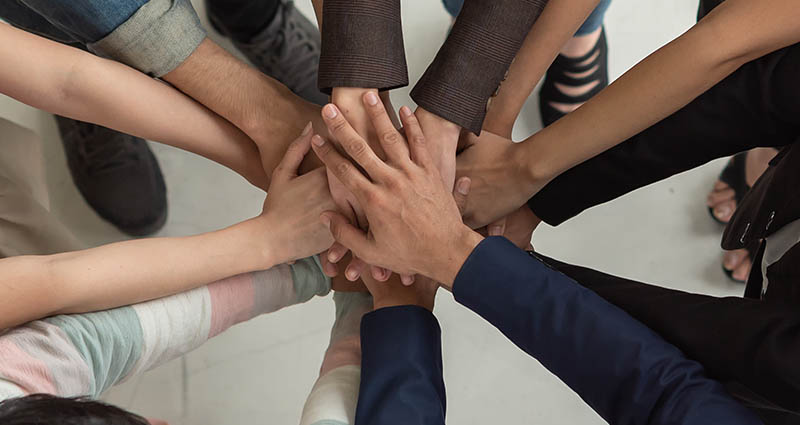 Diversity and inclusion are key to employee wellbeing, performance and business success. It allows different experiences and opinions to positively impact a company's culture and positions an organisation on the right side of history.
Benefits aside, diversity and inclusion should be standard practice, not an aspiration or goal. It should be woven into the core fibre of a company, leading every decision they make and action they take. To get to that stage, businesses must first reflect on their own workplace culture and hiring processes, then champion diversity and inclusion through the actions discussed in this post.
1. Conduct a Diversity Audit
One of the most important ways to champion diversity is to reflect on your own company's areas for improvement. Conducting an audit of your employees' demographics will highlight unconscious bias within your hiring process, and identify underrepresented groups of people.
You can then go forth with better awareness, and value talent and character above all else. Avoid judging a job candidate by their name or gender, and instead, focus on their experience and talent in your field. If possible, remove their personal details altogether and instead request interviews with applicants based solely on their resume.
2. Book a Diversity & Inclusion Speaker
A great way to achieve diversity in the workplace is with a diversity and inclusion speaker. These leading experts have years of experience, working with some of the biggest companies in the world, to bring their workplace culture and policies into the 21st century.
They have often experienced the trauma of not being understood, supported or represented in business, so speak with conviction and determination. Professionals at inspiring action, they can relate with audiences to leave a resounding impression and open their eyes to the importance of diversity and inclusion.
Our wide range of speakers includes the outstanding Afua Adom, featured in the video above. In our exclusive interview, we discovered her understanding of diversity and inclusion, and why it is so important. She shared her concern for the term being used as a buzzword, and instead made clear that "[it] should be a way of life". Speakers like Afua are vital for businesses wanting to make their organisation a better place to work.
3. Organise an Inclusion Training Workshop
Inclusion is not a quantifiable achievement, but an ongoing commitment to equality. Thus, for businesses to embrace inclusion and allow diversity to bloom, they must first set a strong foundation. This means educating current employees.
Inclusion training workshops are essential in diverse workplaces, as they ensure that employees understand and appreciate one different experiences. They teach attendees the correct terms to use, the phrases to avoid, and the importance of supporting one another. Inclusivity training celebrates our differences, in a safe, non-judgmental environment that prioritises education.
4. Raise Money for Charity
One of the best ways to unite your employees and send a clear message of support is to invest in local charities that champion it. These may include mental health charities for the LGBT+ community, or anti-racism organisations driven to eradicate discrimination.
From hosting a bake sale to organising a charity event, fundraising often encourages open, productive conversation surrounding a sensitive topic in a relaxed environment. It can be used as an educational tool through insightful resources and is an opportunity to make a powerful pledge on diversity and inclusion.
5. Have a Zero-Discrimination Policy
Once you have educated yourself and your employees, it is now important to practice what you preach. Often, companies are guilty of performative activism, where they pledge to improve diversity and inclusion, then when one of their employees is discriminated against, they refuse to act with enough severity.
Using the resources available, as well as the laws and regulations on discrimination in the workplace, create a policy that protects all your employees. Consider staff of different races, genders, sexualities and identities, then devise a process that prioritises their best interests. Finally, make the policy publicly known, so the entire organisation knows what will and will not be tolerated.
What's Next?
A diverse company must value inclusion to nurture a welcoming and understanding environment, that allows employees from different backgrounds to thrive not irrespective of their differences, but because of what makes them unique. Diversity and inclusion speakers teach the power of this message, and so much more.
To book a diversity and inclusion speaker for your event, get in touch via our online form or call us on 0207 0787 876 to receive your free quote.